Do you have your sights set on a CHRO position? Good choice! Whether a business succeeds or fails is determined by the quality and happiness of the employees who work there. And because over 50% of the U.S. workforce is not engaged, companies are crying out for talented CHROs.
However, getting to that top position won't be easy. These days, you must be business-minded and an HR leader at the same time. Currently, 71% of heads of HR are spending more time on business issues not related to HR or talent. In order to help you on the way to your dream CHRO position, we've put together this guide. Take a look:
71% of #HR leaders are spending more time on business issues. What does this mean for your HR career?

Go Beyond Administration
Some HR jobs will try to trap you in endless administrative tasks. While HR administration is important, it's not one that takes you down the path to becoming a CHRO. In order to avoid this, seek out companies which place HR high on their priority list. Any CEO you work for must understand that people drive success or you may end up working at cross-purposes.
In addition, to push yourself past the limits of HR administration, you shouldn't stay in one place for very long. Because 61% of companies are doing more international business than 5 years ago, executives are looking for CHROs with national and global experience who can push their company in an international direction. This doesn't mean you have to leave a company you love, just don't stay in a stagnant role. Volunteer to open a new office, spend some time working with legal counsel, or spearhead a corporate philanthropy program to constantly hone your management skills.
Focus on Business Strategy
A recent study from Harvard Business Review shows HR leaders lack strategic perspective and tend to focus internally rather than externally. On one hand, it makes sense: HR leaders are mostly concerned about their employees. On the other hand, HR must drive business growth like any other department in a company. Focusing on business strategy is the way to do it.
Because only 12% of HR organizations currently use predictive analytics for talent decision making, gaining experience in strategy and analysis will put you ahead of the curve. Work with your department to locate new platforms that will give you insight into big data and its effect on HR, brush up on the contingent workforce and how it might impact your company, and educate yourself on legislation that could impact your company, your future employees or the areas in which you operate.
Building & Managing Your Recruiting Budget in 7 Steps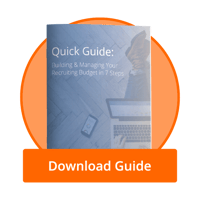 Develop New HR Skills
As with any high-level position, one of the best ways to get there is to develop your professional skills. In 2016, 87% of millennials said professional development or career growth opportunities were very important to them. In HR, there are many helpful HR certifications and online courses you can take that will help you in your current position and your future CHRO position. The HR Certification Institute, SHRM and HCI all offer certifications to help you master HR best practices, connect to HR professionals and prove your commitment to the HR field.
Building out your expertise in specific areas is also a great idea and will benefit you in the long run. Many believe Artificial Intelligence will have a big impact on HR and Talent Acquisition, making it the perfect topic to develop skills in. Increasing engagement is also high on the list. You can also add value to your skill set by finding ways to connect with other departments like procurement and marketing to assist with the new challenges facing HR.
In addition, you should be developing the following skills:
Emotional Intelligence - Interpersonal and communication skills are a must if you want to land that CHRO gig someday. A recent study performed by TalentSmart revealed that 90% of top performers have high emotional intelligence. Because the HR field is all about connecting with people and building relationships, it's one of the skills that will help you most on your career path.
Want to be a #CHRO someday? Emotional intelligence is a must! Find out what else you should have:


Driving Change - In order to stand out in HR and land the high-paying, executive positions, you must be able to make and sustain change in your current position. If you can succeed where others haven't, it will stand out on your resume.
Leadership - To be a leader in HR, you must excel in conflict management, employee relations, program development, policy enforcement and more. In order to develop your leadership skills, volunteer to head new projects or take the initiative to try out new ideas that will benefit your company.
"CEOs want a true business partner who can build the HR vision and strategy around business models." - Fred K. Folkes, The Rise of HR
Network
Not only will networking help you find that open CHRO position when you're ready for it, networking will also help you along the way. Connecting with other leaders in the HR space will give you access to information, HR tech trends, insight and more. With over 500 million users, you're doing yourself, and your future HR career, a huge disservice if you aren't at least active on LinkedIn.
"The richest people in the world look for and build networks, everyone else looks for work", – Robert Kiyosaki.
In conclusion, a CHRO needs to be the person who brings everyone in the company together, from IT to accounting and everyone in between. Finding long-term success in the HR field is difficult because you must be talented in both analytic and emotional skills. However, if you put the time in to develop yourself professionally, focus on strategy and networking, you'll definitely land your dream CHRO position.
If you want to take things to the next level in your current HR position, check out ClearCompany's Talent Success University for actionable best practices you can implement today.
Recent Posts: