The relationship between a recruiter and hiring manager is an interesting one. Both roles are a necessity to making a strategic and suitable hire, yet it's not uncommon to struggle with finding the right balance when searching for talent.
The hiring manager is the job position's subject matter expert and will know what skills and personality best fit the team and the role. The recruiter understands the current talent market, company budget and how realistic it is to find someone with a particular skill set or years of experience.
Together, the recruiter and hiring manager should be able to land a hire with the ability to perform well, fit the culture and even have the potential to grow within the organization. When there's misalignment, however, a lot can go wrong.
A lot can go wrong when there's misalignment between the hiring manager and recruiter. Read more:
Recruiters understand the talent acquisition ecosystem, which means they know just how competitive it can be to source and hire specific professionals. They also have direct access to the company's talent pipeline and the candidates already interested in pursuing a career with the team. When hiring managers lack that knowledge, there's a good chance they will expect too much from candidates or establish too many job requirements, meaning fewer applicants, longer time-to-hire or expensive talent.
Without a hiring manager, recruiters may lack a deep understanding of the position and hire a candidate who doesn't work well within the environment or doesn't have the right knowledge of the job. Even worse, if the recruiter has no input on the job description or requirements, there's a chance they might misuse field specific language, turning away or annoying interested talent.
Finding that balance in collaboration is possible if you...
Begin the Process as a Team
Where the hiring manager enters the hiring process can change the overall effectiveness. In some cases, the hiring manager isn't introduced until the second round of interviews. This usually happens because their hybrid roles cause them to be busy people, balancing their daily job in addition to hiring new talent. To save time, some organizations try to schedule their contribution for later on in the hiring process.
While this might work for many entry level jobs, positions requiring more complex skill sets or specific expertise cannot wait that long. If the hiring manager has no connection to the pieces that come before the interviews, there's a chance great applicants are turned away while less suitable candidates make it to the next round. All in all, that could mean a waste of time for both the recruiter and hiring manager. This is one reason for the growth of video screening tools; it makes sense to get everyone on board before calling someone in for a face-to-face.
Instead, include hiring manager input within the very first steps. Collaboration should begin with the job description and require development either by writing each as a team or building dialog around what is expected from an employee in the role. Hiring managers generally have to work on hiring in addition to working their regular job, so the fear of overwhelming them keeps recruiters from wanting to overstep their boundaries.
40+ Data Driven Metrics for HR to Track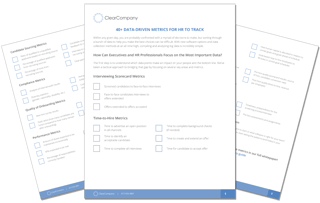 Lean on Analytics
There's a few ways hiring managers and recruiters can benefit from hiring data. Taking the time to understand the current market is important. Recruiters should further their basic knowledge of the talent acquisition ecosystem by researching the market for the job openings to be filled.
Why #recruiters must further their basic knowledge of the #talentacquisition ecosystem:
By understanding the median pay expectancy and projected growth for the title, both the recruiter and hiring manager will have a better idea of potential places to connect with professionals in the field. Moreover, the hiring team might be able to better predict how difficult it will be to source qualified candidates and set expectations with overworked hiring managers ahead of time.
The best predictive analytics, however, will be internal. A company's hiring data points recruiters to the most lucrative networks to connect with the best talent. Some metrics allow hiring teams to identify the qualities of candidates according to their cultural fit or work values, leading to alignment in both. Often, these are considered Quality of Hire metrics, but there are analytics that should be gathered by organizations to better inform hiring and recruiting decisions. For an in-depth exploration into those, check out our free whitepaper, Becoming a Data Driven HR Function.
Support Specialized Training
Recruiters are practiced at finding talented people, creating a positive candidate experience and deciding which of those individuals are best to interview. Hiring managers know their job, the field and what it takes to be successful and productive in the department. While that formula works with a hiring team that jives, for teams that struggle with collaboration, it leads to a divided hiring proces.
The solution is to push for more training and development from both parties, but especially with recruiters. While a recruiter may have never looked at a software development class, they might still be expected to recruit like they've received a degree and worked in the field. A well-rounded recruiter will be up-to-date on the basics of a role and how it pertains to company values. They might not know all the industry jargon, but they can hold their own in a conversation.
This is a pivotal piece because a recruiter should always feel as though they have the support to further their understanding of the company and important roles, but also because it will make for a smoother hiring process for the hiring manager and a better candidate experience for the applicant. Both lead to more productivity and greater employer brand. Of course, there's nothing wrong with pushing hiring managers to grasp the realities of sourcing, recruiting and managing a talent pipeline either. With a basic knowledge of those pieces, managers within the company can build deeper connections to qualified candidates all while building the organization's brand.
Depending on the size of your organization, the hiring team might be facing a list of struggles in obtaining highly qualified candidates. Everything from an overwhelmed hiring manager to a divided recruiting team can result in a lackluster hiring process. Building collaboration among your recruiting team is pivotal to finding the talent your company deserves. No matter what challenges your talent acquisition team faces, our mega bundle has useful tips to overcome. Download it today and transform your hiring process.
Recent Posts: