Human Resources has the unique position and opportunity to influence every employee and touch every department at each level while overseeing organizational initiatives. As the role of HR continues to evolve, it has posed the question about training for the individuals in these versatile roles.
According to the Korn Ferry Global Executive Survey, 47% of organizations reported that they did not offer HR-specific leadership development programs. For those who do offer HR-specific leadership development programs, approximately two-thirds said the development programs for senior HR leaders were not "as rigorous" as programs for leaders of other functions in their organizations.
58% of the organizations surveyed also said they do not believe their senior HR leaders receive relevant development opportunities to perform optimally in their roles. About 60% of organizations also said there was no succession plan for their CHRO. These are staggering statistics for the crucial roles HR executives play in organizations. They are too important and valuable to organizations to not develop their HR leaders and train those coming into the department.
About 60% of organizations surveyed said there was no succession plan for their CHRO. Read more:
Some of these evolving aspects of HR include:
Defining and Aligning Organizational Goals
Only 37% of employees understand what their employer is trying to achieve and why. Today's HR execs maintain the task of defining their organizational goals and ensuring the whole company aligns with them. By doing so, they are able to create a stronger workforce on track toward the same goal or mission.
37% of employees understand what their employer is trying to achieve and why. How to fix this:
Employees who say their organizational values are "known and understood" are 51 times more likely to be fully engaged. Better engagement results in better productivity. Giving HR the training and development to make this happen will only help organizations in the long-run to outperform their competition and continue evolving.
How to kick off your training:
HR pros and leaders need to know what an attainable goal looks like before even setting any for themselves or employees. Company goals as a whole need to be defined as well in order to align individual employee goals. You can further help your company build an effective system for creating and leveraging goal alignment for success with a little help from our Talent Success University.
40+ Data Driven Metrics for HR to Track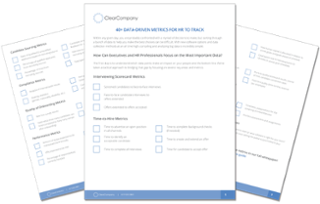 Human Capital Management
44% of respondents in a recent survey said their leaders are not effectively managing human capital at their company. HR departments are now leveraging data and different technology systems to make better decisions when it comes to hiring, succession planning and culture to help organizational performance and growth. HR knows your people are your single largest investment and to increase the return on this investment, you must manage them to the most optimal level.
How to kick off your training:
Part of human capital management includes performance management. Executing a competency-based performance review system can be one of the most effective ways to ensure proper management of your employees, because they provide a universal and easily understood evaluation method. The two concepts that need to be understood beforehand, though, are competencies themselves and job roles. Kick off your human capital management training with a lesson on what competencies are and what they look like for each role. You can then structure reviews around these competencies.
Emotional Intelligence
The HR practice originated as a people-focused role in the company, and it's no surprise they are some of the most emotionally intelligent leaders in the organization. Individuals in the HR department need to understand what drives the people of the organization toward success and what inspires them. This helps promote a better and more adaptable culture in the workplace for talent to grow and achieve.
How to kick off your training:
Emotionally intelligent leaders are self-aware, able to self-manage, empathetic and have strong relationship skills. While teaching empathy and relationship skills isn't always possible, it is crucial to get leaders in a place where they're able to manage themselves and be aware of what they're putting in for the team. This type of awareness can be taught by setting up accountability checkpoints throughout different processes in the department. Making employees conscious of their responsibilities and motivating them along the way can lead the path to more emotionally intelligent leaders.
A department that was once only regarded as the people you saw on your first day to fill out paperwork has now grown into a secret weapon for many organizations. As HR leaders continue to transform and create Talent SuccessTM across their organization, it is crucial for training initiatives to catch-up so companies stay competitive and continue to grow.
Recent Posts: