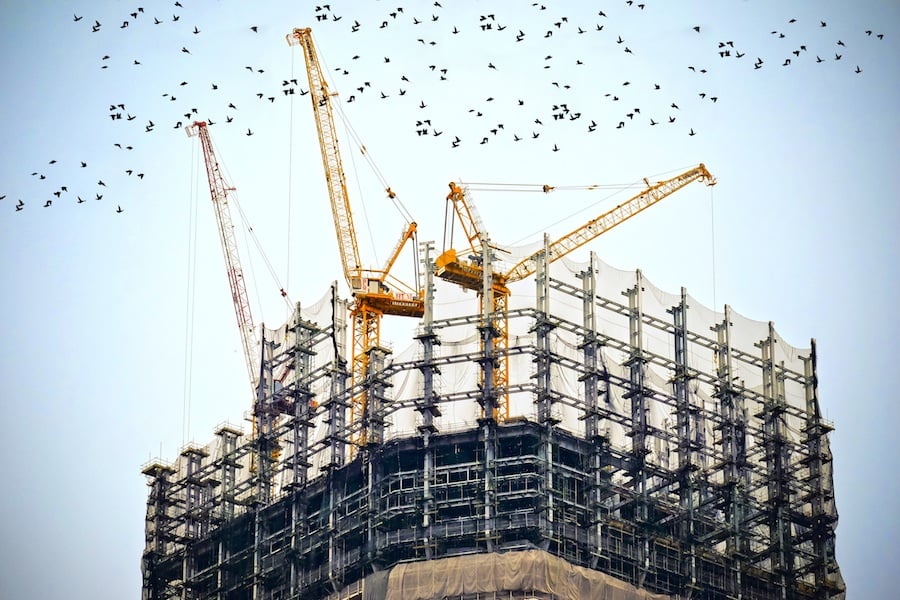 As a leader within your organization, you're tasked with balancing people management, team and departmental tasks as well as your very own list of deliverables. It's a tough job, but technology has been stepping in to make the duty a bit more efficient. Recently we announced the launch of a new addition to the ClearCompany suite of products, Talent OS. This system is built to help teams accomplish more and with unprecedented clarity for leaders and employees. Talent OS is what brings our suite and your strategic talent management program together.

Want a more in-depth view of the path that lead to our Talent OS? Read Talent OS: Why We Built It.
Core Strategy Power Up
Our Talent Operating System is one place to house all the cascading pieces of your talent strategy. Whether you only use our Applicant Tracking solution or work within multiple pieces of our talent management suite, this system is available to your team. It's purpose is to take a company's entire talent acquisition and management strategy to a whole new level, ultimately increasing employee satisfaction and the business' clarity of vision.
Ever dream of a place to house all cascading pieces of your talent strategy? Read this:
Newsfeed is the Helm
Our world is mobile, so we built our system to be easily viewed via mobile or desktop. Upon first login, users are met with a newsfeed of their company's inner workings, including all things important to completing tasks and meeting overall goals. This feed is integrated with the company calendar keeping a living, breathing pulse of the organization. No manager will forget a birthday and no executive will miss an employee anniversary.
Talent OS is one central location that pulls together all tasks and goals within your platforms and communicates the information in a simple to follow and understand way. For example, if your team uses ClearCompany Applicant Tracking, everything from job openings, scorecards, interviewing schedules and all the many tasks required to find a hire are streamlined to the Talent OS system. The newsfeed is the central point of it all.
Goals and Check-In
Performance management programs with continuous feedback have shown to heighten productivity and increase employee engagement, however the practice of implementing it isn't easy. More often than not, delivering feedback is lost in the shuffle of deadlines and towering tasks. Talent OS integrates feedback into the tasking system and newsfeed just the way it should be integrated into a performance management strategy and schedule. Managers can set rules for how often feedback should be provided and the system will respond by providing reminders when an employee has gone too long without receiving this crucial development tactic.
Sometimes feedback isn't planned. For instance, right after the completion of a huge project, employees might feel accomplished or even a little shaky on the results. In either case, employees can request evaluations, which are then added to the manager's newsfeed and goal list. A history of all feedback is maintained so managers can easily see progress and improvements. This moves throughout the line, as managers have the same connection to their leaders all the way up the chain to executives.
Transparency and Communication
Speaking of chain of communication, from new hire to CEO, the transparency between employee and manager is at an all time high in Talent OS. As a manager, you have many goals to maintain, from supplying employee development strategies to hitting particular departmental KPIs. Your goals are at the forefront, showing exactly what tasks are in progress, the level of priority and all feedback you've received from your leaders on those tasks and projects.
72% of highly engaged employees understand their role & how it contributes to their org's success.
All of your reports' goals are on your newsfeed as well. This feature ups the communication, giving you the ability to see what employees consider priority. If there is any misalignment, you know immediately instead of days, weeks or even months later. Meanwhile, employees can see the goals of their leaders, shedding light on how their daily contributions support the goals of leadership and the organization. Every goal can be traced right up to the CEO's and back down again.
Performance and Development
"A Players" can be hired into an organization, but managers know that in order to build an organization of HiPo employees, it's all about development. Talent OS uses the goal progress of an employee to find the "A Players" of your department. Using a built-in 9 box, managers can see accomplishments as they relate to competencies and make more educated and efficient decisions around developmental priorities of your top talent. The organization benefits from a more skilled workforce and employees, 66% of which value learning over monetary compensation, are more engaged.
Current openings and new hires within the company or department are also displayed. Employees can use this information to welcome new department additions, provide employment referrals or even consider their own career trajectory within the organization. Managers can assure the best onboarding practices are being followed as well as better understand holes in the organization and reassess priorities to ensure the growing team is supported.
66% of employees value learning over monetary compensation.
Employer Branding at the Forefront
Above all, Talent OS is the core of your business. That means your company brand needs to be supported and displayed. Like all ClearCompany tools, the interface follows those important brand standards. From the login page and beyond, your employer branding mission and values are viewable throughout the system so no employee is confused about your goals and mission.
To the user, be it entry level employee or executive, there is no system. Talent OS is a single page that fits within the screen of a mobile device or desktop, with accesses to each and every part of the talent management program, ATS to Onboarding. The simplicity means the time it takes to learn the workings and navigate the interface is almost nonexistent. It's a simple as seeing your tasks and clicking links to complete them. Better company transparency and performance management processes are only a login away.
Want to manage employees better? Get these 7 must have talent management downloads now!
Recent Posts: