In the U.S., employee engagement sits at just 32% and has sparked concerning trends like the record-setting Great Resignation and "quiet quitting." If employees aren't quitting outright, they're checking out. It's no surprise that 66% of HR teams say their current top priority is employee retention.
You can fight the surge of disinterest and disconnection with employee engagement strategies and robust artificial intelligence (AI) tools to support them. If you're using obsolete engagement software, ineffective strategies cost you top talent and impact business outcomes. Now is the time to invest in engagement to nurture employees who feel a sense of purpose at work and stick around long-term.
If it's been a while since you evaluated your system's effectiveness, or if you're not using one at all, consider a few questions before we dive into the best AI-driven employee engagement software:
How does your company measure employee engagement?
Are any engagement initiatives automated, or do they all require hours of hands-on HR work?
How often are employees acknowledged for their work, and how are they recognized?
What are some of the ways you ask for employee feedback?
Does your system provide in-depth insight you can't get just by looking at the data (e.g., making correlations and drawing conclusions)?
Are you using what you learn to refine your engagement strategy?
If you're not satisfied with your answers to these questions, it's time to turn to employee engagement technology —technology that includes artificial intelligence (AI), to be specific.
Let's look at the impact AI-driven tools can have on employee engagement.
Uncover the magic behind engaged teams with AI. From personalized learning to streamlined HR functions, AI is the future of employee engagement.
AI Makes a Splash in HR
AI is seemingly everywhere all at once, and that includes human resources. 72% of HR leaders anticipate using generative AI for HR functions, and one in four say their team already uses it. 84% expect that AI will increase their productivity. That's no surprise, considering AI is useful for employee engagement and nearly every facet of HR.
AI can take repetitive tasks off your team members' plates and analyze your people data to help you see patterns and draw conclusions faster than ever. AI enables your team to work more strategically by automating tasks that take lots of time and little brain power. At the same time, thanks to machine learning, AI "learns" from your data to reveal the root causes of disengagement —and what actions you can take to improve employee engagement.
Your team must explore AI solutions for employee engagement to keep up with your competition and create a fulfilling, retention-boosting employee experience. Let's look at a few ways AI can help refine your employee engagement strategy.
What HR Experts Expect from Generative AI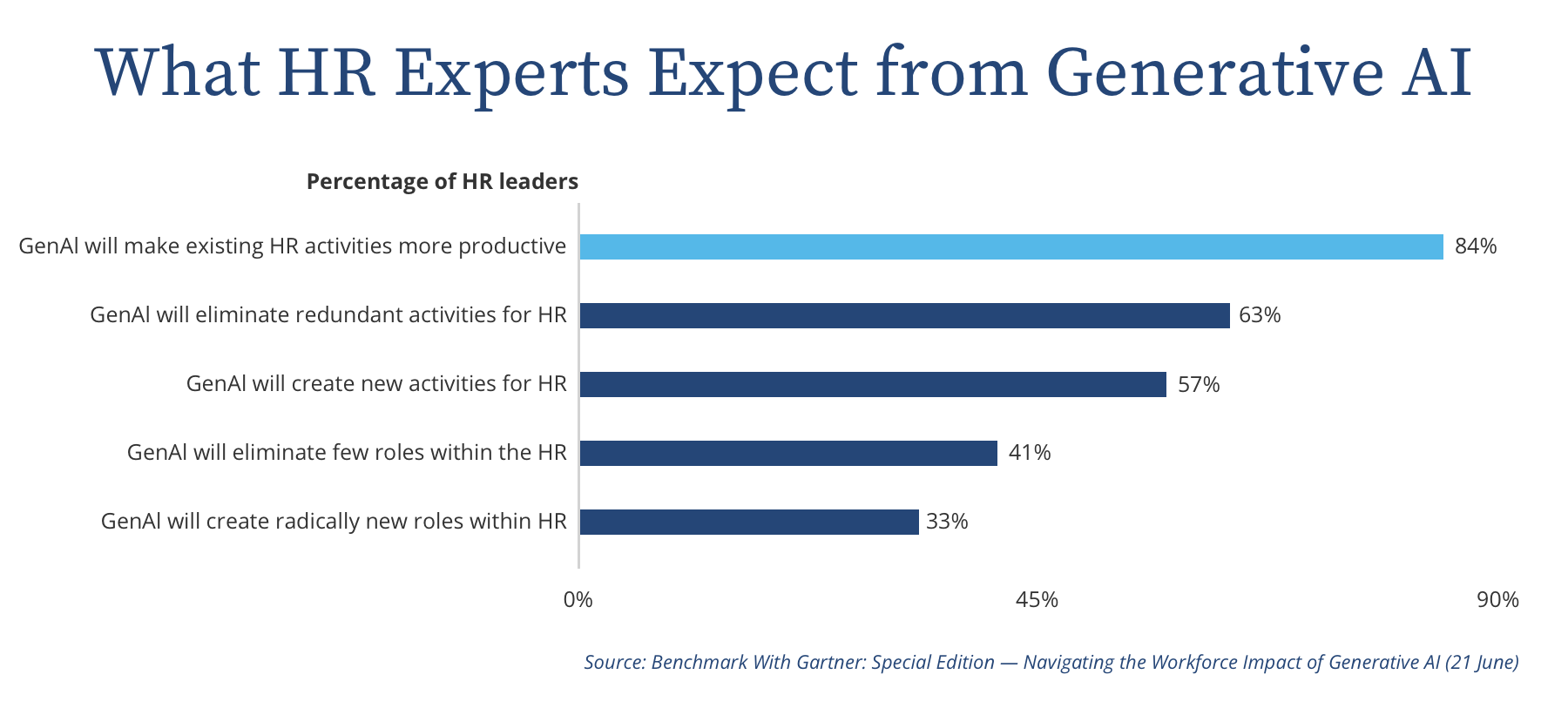 AI for Employee Engagement
You can apply AI to employee engagement in many ways —if you have the right software. Check out the many benefits of enhancing your strategy with AI.
1. Personalized Employee Recognition
It's safe to say that recognition is a secret weapon for increasing employee engagement. Personal recognition plays a significant role in building a supportive company culture and encourages your employees more than you might realize. 37% of workers say it's the best way for their managers to motivate them to do great work.
You don't need AI to start appreciating excellent employee performance, but there are many ways it can make your efforts more effective. When you're using employee engagement software, AI has tons of data to analyze about your people, like their roles, past performance, personal interests, and more. With this data, AI can help HR teams tailor recognition to suit each person's preferences and motivations. That makes your employees feel truly valued and appreciated.
AI also helps ensure employees are recognized at the right time. Too often, your people wait for a performance review or awards ceremony to be acknowledged. But with AI, employee events —like an anniversary, birthday, or goal achievement —trigger notifications or announcements that prompt everyone to chime in and offer kudos or congratulations to their peers.
With AI, HR teams can ensure that every recognition effort is timely and resonates with the recipient personally for maximum impact on motivation and engagement.
2. Unique Learning Paths
Your employees have a range of learning styles — they come from diverse backgrounds and have different levels of experience. Some employees may excel at self-guided learning programs, while others need more direction. One group loves listening to expert speakers, while another prefers hands-on learning. But, it's not easy for HR teams to design tailored learning experiences for every employee.
That's where AI-driven software makes all the difference. AI recognizes employees' strengths and weaknesses, prompting them to spend more time on a topic they're struggling with or amping up the difficulty when they're doing well.
Did you know artificial intelligence #AI can play a starring role in your employee engagement strategy? Get analysis and insights that aren't possible without AI:
3. Individualized Professional Development
Just like everyone learns differently, your people have a variety of professional goals, and when you support those goals, your employees are more engaged. 94% of employees say they'd stay at their company longer if it invested in them. AI-powered employee engagement helps you do that effectively because it does more than simply identify strengths and weaknesses.
AI can do a comprehensive analysis that considers an employee's skill set, career goals, and the organization's evolving needs. AI taps into the valuable employee data we mentioned to evaluate their skills. With many sources, from performance reviews to project outcomes and self-assessments to peer feedback, AI can get specific about where an employee excels and where to improve.
AI can also help you tap into employees' career aspirations to align them with company goals. With AI-powered employee engagement software, your team can identify what skills and experience employees need to gain or work on. Then, once it understands all this information, AI can create a personalized development plan with recommendations for training, mentorship, stretch assignments, and networking opportunities to help employees achieve their goals.
But wait —there's even more AI can do after giving these recommendations. AI makes it easy to give continuous feedback because it constantly monitors employees' progress and prompts feedback from managers and peers. According to employee engagement statistics, people are three times more engaged when they receive daily feedback from their managers vs. annual feedback.
For example, one of the benefits of using employee engagement software is that when an employee completes a goal, their manager is notified, and an announcement appears in the company-wide newsfeed, giving everyone the chance to recognize their achievements. Based on their progress, AI can also suggest changes to the employee's development plan, an iterative approach that ensures individual and company goals remain aligned.
4. HR Efficiency
If your HR team is like many, you have a lot of work to do that's non-negotiable — things like hiring new employees, answering benefits questions, managing payroll, facilitating performance reviews, terminating employees, and much more. With all those duties, spending time on strategic work, like creating an employee engagement survey, building a recognition program, and designing effective performance reviews, can feel impossible.
But, employee engagement is important, and the insights your team gains from AI tools can help you execute a program that shapes your company culture. Real-time dashboards and automated workflows mean your team can stay on top of changing attitudes instead of getting mired down in manual tasks. You'll be able to understand what best motivates your people, the impact your new strategies have on morale, and get new ideas for how to help them grow and keep them engaged.
Before AI: What HR Should Know
Artificial intelligence technology is still in its relative infancy, and that means HR professionals need to understand both the benefits and the risks of using it. Understanding the best practices for implementing AI in HR ensures that your company is using AI responsibly and knows how to mitigate the risks.
Dive Into Responsible AI With ClearCompany
Learn more about what it means to take an ethical approach to AI use and development:
In the age of artificial intelligence, you need software that can provide AI-driven employee engagement insights that help your people and your business grow. High engagement is possible when you harness the power of AI.
Find out how AI can be part of your employee engagement strategy with the right software. Get a demo of the ClearCompany Performance, Engagement, and Goals platform and ask about:
Manager feedback tools
Shout Outs and Celebrations for employee recognition
HR and employee notifications for performance reviews and pulse surveys
Reports and analytics dashboards