This post is Part 1 of a two-part series by guest author Charley Miller, Principal Product Manager at ClearCompany. Read Part 2: ClearCompany's Phased Approach to Developing AI.
Business is entering a really exciting moment with the advent of artificial intelligence (AI) backed by Large Language Models (LLMs). New efficiencies and unexplored possibilities for how technology will augment our work are emerging. ClearCompany is taking a holistic and responsible approach to ensure HR can take advantage of the promise of AI with appropriate guardrails that minimize bias.
As AI becomes ubiquitous, ClearCompany hopes to model Responsible AI for the rest of the talent management industry. Find out more about their Responsible AI approach:
Our team has long embraced automation and data science to enable our customers to make fast and informed talent decisions. We've developed tools that help our clients cut days off their time-to-hire via automated interview scheduling, conduct regular, standardized performance evaluations with automatic review cycles, and access real-time workforce insights at every stage of the employee journey.
For nearly 20 years ClearCompany has demonstrated a commitment to innovation in support of HR leaders making clear decisions while maintaining data privacy standards and continuously mitigating bias from our system.
None of this changes with the emergence of AI in HR. In fact, ClearCompany hopes to model Responsible AI for the rest of the talent management industry.
The unfolding advancements and rapid adoption of AI in the workplace are both revolutionizing many traditional practices in HR and raising new questions about the ethical use of AI in recruiting, sourcing, and candidate and employee evaluation. AI is becoming increasingly important for people leaders to utilize, and how it's developed and maintained will emerge as a critical consideration in evaluating any business software vendor.
At ClearCompany, we want to be clear about how we see AI impacting human resources and how we adhere to Responsible AI in our product development.
"AI has the potential to assist the HR professional, not only by reducing tedious taskwork but also by providing insights and suggesting options that might not have otherwise been considered. As developers of AI technology, we at ClearCompany recognize the very human impact of algorithmic bias. Moreover, we recognize the opportunity to enable diversity, equity, inclusion, and belonging (DEIB) by identifying unseen biases in existing hiring practices. We aim to increase objectivity and fairness across the employee journey through our data science and AI products; and, accordingly, we employ thoughtful design, thorough testing, and continuous monitoring as key aspects of our AI development process."

- Marie G. Evelyn, Ph.D., Lead Scientist, ClearCompany AI & Data Strategy
AI Unlocks HR Capacity
HR has long been responsible for managing large amounts of data and making informed talent decisions. While software and automation have helped immensely, finding the capacity to do everything well is a major challenge.
How can AI help?
At ClearCompany, we see AI assisting HR teams by automating repetitive tasks, streamlining processes, and enhancing productivity. We want our AI to give capacity back to HR teams so they spend less time on time-consuming tasks and more time on the important stuff, like making talent decisions, guiding leadership, building culture and workplace community, supporting employees, and implementing programs and initiatives that maximize talent.



A perfect example of how AI can benefit HR is the ClearCompany AI feature to compose job descriptions. With AI instantly drafting job descriptions within the job posting process, recruiters save vast amounts of time writing new descriptions or updating evergreen requisitions that need a refresh. HR now makes minor revisions to job descriptions with a surplus of time to focus on strategic decision-making.
We have a lot of AI-powered features and enhancements coming down the pipeline. But before we focus on our vision and phased approach, it's paramount to review our standards for delivering AI in the most responsible ways possible.
Our Commitment to Responsible AI
Mitigating the Risk of Bias
No matter the level of automation, decisions like hiring and promotions are susceptible to bias. At ClearCompany, we recognize the human impact of algorithmic bias and are committed to a comprehensive Ethical Assurance (EA) process. At a high level, our EA process begins and ends with empathy for our ultimate stakeholders, ClearCompany clients' existing and potential employees. This empathy informs the thoughtful design of our tools, the validation of our models, the testing of our implementations, and the monitoring of our systems.


Responsible AI use is a commitment that ClearCompany is making with its 5 Pillars of AI Ethics. Learn more about ClearCompany's approach and vision::
ClearCompany's 5 Pillars of AI Ethics
We've developed a code of AI ethics to affirm our commitment to Responsible AI. ClearCompany's code of ethics informs our product decisions and how we test our system for bias. While we're incredibly excited to reveal some of the AI plans in the works for our platform, we're doubly proud to speak to our responsible approach to AI.
Fundamentally, we strive to develop our system in a manner that is:
Fair to all people who interact (or have their data interact) with our tools
Transparent to those operating our system
Accountable regarding reliability and ethical outcomes
We're focused on a code of ethics that extends our commitment to excellence to the considerations where AI could cause harm.
We're proud to introduce the ClearCompany Pillars of AI Ethics. These five pillars state our fundamental approach to providing AI-enabled features and augmentation to our customers: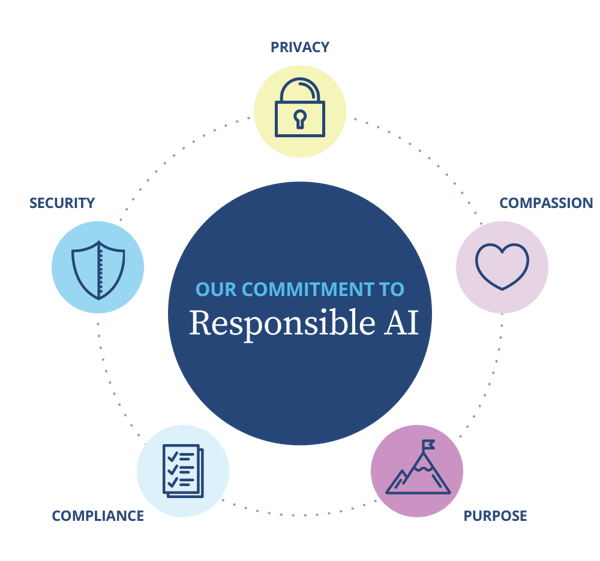 Compliance:

We abide by all applicable regulations and ensure our customers can as well.

Security:

We safeguard our AI models with robust measures against unauthorized access and influence.

Privacy:

We employ data science best practices to provide customer insights while securing differential privacy for their stakeholders.

Compassion:

We actively enable diversity, equity, inclusion, and belonging (DEIB) through the thoughtful design, testing, and monitoring of our AI tools.

Purpose:

We create AI systems to augment human capabilities — to assist, not replace, the HR professional in making talent decisions.
ClearCompany practices responsible data science in order to ensure that our systems process information fairly across sensitive groups and that discriminatory models never make it to production. Furthermore, we develop robust technology that preemptively detects data drifts and anomalous AI responses. Continuous validation of our AI, through built-in monitoring and swift customer support, is a core component of our AI approach.
As for transparency, we are working to make any AI-enabled response or action traceable and, when relevant, cited with the data sources used.
Just as AI technology continues to evolve, ClearCompany will evolve our AI approach. We will update this code as we learn and adjust so that we set the standard for best practices in leveraging AI in the HR space.
ClearCompany's AI Vision in the Product
At ClearCompany, we're driven by a bold vision of harnessing the full potential of AI thoughtfully and responsibly to improve HR outcomes and revolutionize the HR industry. Our AI-powered product is designed to empower HR professionals and recruiters and elevate their capabilities in unprecedented ways.
ClearCompany integrates cutting-edge technologies such as LLM-enabled text composition, predictive analytics, and machine learning. These AI-enhanced features advance our commitment to equipping our clients with the tools and data that enable them to make data-informed talent decisions, drive strategic initiatives — and save a lot of time in the process.
Our AI vision extends beyond mere automation and process optimization. We believe in leveraging AI to create a truly intelligent HR ecosystem that understands and adapts to each organization's unique needs. Our product utilizes sophisticated algorithms to analyze vast amounts of data, uncover hidden patterns, and provide actionable insights. That enables HR professionals to proactively identify the right candidates, optimize workforce planning, and create a more engaged and productive workforce.
A key aspect of our AI vision is enhancing the employee experience. We understand that engaged and satisfied employees are crucial to organizational success. Our AI-powered product will offer features like personalized recommendations for career growth, tailored learning and development opportunities, and real-time feedback mechanisms. By leveraging AI, HR professionals can nurture a culture of continuous growth and foster employee engagement, resulting in higher retention rates and overall satisfaction.
In line with the ClearCompany Pillars of AI Ethics for responsible AI, our roadmap will prioritize needs that relate to fairness, transparency, and accountability. We are implementing rigorous EA measures to address bias and ensure equal opportunities. By continuously monitoring and fine-tuning our models, we strive to provide HR professionals with reliable and unbiased insights, enabling them to make fair and informed decisions regarding talent acquisition, performance management, and succession planning.
Our AI vision extends to incorporating our AI with integrated customer data. ClearCompany already provides seamless integration with an employer's HR system of record (SOR), like a payroll system or HRIS. We understand the importance of compatibility and ease of implementation. With our AI-powered solution, HR professionals can leverage the benefits of ClearCompany AI with their integrated people data.
To realize our AI vision, we will continue collaborating closely with our clients and prioritize their feedback. We are a customer-led organization, working hand-in-hand with HR professionals to understand their unique challenges and requirements. This collaborative approach allows us to develop AI-powered features that directly address their pain points, ensuring the relevance and effectiveness of our product in real-world HR scenarios.