Close your eyes. Think of a time when you were busy and needed to hire a lot of people. Were you concerned with candidate experience? Of course you were. Were you wary of long interview times and ensuring you hired for technical and cultural fit? Absolutely! Did you have your onboarding process mapped out before you sent out the offer letter?
Boost your company culture with our 5 Step Guide to Acquiring Employee Buy-in for Better Company Culture: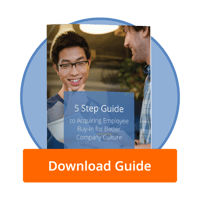 Record Scratch
You probably didn't but not because you don't care. As an HR professional, you do care about your employees and coworkers. You want them to be successful, and the company to be successful along with them. But often we don't pay attention to the one thing capable of making that happen
You probably already know what I'm going to say right?
The way to make that happen is through onboarding—it has a massive effect on your new employees. In order for new hires to achieve success within the company, you have to provide them with the tools, education and information they need. But it also has significant return on investment. It's not just a way to get employees started off on the right foot, it's a way to continue the transformation from a cost center into a revenue generator, by investing in the last great differentiator: your people.
Onboarding is an investment in the company's future. In fact, organizations with standard onboarding processes see 54% greater new hire productivity and 50% greater new hire retention.
Just imagine going above the standard.
So what exactly is it?
Onboarding isn't a simple process, so it often helps to define things by what they are not. Onboarding is not orientation. Onboarding is also not the same as employee training or development—training is just one piece of the puzzle.
#Onboarding doesn't just mean training. Find out how employees benefit from a complete system:
Instead, it involves integrating your new hire with other employees, the management team and the corporate culture. Onboarding is the process in which you convey your organization's brand and values and create an engaged and knowledgeable employee. Most importantly, onboarding should be a long process, not something you try to squeeze into the employee's first week or even the first month. In fact, most experts suggest the process should last at least 90 days. The ROI of onboarding takes on a larger significance when you realize up to 20% of employee turnover happens in the first 45 days!
Let's dig into how exactly new employees benefit from the onboarding process.
Increased Engagement
Only about 50% of the workforce strongly feels they understand what is expected of them at work, likely due to poor onboarding practices. The result is that over half of people who leave their jobs do so within the first year of their position.
What that shocking statement means is that all the money your organization has invested in advertising, sourcing, recruiting, interviewing, training and paying that employee is basically wasted! Josh Bersin states in a recent Forbes article that companies on average spend approximately $4,000 per candidate on interviewing, scheduling and assessment to decide if someone is right for a job.
With an improved onboarding process, you increase engagement from the very beginning. From day one, your employee feels connected to their work and coworkers, and that feeling lasts through their first few formative months, when research suggests they are the most vulnerable to leaving.
Improved Productivity
Through onboarding, employees gain autonomy and reach productivity much faster. Only 44% of HR professionals say employee productivity is on the rise. You can beat that statistic and increase productivity in your workplace by implementing a successful onboarding program for new employees. After both operational and cultural onboarding, 92% of new hires felt like productive contributors to their organization after one month on the job.
Note that, both operational and cultural onboarding. So you can't just purchase a paperless onboarding system and expect your new hires to be immediately productive. There's a second step that must be spearheaded by HR and slowly grow throughout the company. By showing the ROI of implementing both, you stand a better chance of convincing your team why this is SO important. It's one thing to try to convince a reticent CFO you need to "make new employees feel welcome," it's quite another to show him or her how quickly the new hires could be at peak productivity and how that will affect the bottom line. Which line item do you think will be approved?
Increased Communication
Everyone has had that one nerve-wracking first day on the job. You want to do well and impress your new coworkers and managers, which makes it difficult to ask questions or share concerns. Onboarding helps alleviate anxiety for new hires by getting them familiar with their coworkers faster. In addition to engagement, work friendships boost employee satisfaction by 50%. Any discomfort that a new employee faces in their first few days of adjustment can be alleviated with the right tactics.
More than employee discomfort though are costs avoided. For example, in the U.S. and U.K., an estimated $37 billion is spent annually to keep unproductive employees who don't understand their job. When communication breaks down, new employees don't seek help from colleagues or managers and it could be months before the team realizes there is an issue. While it's difficult to calculate what precisely this will cost each company, you can guess.
Increased Alignment
Training is the how of doing a job—and it's an important part of onboarding. However, training doesn't explain the why to new employees. Why are they doing this job? What impact are they making on the company and their community? Currently, only 7% of employees fully understand their company's business strategies. An inspiring onboarding process will get new employees up to speed on company best practices and goals in no time. Meaningful work is one of the most important benefits potential employees look for in an employer. If you're able to provide purpose and meaningful work for your employees they're going to stick around much longer.
Only 7% of employees fully understand their company #strategy. Find out how to fix that:
How do you make it happen?
In a recent study, 25% of companies admitted that their onboarding program does not include any form of training, which leads to a loss of 60% of a company's entire workforce. Fortunately, that doesn't have to be the case with your company. A paperless onboarding system like ClearCompany's encompasses every aspect of the onboarding process: from forms to assigning tasks to hiring managers and everything in between. You'll even get an onboarding report that analyzes key metrics and helps you determine what is working and what isn't in your onboarding strategy. You can then transition seamlessly into our goals and alignment module, which helps your employees reach their goals with feedback tools and your managers hone in on A, B and C players within the organization by tracking performance data.
You could be missing out on the "onboarding effect!" Stop stalling and start impacting productivity, communication and engagement today. ClearCompany offers software to make it simple, dedicated Customer Success Representatives to make you successful and a complete training library compiled by HR industry experts to guide you through best practices. What are you waiting for? Talk to us today!
Recent Posts: