This article has been updated to reflect newer information as of February 2017. For more articles on recruiting, check these out:
Recruiting and talent acquisition— is where the whole talent lifecycle begins. It's the first—and depending on whom you ask—the most vital step in the lifecycle to really nail.
According to a survey of 4,288 HR and non-HR managers by the Boston Consulting Group, talent acquisition is the single most important driver for revenue growth and profit. That's probably something you're going to want a strategy behind. So let's talk shop.
Talent acquisition is the single most important driver for revenue growth and profit.
Talent acquisition, as a function, is broken down into three major parts:
Talent Forecasting
Crafting and Maintaining a Strong Employer Brand
Candidate Experience
Talent Forecasting
With any strategy, you have to think a few moves ahead. A recruitment team in reaction mode is marginally as effective as one that has the tools and resources to forecast their talent needs. If you can only be reactive, you will fail to meet the true needs of the organization. The traditional standard of organizational efficiency is changing, and reactionary management of the recruitment process is no longer cutting it.
Study industry, company and departmental trends. This may mean tapping into the data that your ATS and/or LMS have been collecting over the years. This historical data (which simply reveals what has already happened) can be used to produce real-time and predictive analytics. In other words, the data and metrics that you already have can be analyzed to discover how one data point is connected to another data point. Those connections shape and form what will happen, by giving recruiters the insights they need to make workforce decisions for the future.
Onboarding and post-hire interviews are full of information that can be used to forecast recruiting changes. Consider these your 360-performance review of the recruiting department.
Stay in touch with your current workforce about their forecasted talent issues. Perhaps someone knows that you should start looking for a new senior analyst…but that didn't come from me.
Create a constant dialogue with department heads about impending projects, traditionally busy periods and overall talent needs. By soliciting this information on a regular basis, recruiters put themselves ahead of the curve, instead of a constant game of catch-up.
Look to performance appraisals to identify impending turnover. You'll need a strong and real-time appraisal process to make this possible.
Download our checklist to ensure exceptional candidate experience every time: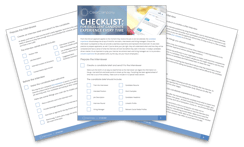 Crafting and Maintaining a Strong Employer Brand
Do you know what type of companies continuously attract good talent? Companies that build an employer brand that says, "We love our people", are the ones who always seem to have the resumes rolling in. Employee-centric brands walk the walk when it comes to proving that their most valuable asset is their talent. When an organization is truly obsessed with their employees, it shows throughout their entire company culture.
Employer Brand Messaging: It's vital to come to the realization that you have an employer brand message, whether you've purposefully crafted it, or not. Your message is what people think and feel about your employer brand, and is not necessarily the same as the image you have with customers. Are you crafting opinions, or are you simply writing job descriptions? Jim Link, Director of HR for Randstad US defines what it is, and why it matters…a lot:
"An employer brand is a billboard for the organization, and the importance of this public sentiment goes beyond recruitment efforts. Clearly, company reputation impacts attractiveness among potential candidates. It is also clear a strong employer brand will further drive bottom-line results by creating a stable workforce, increasing productivity, and engaging key stakeholders. This affects all aspects of the organization, and when managed effectively, can elevate leadership and visibility within the company's industry."
Employer Brand Messaging Tools: There are multiple mediums you can use to craft and deliver your strategic employer brand messaging—and thus your culture—but you don't have complete control over all of them. What you do have control over should be centrally managed with a fully integrated applicant tracking system. The features you will use
Automated career page updates.
Automated social sharing of job listings and updates across multiple social media outlets.
Automated job posting on job boards.
Working from an ATS (your brand messaging HQ) will ensure that your branding remains consistent, updated across all mediums, and overall easier for a team, or an individual to manage. Redundancies and inconsistencies are eliminated at the ATS branding hub. The whole idea behind crafting your employer brand message is not only to attract candidates, but also to attract candidates that will fit into your established company culture with ease.
In this first part of Recruiting and Tools, we discussed talent messaging and the employer brand, and the roles that performance management software and a strong ATS play in these aspects of the recruiting lifecycle. Our next post will dive into how a robust and fully integrated ATS can help you create and build upon a positive candidate experience, every time.
Take a look at Recruiting & Tools Part 2!