2020 has finally come to a close. Organizations all over are wrapping up their projects, running annual reports, and preparing for a fresh start in 2021. It's safe to say that this past year has been challenging for everyone. People inherited new responsibilities at work. Businesses had to adjust to remote work processes. Organizations had to make difficult decisions regarding employment and payroll. However, amid all the changes and disruptions, people and businesses alike found ways to adapt and adjust to the new normal.
As we get ready for a fresh start and a new year, ClearCompany wants to reflect on the hard work, dedication, and commitment to excellence that our employees have brought to work each day. Below we break down all of the amazing things we created in 2020 as we look at our year in review:
New Product Launches
Throughout the entirety of 2020, ClearCompany remained hard at work to ensure our clients and partners have access to the most effective, state-of-the-art tools to achieve their goals in hiring, engaging, and retaining their A Players. In the last 12 months, we've rolled out 9 new software product solutions, aimed at supporting key business needs and advancing current functionality to help organizations be resilient and remain competitive in the talent marketplace.
@ClearCompany kept busy in 2020. See what #successes they accomplished over the last year:
Workforce Planning


Workforce Planning

provides businesses with agile, collaborative, and rapid headcount planning tools, creating a bridge between HR and Finance departments. Users are empowered to leverage their existing payroll and demographic data to create and update headcount plans instantly. This feature is currently being offered to ADP payroll users with our data integration.
Device & Equipment Management
Organizations can effortlessly deploy and track items like computers, desks, uniforms, or any other item provided to employees to do their jobs with ClearCompany's

Device and Equipment Management

. Items can be provisioned by role, or assigned to employees individually. Track item history and use custom notes to store warranty information, special instructions, or other critical information.
Performance Cycle Creation
ClearCompany reimagined the performance cycle creation process, making it easier than ever to create, organize, and launch performance reviews. With our new Express option, users have access to everything needed to set up a standard review cycle, including a number of pre-populated values, in one intuitive screen. The performance dashboard has also been updated to sort by different review types, and it's now easier than ever to select cycle participants or change parameters like the date range for a review cycle.
Text-to-Apply
Did you know that when employers contact job applicants over text rather than email, they see a

40-50% increase

in response rates? Now, ClearCompany clients can easily enable text applications for any requisition in just a few steps. Recruiters can select from available phone numbers, including area codes where their candidates live. And, candidates can complete their applications quickly, right through their smartphones!
Business Continuity and Remote Work
ClearCompany has compiled many resources to help our customers maintain

business continuity

and adapt to remote work during this challenging time. Throughout 2020, we continued supporting clients with more information, online learning opportunities, and special Business Continuity product offers.
Performance Analytics
ClearCompany radically improved our existing performance reports, providing users with a full suite of

Performance Analytics and Reporting

right at their fingertips. These reports help every performance management customer get the most out of each review cycle and feature better visualizations, more interactivity, and easy segmentation and filtering tools.
Advanced I-9 and E-Verify
ClearCompany's new Advanced I-9 and E-Verify tools, powered by HireTECH, provide users with the most straightforward and comprehensive suite for managing, organizing, and tracking I-9 forms on the market today. Users can complete forms on mobile devices with easy-to-follow prompts, ensuring every field is complete and maintaining records and a complete audit trail for total compliance.
Mobile Performance Management
Performance reviews are now fully

mobile-enabled

, allowing employees and managers to complete their reviews, update their goals, or track their progress in any location, and on any connected device! This is in addition to several interface changes that make all of our Performance tools easier to use across PCs, tablets, and smartphones.
Employee Engagement Surveys
ClearCompany's powerful and flexible new survey tools help businesses get timely, honest feedback from employees. With a wide range of survey options such as

quick Pulse Surveys

and more in-depth surveys, managers can gain insight and answers on employee sentiment in a matter of minutes. This product also includes several pre-built, expert-developed surveys on topics like employee engagement, the onboarding experience, and diversity, equity, and inclusion.
Join @ClearCompany in reflecting on 2020. Check out what #products they launched, what #features they updated, and what partnerships they began over the last year:
Software and Product Upgrades
In addition to our several new product launches, ClearCompany spent the year updating many existing products, making them better than ever before. Check out what upgrades and new features we added throughout 2020:
Calendar Integration Upgrade
ClearCompany's calendar integration received a major speed boost! Interview scheduling is more convenient than ever, with the ability to show interviews in recruiters' and hiring managers' calendars as soon as they're scheduled in ClearCompany.
ADP Integration Upgrade
ClearCompany upgraded its bi-directional integration with

ADP payroll products

, adding the ability to transfer federal tax withholding information between the two systems. This is in addition to the dozens of pieces of data already supported by our integration, the most robust in the industry.
Roles Upgrade
ClearCompany transformed its underlying Roles structure to become more simplified and intuitive. Roles save HR administrators time and effort, reduce redundant tasks, and are a fundamental part of ClearCompany's

A

Method strategy.
People Analytics Upgrade
ADP payroll clients using ClearCompany's Workforce Planning tools received a significant update to the People Analytics module. Several report variations were added, covering different aspects of compensation, role progression, turnover, data quality, diversity, equity, and inclusion.
Offer Letter Upgrade
Users can now create offer letters for current employees, providing simple, intuitive offer letter processes for all new hires or promotions. Attachments can now be added or deleted quickly on any individual offer letter. Users can easily change offer letter names to promptly identify specific letters for hires, promotions, transfer requests, or any other position change.
Feature Enhancements
Sometimes, all it takes is a small change to make an existing product more user-friendly. Over the last year, ClearCompany reviewed usage data and gathered client feedback to determine which products needed a bit of a boost and built enhancements to create a more capable, user-friendly, and robust software suite. Check out these smaller feature updates we rolled out in 2020:
Talent Acquisition Updates:
We made a number of updates that make recruiting and onboarding top talent easier than ever. We offered users more flexibility in communications with helpful updates to email functionality and upgrades to video interviewing and to ClearText, our popular tool for text messaging. We added features to boost convenience, making requisition approvals and sharing resumes easier than ever. And we gave clients options to offer hiring managers more direct control over a number of functions, improving collaboration and freeing up resources in the HR department.
Performance and Engagement:
As you can see from the major product updates earlier in this post, we made significant improvements across our Performance and Engagement suite this year. But we also added incremental improvements, like updating our performance export files so they can be more easily imported into other software. We also refined settings determining who can see performance review scores and when. Finally, we updated Shout Outs, our tool for peer recognition, to make it easier to recognize multiple people - and have that recognition automatically added to their files for future performance reviews - in one message.
Across the Platform:
We also made important functionality improvements that help all ClearCompany users, no matter what part of our product they use. This includes general changes to how ClearCompany handles candidate and employee email addresses, a number of improvements for importing data into ClearCompany from other software, bulk actions for roles that save you time, and improved filter and view options across all reports.
@ClearCompany spent 2020 rolling out new #products, upgrading current features, and creating new partnerships to bring you even more cutting-edge solutions. Check out all they accomplished in the last year:
Partnerships and Integrations
Apart from product updates and launches, our team at ClearCompany kept busy improving integrations and building relationships with partners across the HR Tech space. In 2020 we launched cutting-edge integrations with LinkedIn, Absorb LMS, and TazWorks. Read more about each of these new integrations and how they help to make the hiring process and talent management process more effective and efficient:
LinkedIn Recruiter System Connect Integration
ClearCompany now has an integration with LinkedIn Recruiter System Connect! The integration streamlines recruiting with a one-click export of a candidate's LinkedIn data to ClearCompany, the ability to see ClearCompany information in LinkedIn Recruiter, and access to your InMail messages and a LinkedIn widget in the ClearCompany Candidate Profile. These features are available at no cost to LinkedIn Recruiting License holders.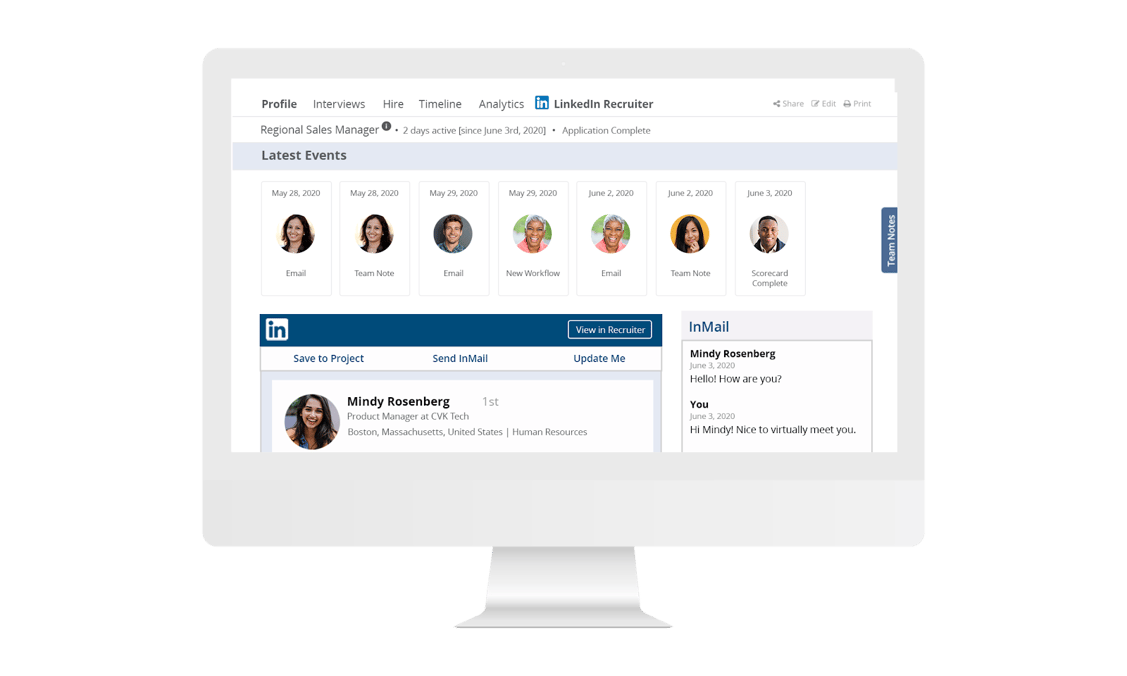 Absorb LMS Integration
ClearCompany's integration with Absorb LMS, a global leader in online learning, provides our mutual clients with a best-in-class, integrated Learning Management System. You can ensure compliance, manage documentation, and give new hires a warm welcome with automated user provisioning and easy-to-access onboarding modules.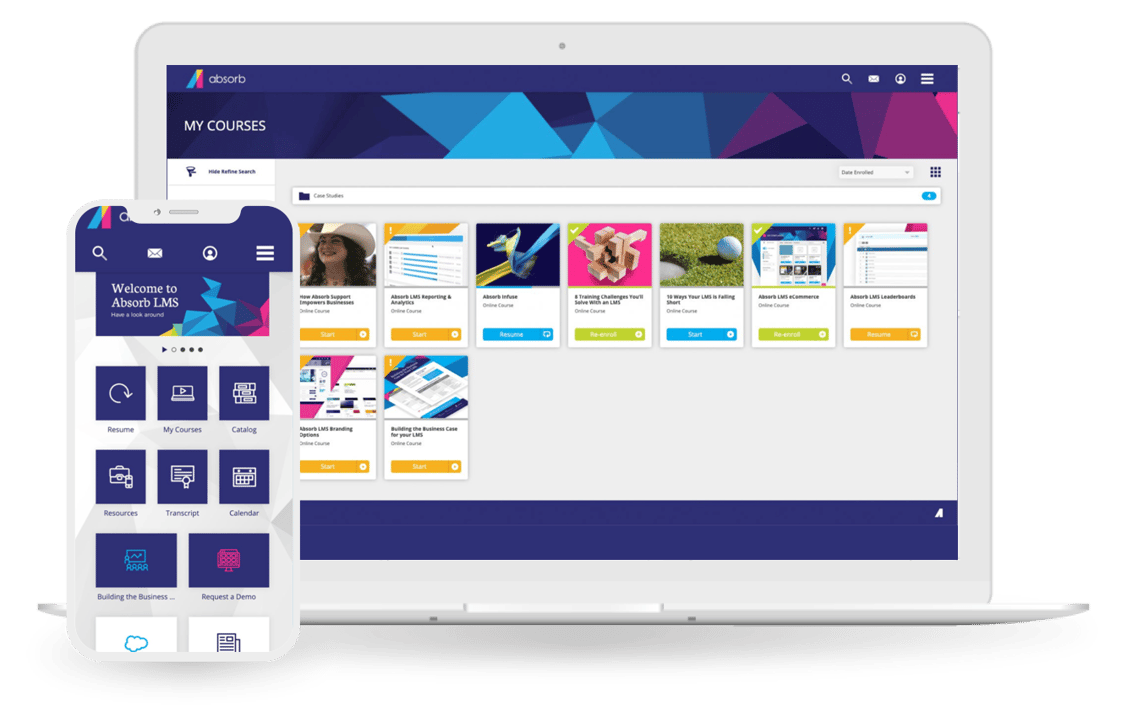 TazWorks Integration
TazWorks is a technology company offering a turnkey background screening platform to organizations that provide candidate and employee screening as a service. TazWorks is the creator of TazCloud™ — an end-to-end technology solution for the background screening industry. With this update, ClearCompany clients can easily set up an integration with any one of the dozens of background check providers that partner with TazWorks.
To put it simply, it has been a busy year for our team at ClearCompany. We navigated the changes brought on by the COVID-19 pandemic and transitioned to remote work, rolled out new solutions to pain points our clients faced, and found new ways to partner with industry-leading experts to create cutting-edge solutions to problems all businesses face. ClearCompany is here to support your team in achieving your goals for hiring, retaining, and engaging A Players in 2021. To learn more about our robust product suite or to see how we can help you transform your current processes, reach out to one of our experts, and sign up for your free demo now.