HR teams have been in the hot seat since the pandemic upended work as we know it, and there's no sign that the demand for innovative HR strategies will let up. As 2024 approaches, the pressure is on for HR teams to:
Build pools of skilled top talent
Use automation and artificial intelligence (AI) to work more efficiently
Overhaul employee experience to retain top talent
To meet the demands of the new world of work, your HR team needs modern software tools and expert advice on best practices.
That's why, at ClearCompany, we're constantly innovating. As the only full-spectrum talent management platform on the market, our software gives HR teams unprecedented clarity over the entire employee lifecycle. We set the standard for all talent management software providers with constant improvement and expansion of our tools. Every new product and feature is designed to meet clients' needs and align with HR best practices.
We're raising the bar once again with our latest product releases and feature enhancements. Learn more about the new tools that are helping clients maximize employee talent every day.
🌠 Ready to maximize employee talent and excel in 2024? ClearCompany's latest product releases and feature enhancements are your ticket to success. Stay ahead in the ever-evolving world of work:
Enhanced and Expanded Employee 1:1s
ClearCompany's 1:1 Workspaces make it easy for managers and employees to stay in touch regularly with a collaborative, cloud-based space where they can share feedback, action items, updates, and agenda topics. Our latest release, 1:1s With Anyone, expands this functionality to support collaboration, document outcomes, and maintain records of one-on-one meetings between any two colleagues in your organization.
Forget about endless back-and-forth emails or sifting through your inbox for relevant information. With 1:1s With Anyone, users can easily access past notes, track action items, and keep an organized record of one-on-one meetings with anyone at their organization. Plus, the intuitive new 1:1s page provides a central place to view all upcoming or past meetings in one spot.
We've also updated 1:1 Email Notifications, taking the hassle out of sending reminders and notifications so participants can focus on the objectives of their one-on-ones. In addition to improving the look of these reminders, we've added a follow-up reminder to encourage participants to leave notes in their workspace for future meetings.
We're thrilled to offer our customers this teambuilding, efficiency-driving feature to help reduce missed meetings and communication breakdowns in favor of better, more effective conversations that will truly make a difference in their businesses.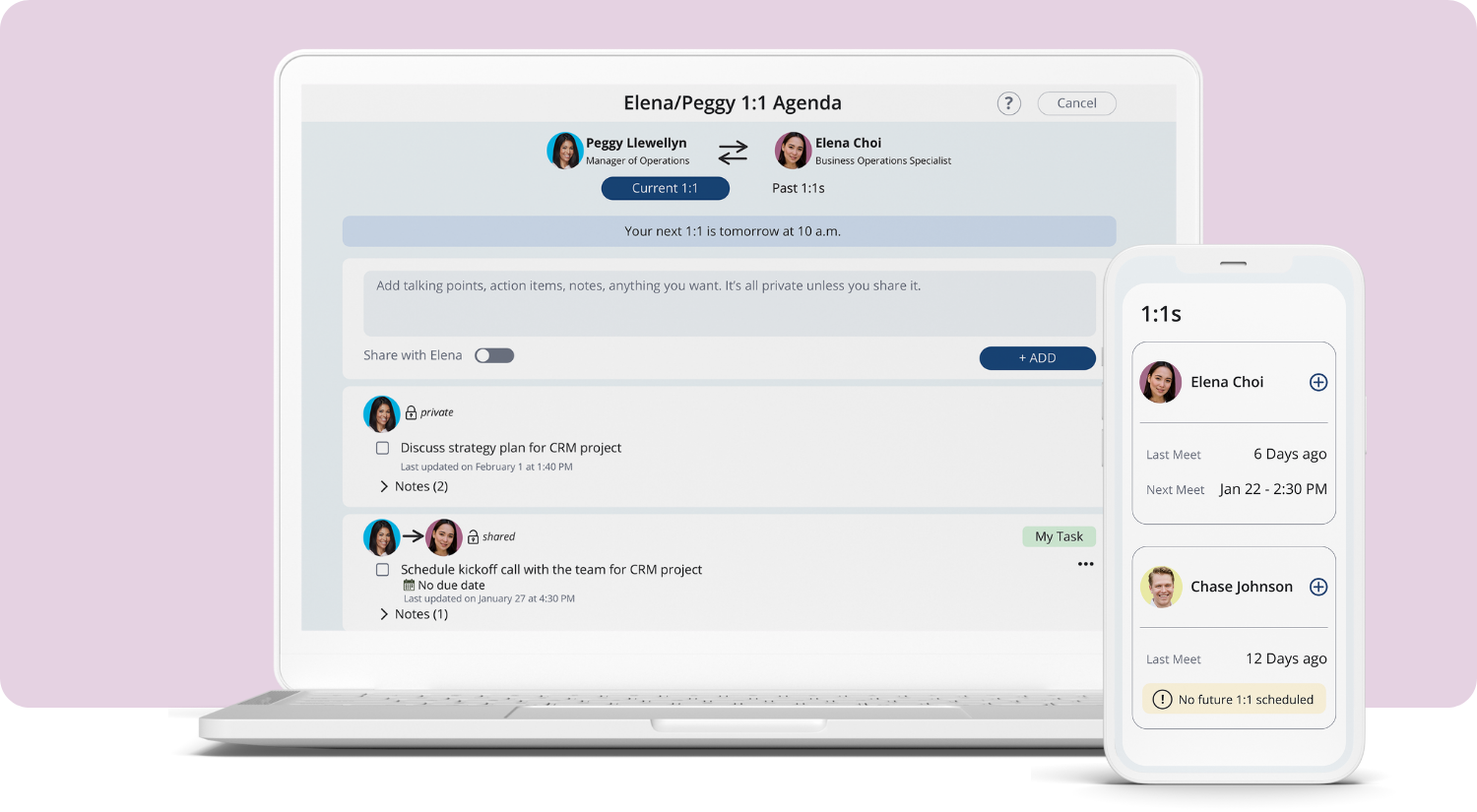 Revolutionary AI Assistance for Recruiters
Artificial intelligence is taking HR by storm —81% of HR leaders say they've explored or implemented it already, and 92% say they plan to increase their use of AI. We're proud to offer AI enhancements to our clients, beginning with AI-Assisted Job Descriptions, which help our clients write job descriptions that are accurate, consistent, and engaging. Now, we've expanded that functionality to other candidate communications — emails and offer letters.
🔍 Unprecedented clarity over the entire employee lifecycle — that's what ClearCompany offers. See their latest product enhancements that are redefining talent management:
AI-Assisted Candidate Emails
We understand the challenges that recruiters face when it comes to effective candidate communication. Juggling multiple email threads, using language that conveys professionalism and clarity, and simply finding the time to respond to every candidate can be overwhelming. Imagine the convenience of an AI chatbot at your fingertips, ready to assist you in crafting the perfect email message.
That's no longer a dream for ClearCompany users with the release of AI-Assisted Candidate Emails. This feature is the ultimate time-saving solution for recruiters looking to streamline their candidate communication process. Whether you're a seasoned recruiter who regularly sends a variety of email communications to candidates or a time-strapped HR pro looking for a quick and efficient way to send clear and professional email responses, AI-Assisted Candidate Emails are the solution.
Say goodbye to hours spent laboring over drafting the perfect email response, and say hello to efficient, professional, and engaging candidate emails created with the assistance of AI. Our AI chatbot is seamlessly integrated into the candidate email page. Users can choose from three prebuilt prompts specifically tailored for common email scenarios or create their own unique prompt.
And the best part? Our AI chatbot will work tirelessly to refine the prompts, ensuring that the message strikes the right tone and resonates with candidates. ClearCompany users can impress candidates with prompt, engaging responses and spend more time focusing on what really matters — finding the perfect fit for your organization. It's a winning combination of technology and human touch.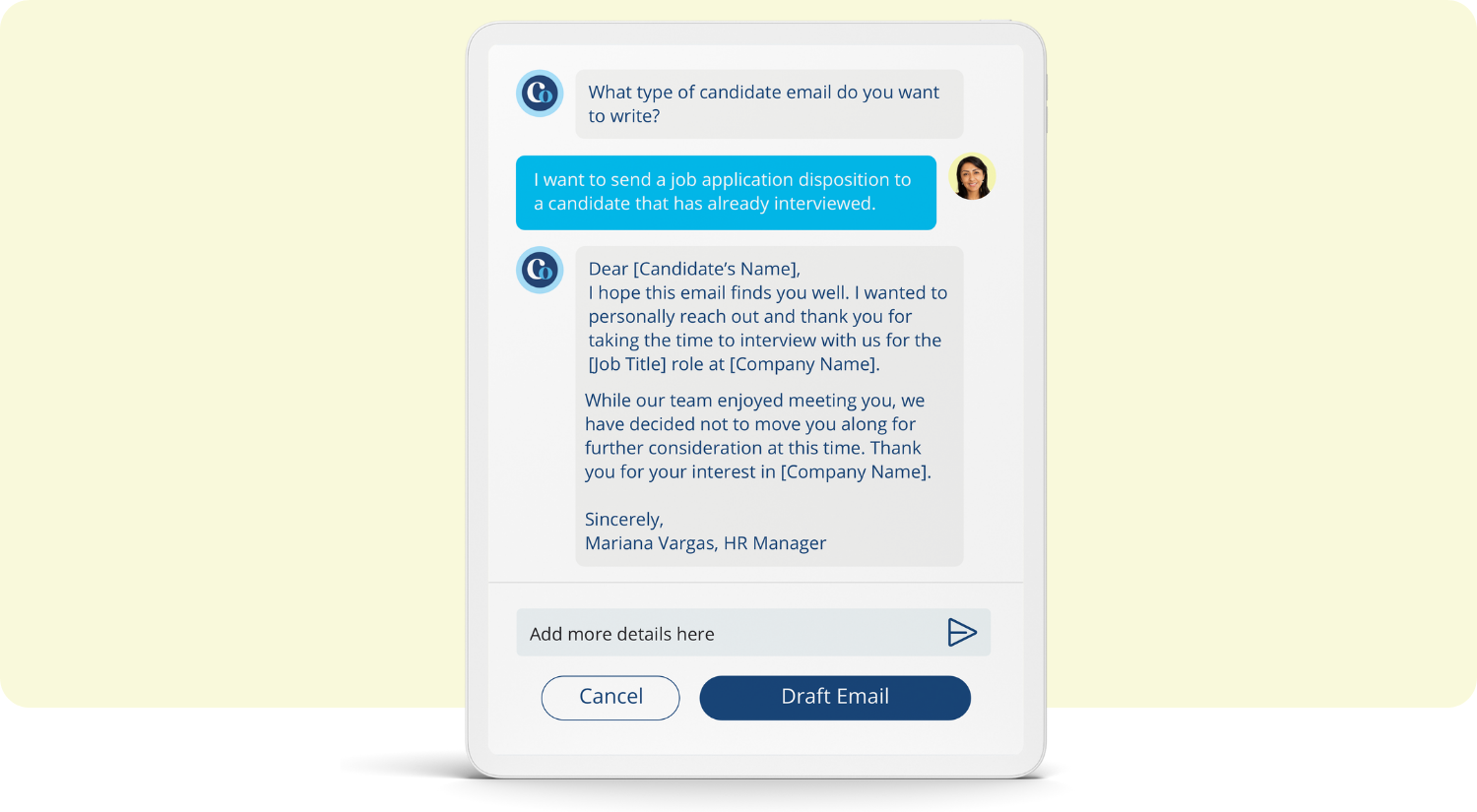 AI-Assisted Offer Letter Templates
We know how important it is to streamline HR processes, especially when it comes to hiring in a competitive market. ClearCompany's AI-Assisted Offer Letter Templates save talent acquisition teams manual effort and time spent drafting offer letters — and help our users beat their competition to the punch when it comes to making an offer. This tool leverages the same AI content generation engine as our AI-Assisted Candidate Emails and AI-Assisted Job Descriptions tool.
Our user-friendly interface and AI technology simplify and streamline the process, making offer letter creation fast, accurate, and professional. Plus, users have the flexibility to easily customize and edit any offer letter template to fit the hiring requirements of each new position. Not to mention, all our features are backed by our commitment to data privacy and Responsible AI development.
With ClearCompany, users have access to ready-made, customizable, and professional offer letter templates that help HR professionals send offer letters confidently and quickly — every time.
Integration Improvements
ClearCompany integrates with several software partners to help our clients work more efficiently by sharing data between systems so they can spend less time toggling between software applications. In this release, we made updates to our integrations with Indeed and VensureHR.
Indeed Recruiter Extension (IRX)
Mutual clients of ClearCompany and Indeed will gain added capabilities with our latest Indeed enhancements. These new features are designed to help our users streamline their recruitment processes and increase successful hires.
Users can now install the Indeed Recruiter Extension (IRX). The Chrome extension allows our users to find and contact matching candidates directly from the extension. It also enables them to leverage detailed hiring market data, like salary trends by role and location, to ensure salary ranges are competitive and job postings stand out. They'll also enjoy a faster auto-refresh cycle, now set at 60 days, to ensure job postings always stay up-to-date.
ClearCompany and Indeed users can now display their commitment to candidates with a Responsive Employer Badge. The Responsive Employer Badge quickly identifies employers who actively manage their applications, providing a better candidate experience and boosting their employer brand.
VensureHR Bidirectional Integration
Our clients gain immense value from bidirectional integrations with top payroll providers, including ADP, Paylocity, and UKG. We're excited to add another provider to our list of integrated partners with the introduction of our bidirectional connector with VensureHR. Mutual clients of VensureHR and ClearCompany can now perform fast, secure transfers of employee data between the two systems.
These improvements ensure our clients have the advanced capabilities they need to recruit, ramp, recognize, and retain their employees — and we'll keep them coming all year long. Keep an eye out for more updates in our next quarterly product release.Sign up for a personalized demo with a ClearCompany expert to find out how these features can help your company meet its talent management goals.