2020 brought disruption to the ways we've traditionally conducted business. Many organizations have been forced to make quick decisions or adjust their usual processes to stay afloat. Whenever a change happens, it is important to take a step back and reflect. Were your efforts successful in the changes you made? Are these changes sustainable in the long run?
One aspect of your company that needs to be addressed is the process you take for onboarding new hires. With many organizations adopting a remote work format, finding a balance between a traditional and a digital onboarding process will be essential in creating a positive and productive employee experience.
Below, we discuss three different metrics you can use to measure whether your company is onboarding new hires effectively.
Track Your Turnover
All organizations know the actual cost of turnover is much higher than the cost of properly onboarding and investing in your current employees' development. In today's workplace, organizations can spend up to 1.5-2x the cost of any given employee's annual salary to source and hire a newly vacated role. With many companies tightening their budgets and still recovering from an unprecedentedly turbulent year, ensuring that your new hires are properly onboarded and feel a sense of connection to their role and team is critical for success.
What are the reasons your #employees are leaving your organization? @ClearCompany has these 3 different #metrics you can use to #measure whether your company is #onboarding new hires effectively!
An effective onboarding process does much more than just create a team of highly productive employees. Creating a positive and strong onboarding process enables your staff to take ownership of their role and feel more involved in the workplace. A negative onboarding experience makes employees 2x more likely to search for a new role. As your organization analyzes the effectiveness of your onboarding efforts, tracking the rate of turnover can give insights into whether new hires feel adequately prepared for their role.
Ask yourself:
Have you seen an increase in the number of employees leaving your organization?
What are the reasons employees are leaving your organization?
When employees leave their roles, utilizing exit interviews will help shed some light on the overall employee experience. If you find that many employees cite a lack of training or feeling unconnected from the rest of the team as the reason they left your company, it may be time to rethink and reform your onboarding experience.
Compare Employee Performance
As you begin to onboard new employees, it is essential to benchmark the time-to-productivity and performance of your new hires and your existing employees. A strong and effective onboarding process is one that can create a more streamlined and efficient training procedure.
When working with your new hires, set short-term goals and check in frequently to assess how the transition is going. Weekly meetings allow you to give timely feedback and give your new hires the time and space to discuss areas that need improvement in your onboarding procedure.
When setting your goals, make sure to:
Set goals with a clear objective and timeline
Ensure your goals challenge you but are achievable
Set goals that can be tracked and measured
#DYK that in today's workplace, organizations can spend up to 1.5-2x the cost of any given employee's annual salary to source and #hire a newly vacated role? @ClearCompany has all the tips for effective #onboarding!
A strong performance management system supports your company's objectives and offers insight into your team's productivity and sentiment. With many organizations transitioning to a remote work environment, adopting new technologies to support and enable their teams to succeed in their roles is critical. One thing that all organizations need — a customizable and insightful software that enables goal alignment, increases engagement and communication, and provides transparency in performance tracking.
Employ 360-Degree Feedback
Organizations thrive when they rely on consistent and honest feedback from their employees. Promoting a culture of transparency and accountability helps your employees feel comfortable sharing their honest feedback. With many companies now working remotely, it can be difficult for managers to review and rate their employees' performance accurately. Without the ability to oversee performance in an office setting, leaders are now finding it challenging to create a holistic view of an employee's productivity.
360-Degree feedback helps to paint the whole picture of an employee's performance. Coworkers can provide insight into the daily tasks and processes that managers may not be able to see. Additionally, 360-Degree feedback offers a layer of accountability to your organization.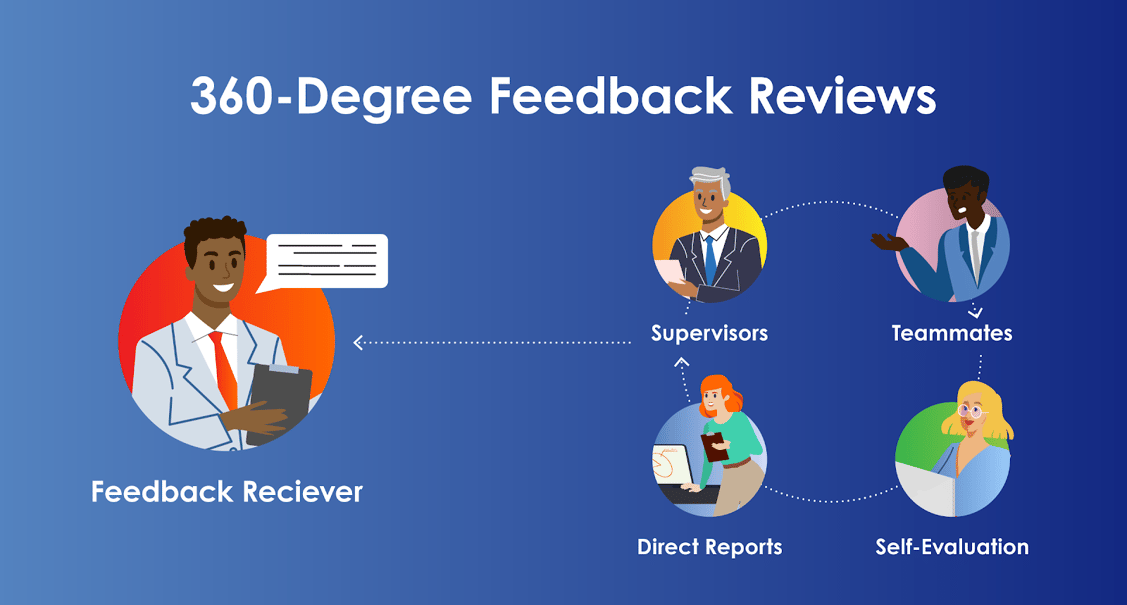 Remember, the best feedback is:
Timely — Your feedback needs to be given promptly so that changes can be made in real time.
Actionable — Your feedback needs to provide a clear step toward how behavior or performance can be improved.
Relevant — Your feedback needs to be relevant to the current situation and needs.
One thing that organizations need to consider when creating their feedback system is that most employees feel uncomfortable sharing honest feedback with their employers. To combat this, organizations can utilize employee surveys to gather thoughts anonymously. This grants your employees the freedom to speak without fear of retribution.
As we navigate the new normal that comes with working remotely, organizations need to ensure their onboarding strategy and process supports their employees and business goals. Effective onboarding can help organizations reduce the likelihood of new hire turnover and create a culture of connectedness in the workplace. ClearCompany's digital and paperless Onboarding system provides a streamlined new hire experience and analytics including quality of hire reporting. Organizations can also benefit from the total integration of our onboarding system with our other existing product suites. To learn more about how you can prepare and update your strategies to operate in a digital world, reach out to one of our experts or sign up for your free demo today.