Many organizations have encountered the need to update or adapt their current review processes throughout this past year. Traditional performance reviews are no longer as effective as they once were, with many employees and managers alike stating their distaste for the usual annual review. One method of performance reviews that have been gaining popularity in recent years is 360-degree feedback. What exactly is 360-degree feedback, and how can your organization benefit from implementing this system?
@ClearCompany says #trust and #consistency are key to any successful #360Degree feedback system. Read more:
What is 360-Degree Feedback?
360-degree reviews involve gathering feedback from all directions — supervisors, teammates, and direct reports. Evaluations and feedback are consolidated into a holistic view of employee performance and can be used to make actionable change. 360-degree feedback systems operate based on anonymity — employees are provided the comfort of knowing that their feedback is not tied to their name so that they feel safe speaking honestly.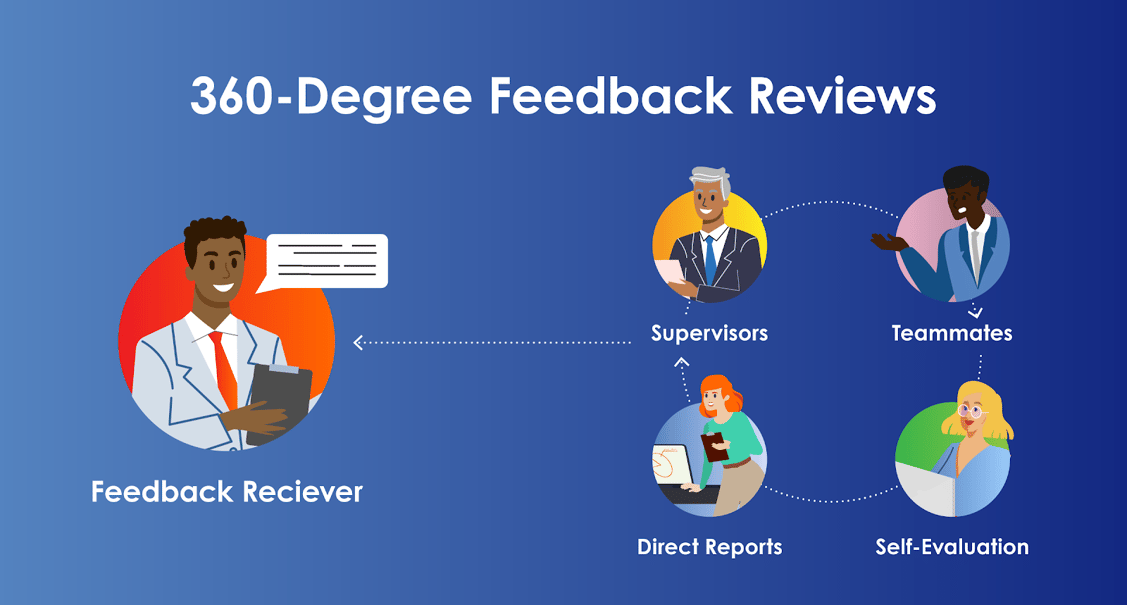 When it comes to 360-degree feedback, one size does not fit all. You need to design this form of review process specifically and tailor it to your workforce. Additionally, the questions you ask need to be targeted toward the data you hope to receive. Many organizations find this process complex or challenging. However, when armed with the right knowledge and equipped with the right support tools, any organization can take charge of its review process and implement a peer-review system.
Should You Be Using 360-Degree Feedback?
Again, 360-degree feedback programs aren't necessarily the best option for every organization. When considering whether this tactic works for your team, understanding the benefits and drawbacks can help you make an informed decision. Below we break down the pros and cons that organizations can encounter when using a 360-degree feedback system.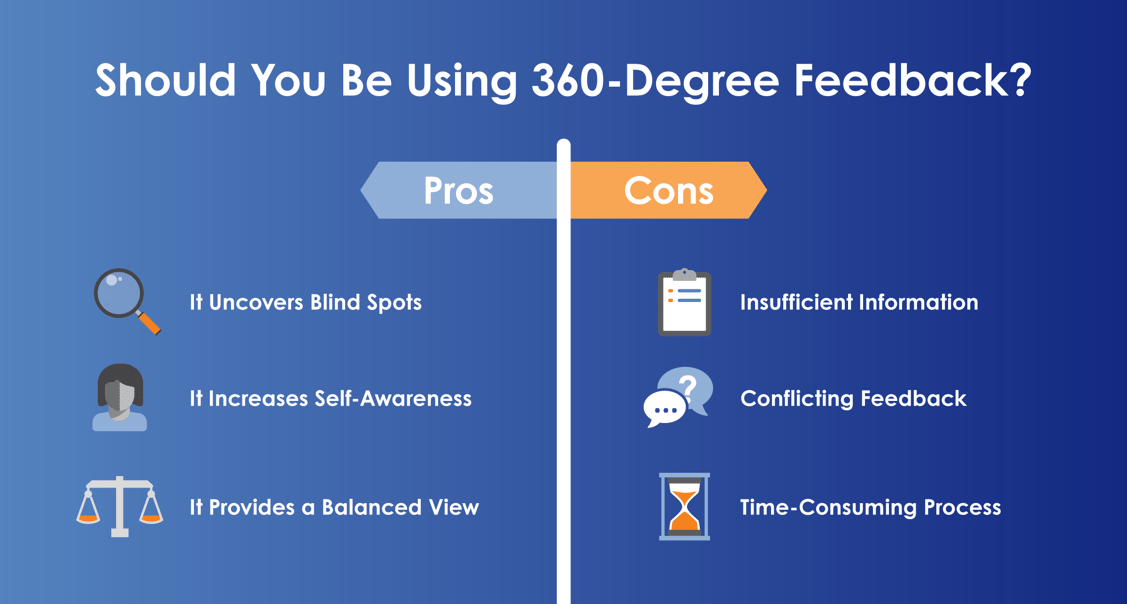 Pros:
Uncovers blind spots. It's not always possible to see everything that occurs in the workplace. With many employees now working remotely, the visibility into everyday tasks is reduced even more. 360-degree feedback

allows insight

into more aspects of an employee's performance since all levels are reviewing their work. With the added visibility, opportunities for continual improvement and professional development become more apparent.
Increases self-awareness. The basis of 360-degree feedback is a complete and holistic view of your performance. By gathering feedback from all parties, employees can more accurately and fully realize their strengths and weaknesses. For added benefit, have employees spend time

comparing their self-assessment

to the assessments they receive from their coworkers. Employees can easily understand how their work and attitude are perceived by their coworkers and can determine where changes are needed.
Provides a balanced view. Many people have issues with traditional performance reviews because they feel they are ineffective. The traditional review opens the door to bias and provides a narrow view of overall performance, especially when your organization operates in a remote capacity. 360-degree feedback creates a complete view of employee performance, leading to more accurate and fair reviews.
#360Degree Feedback helps organizations gain visibility into the daily processes of their #remote employees. @ClearCompany breaks down the need for a holistic approach to #PerformanceManagement during this turbulent time:
Cons:
Insufficient information. The best way to gather honest and useful information is by gathering anonymous feedback. Employees feel more comfortable speaking honestly when they know that their names will not be attached to the comments. However, this can lead to a

lack of sufficient information

regarding performance or attitude issues. Without a plan for gathering more information regarding specific events, employees may find that the feedback they receive doesn't provide enough background to make actionable change.
Conflicting feedback. Without proper structure, 360-degree feedback can provide conflicting information. Organizations need to ensure they are clear with expectations and how the review procedure works to establish trust with their employees. The potential for conflict occurs with the

added subjectivity

of peer reviews. However, with a consistent and robust system in place, you can ensure that the data you receive is accurate and fair.
Time-consuming. Collecting and reviewing the feedback you receive for each employee can be a very time-consuming process. It can be tedious to enter data into your systems. However, with the assistance of automation and digital tools, HR leaders can significantly cut back on time. The best review systems integrate well with your other software systems and offer access to data in real time.
360-Degree Feedback Best Practices
You've weighed the benefits and drawbacks of using a 360-degree performance model and have decided that the process works well for your organization. But what's next? Knowing the necessary elements of creating a strong and fair performance review system will alleviate stress and create a verifiable and repeatable process. Here are four best practices to bear in mind when creating your 360-degree feedback system.
Organize and plan ahead. When preparing to implement a 360-degree feedback system, remember that organization is key. 360-degree systems are an

intensive and time-consuming

venture, so organizing and planning your strategy in advance will help streamline the process. Work with your leadership team to determine how often you will gather feedback, the length, and questions from your surveys, what evaluation system you will use, and how to use the data you collect. Other considerations include how much time you will spend gathering feedback and creating an outline of who is responsible for reviewing who.
Establish trust and credibility. Your 360-degree feedback will only be useful if your employees trust your system and the feedback they receive. You must create a culture of trust when completing the reviews. Communicate transparently with your team about the desired outcome of these reviews, which is not to critique their performance but to find ways to better support one another and improve in their roles. Ensure your employees understand that the feedback they provide to their coworkers is anonymous so that you can receive honest responses. By showcasing your review process's effectiveness and accuracy, employees will be more willing to embrace feedback.
Consistency is key. With any review process, 360-degree feedback is most effective when done

consistently and frequently

. Establishing a consistent approach for gathering and reviewing feedback will also increase the accuracy of the data you receive. Best practices for 360-degree feedback say that you should survey performance at least every several months. Another added benefit of consistent reviews is that it enables managers to compare performance across time.
Follow-up. Arguably one of the most essential parts of any review is the follow-up. When organizations fail to follow up with employees, they miss out on opportunities for strategic action. Scheduling a meeting a month or two after the review helps increase accountability, requiring both the manager and employee to implement the changes. The follow-up meeting offers insight into the effectiveness of these changes and opens discussions on whether the changes are worthwhile or if they need additional adaptations.
360-degree feedback provides a rounded and clear view of employee performance. While organizations continue to adjust to remote work and the lack of visibility managers encounter with virtual work, leaders should determine whether their structure accommodates peer reviewing. If you are looking to implement a 360-degree review system in your organization, check out how ClearCompany's Performance Management Suite supports and enables leaders to assess employee performance. Through anonymous surveys and our performance tracking software, business leaders can rest assured that the data they receive is both timely and accurate. For more information on our Performance Management platform, reach out to one of our experts or sign up for your free demo today.