This article on employee performance and performance management was updated in October 2020.
"Why aren't they doing their work?"
At some point in their career, every manager has asked themselves this question. Common as the question might be, it's a much pricklier problem to actually tackle. Many businesses become so absorbed with productivity and numbers that they don't attempt to root out the common problems of their workplace and instead compensate with short-term solutions. Or they fire and forget instead of getting employees back on track (check out our performance improvement ideas here for help).
Both of these methods are akin to putting a bandaid on a broken leg… it doesn't work. Instead of using these stop-gap methods, companies need to take a closer look at the problems in their workplace if they want cheaper long-term solutions to their productivity problems.
Don't create counterproductivity by working employees into the ground. See the results here:
Employee Performance Issue #1: Are They Up to the Task?
Assuming you find the person responsible for your productivity problems (and rarely are the issues that simple), there are two big reasons why they could be underperforming; either they're drowning under the weight of their workload, or they're simply not motivated. Studies show there's a good chance it's the former; 53% of employees feel overworked or burnt out by their jobs.
On the other hand, you could be pushing them too far into areas they know little about, resulting in time and energy-intensive on-the-job training, decreasing productivity. Too much work on each individual employee to save money on hiring could be the cause of poor performance, as the increased stress from being overworked causes 51% of workers to feel less productive.
The good news is that this is the easier of the two problems to fix. If your employees feel like you give them too much work, but you need more work done, then the answer is simple but not easy: hire someone else. And if you see an employee isn't capable of handling certain assignments, then you may need to provide them with the training they need to eventually complete those tasks. Neither of these solutions is cheap, but you'll save on hiring more people when you avoid burnt-out employees leaving your company for a less stressful work environment.
Transform your talent management process in a cinch with our Mega Bundle: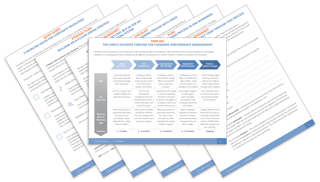 Employee Performance Issue #2: Do They Not Want it Enough?
Like every sports announcer seems to say when a team loses a game, some people just don't want it badly enough. They can do the work you need them to, but they could be among the 68.5% of employees not engaged with their work. This is a much tougher problem to fix. You can't hire around it. If an employee's disengagement is chronic, you might be tempted to let the understimulated employee go, but there are some things you can try first.
Before letting your understimulated employee go, try the following tips:
Chances are that if you hired someone to do a high-skill job, they want to keep doing it but have found roadblocks that are causing poor performance… maybe they feel overworked, under-stimulated, or even undervalued. If that's the case, try implementing a more formal employee recognition program, which 60% of best-in-class organizations cite as "extremely valuable in driving individual performance." When employees get feedback from their fellow workers, they're more likely to feel better about the work they do, and this could help increase engagement across the board
NEW: According to a 2019 Gallup study, only 10% of U.S. workers felt engaged after receiving negative feedback on the job. 30% were so put off by a negative review that they actively looked for a new job.
Employee Performance Issue #3: Is it Non-Work Related?
You've hired someone else to share the workload. Your employees don't hate their jobs, as far as you know. Could something else be troubling your employees, causing them to be less productive at work? When it comes to reasons for poor performance at work, it's possible they could be struggling with a personal issue that's limiting their potential to work. To understand how people work in the office, you need to understand how they live outside of it.
RIGHT NOW: As we all continue to adapt to the new normal, many companies are choosing to move forward with the performance review season during the pandemic. In some cases, it may be necessary to reevaluate positions and performance as continually shifting priorities and workloads may have fundamentally changed how we evaluate and empathize with one another. In other cases, there may be a genuine financial need to assess performance and establish standards for the coming fiscal year, given COVID-related changes and effects.

Just remember, you shouldn't be trying to weed out poor performers or base merit raises on this process right now. Instead, look to strengthen your company culture and reinforce its values. Whatever your company's reason(s) for having performance reviews this season, ClearCompany has the resources you need to create an effective performance review process.

For example, people are increasingly solitary, with 90% of respondents to a recent poll devoting much of their time to tasks like running, cleaning, and reading — all things people do alone. If these workers prefer to do many of their tasks alone, what does that say about their work habits? Perhaps you're creating work groups made up of people who'd rather work alone.
Get to know your employees' personality types before approaching workplace issues. Read more:
It's hard to tackle non-work related issues without feeling like you're pushing too far into personal territory. You can, however, create a workplace where employees feel free to address their issues, even if it's not a formal program. To solve your lone worker issue, for example, give employees more options about when, where, and how they work, and you'll notice an uptick in work productivity.
Before your next Performance Review Cycle:
Get to know who your employees are based on their interests, likes, and dislikes.
What does good performance look like to you? Define what your ideal comprehensive list looks like.
Record your employee's performance through an automated system to help you keep better track of reports and ensure timely feedback.
Self-assess employee performance to help get a realistic view of where performance needs to be improved.
Focus on building lasting relationships and trust with each employee. Ultimately, you are there to guarantee that they have the essential tools to succeed throughout their role.
Assemble a list of developmental opportunities and goals with your employees to help further their performance and to hold them accountable for achieving those goals.
It's difficult to find the root cause for poor employee performance every time; often, it's a convergence of problems that a single pull of the knot can't undo. Regardless of where the problem lies, however, managers should attempt to help employees fix their productivity issues before resorting to stop-gaps, whether the employees are overwhelmed or unengaged. No matter their problems, when employees feel valued, they'll find new ways to be productive.
Need a better way to track performance? ClearCompany's suite of tools gives you everything you need to track and manage productivity. Sign up for a demo today, and we'll show you the power of performance management.
Did you know Talent Success has the power to reshape business, and it all begins with your company mission and goals? The ClearCompany Talent Operating System is the only software that utilizes your organization's mission, competencies and goals to hire, retain and engage more top talent; creating unparalleled levels of success.
Want to see what else you can do to improve employee performance? Look no further! Check out these related articles to get the best insights: