According to top HR execs, one of HR's biggest challenges this year is closing skills gaps they're facing as a result of the widespread skills shortage, which 41% of economists expect to persist. HR teams have also seen increasing demand from employees for growth opportunities at work. Without them, you're at risk of disengagement and turnover among your workforce: 63% of people who recently left a job say a lack of opportunities played a role in their decision to leave.
So how do you use employee development budgets wisely and make good investments in promising top talent? Your HR team can close skills gaps and help your employees grow using the 9-box grid to categorize A-players, guide learning and development efforts, and map out succession plans.
Keep reading to find out what the 9-box grid reveals about employees and how to use what you learn to enhance your performance management strategy and empower your employees to reach their full potential.
What does the 9-box grid reveal about your employees? Find out how to use it to enhance #PerformanceManagement strategy and help employees reach their full potential:
What is the 9-box grid?
The 9-box performance grid, pictured below, is a framework for categorizing employees based on a combination of performance and potential. The grid is a tool HR professionals use for talent management and succession planning. It can also help managers figure out the best management styles for different types of employees.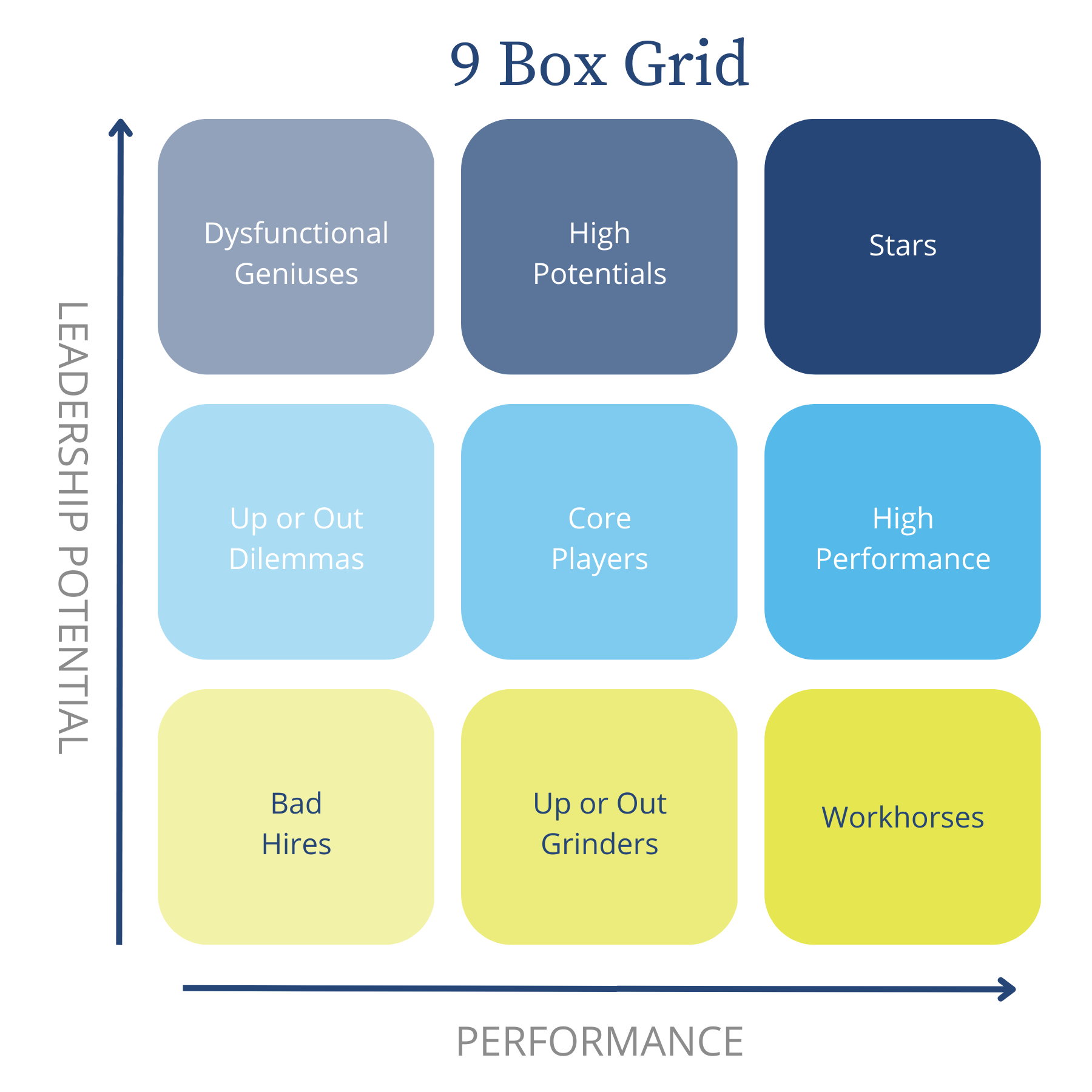 Employees' positions on the grid indicate their current performance level and how much potential they possess for improvement and leadership. The nine categories of the 9-box model are:
Bad hires: Employees who fall in this category are low performers with low potential and aren't a good fit for the role or company.
Up or out grinders: Grinders are moderate performers with low potential. They're hitting their goals, but rarely benefit from training or coaching, so they need help improving their performance to add value.
Up or out dilemmas: Dilemmas are low performers with moderate potential. They have the potential to improve performance with the right guidance, whether that's training, a mentor, or clearer expectations, and become core players.
Workhorses: Workhorses are high performers with low potential. These employees are productive but resistant to growth and change, so typically are not good candidates for promotions.
Dysfunctional geniuses: These employees have high future potential but performance is low, meaning they're often green but ready and willing to learn and become productive.
Core players: Core players are moderate performers with some potential. With encouragement from recognition, constructive feedback, coaching, and other growth opportunities, they can become high performers.
High-performing employees: High performers are doing just that, knocking their goals out of the park. Nurture their potential and keep them engaged to create future Star employees.
High-potential employees: These employees have high leadership potential, but often just need a little more time to grow into their role to achieve similar performance results. They can become Stars with some performance improvement measures similar to core players.
Stars: Stars are your A-players; high performers with high potential and your company's future leaders. Their performance scores are stellar and they're eager to grow into leadership positions.
How to use 9-box grids
The 9-box grid enables better decisions about how to manage employees and makes it possible to plan for the future.
Talent Management
The 9-box model helps HR, managers, and employees determine the best ways to manage different types of employees. This approach can help you minimize the negative impact of bad hires and find the best ways to bring future Stars to their full potential at your organization.
Use the 9-box grid to find the most effective performance management methods:
Bad hires:

Bad hires can either be let go or given performance improvement plans.
Up or out grinders: Grinders can become workhorses (or even core players) with a performance improvement plan or additional resources. In some cases, the proper training can help, too.
Up or out dilemmas: Dilemmas can benefit from additional training and tracking individual goals closely to monitor progress. They may also benefit from one-on-one coaching sessions.
Workhorses: These employees should be rewarded for their productivity, but not overly rewarded due to their aversion to growth.
Core players: Core players will grow with the help of a well-rounded performance management strategy that includes clear goals, recognition, feedback, and the chance to learn new skills.
Dysfunctional geniuses: High potential means these employees should be able to increase performance quickly. Set clear expectations and monitor their progress — if it doesn't improve quickly, they may not be suited for the role.
High-performing employees: High performers may be happy where they are, so keep them engaged to maintain performance. If they show interest in becoming stars, coaching or mentoring may be the right fit.
High potential employees: Like core players, these employees may need a little bit of time to grow into their roles and reach peak performance.
Stars: Reward, challenge, and elevate your A-players. Ensure they're well compensated, participating in important projects, and have the chance to keep growing at your organization.
Succession Planning
The 9-box performance grid helps identify employees who are good candidates for leadership positions, which helps HR teams with succession planning. Succession plans help businesses prepare for when essential roles become vacant, whether unexpectedly or via planned retirement or resignation. A succession plan ensures that another employee is prepared to be promoted into the role or take over duties until someone is hired.
After identifying critical roles in your organization, use your 9-box grid to identify employees who fit your succession plans well. Then, you can make decisions about how to best prepare them for future promotions.
How can the 9-box grid inform a better #PerformanceManagement strategy? Find out:
How to create a 9-box grid
There are just three steps for creating a 9-box grid with your own employees.
Step 1: Evaluate Performance
The best time to create a 9-box performance model is soon after assessing employee performance, like after annual reviews take place. This way, you're categorizing employees based on their most recent performance. Be sure to use standardized performance reviews so evaluations are as fair and unbiased as possible.
Based on their performance ratings, put employees into one of three categories:
Low performers
Moderate performers
High performers
Read ClearCompany's Ultimate Performance Review Guide for your best review season yet.
Step 2: Assess Potential
Assessing performance and potential usually go hand in hand, but if you intend to use the 9-box grid, assign potential ratings purposefully. Potential refers to an employee's interest in and aptitude for their role. Learn more about the differences between high-performing and high-potential employees if you're not sure about how to assess potential.
Rate employees according to the three categories on the grid:
Low potential: Not likely to grow in the role or benefit from support
Moderate potential: Could grow in the role with the right support
High potential: Very likely to grow in their role and benefit from support
"Every potential employee wants to know two things: 'What are the skills that I need?' and 'What are the programs that you have in place to support me?' If you don't have answers, they likely won't want to work for your company."

- Joe Dusing, senior director of learning and development for Paylocity via SHRM
Step 3: Group Your Employees
The final step is to sort your employees into the nine categories on the grid. For example, employees with high potential and moderate performance fall under High-potential employees. You can also use our 9-box grid template to help group employees.
If your company uses performance management software, this is easy to do in just a few clicks. Using your performance review data, you can select the departments, office locations, managers, and performance review cycles you want to analyze. Next, choose which sections of the performance review will correspond to the x-axis (performance) and y-axis (potential). Then, the software generates a 9-box grid based on your criteria in moments.
After all your employees are labeled, you can determine what's next for your employees. Will you give bad hires a chance to improve by moving them into a new role or assigning a performance improvement plan (PIP)? How will you keep core players engaged and on track for growth? Create new 9-box grids after the next review cycle to see if your efforts inspired growth and reduced the number of bad hires and low performers at your organization.
Benefits of the 9-box grid
There are tons of benefits to the 9-box performance model — these are just a few:
1. Helps boost employee retention
Performance management statistics show that 94% of employees say they'd stay at their company if it invested in their growth at work. The 9-box grid is an excellent way to start building that growth into the performance management process.
2. Easy-to-use for HR
The 9-box grid isn't a complicated method — it's a straightforward system and uses your existing performance data. If you use performance management software, it's even easier to create grids and visualize where employees fall.
3. Scores on more than just performance
Employees shouldn't be evaluated on their past performance alone, which is why the 9-box grid's inclusion of employee potential is so important. The model helps managers see employees' strengths and weaknesses in different ways.
If you're facing the same top challenges as many other HR teams this year, your priorities are engaging, developing, and retaining your top talent. With the best performance management software, you can create 9-box grids for any department, team, or location based on past performance reviews. Then, use them to make informed decisions about promotions, learning investments, terminations, and role changes, as well as find the best ways to motivate your employees and help them reach their full potential.
Try a performance management system that can help you execute a strategy that nurtures professional development, increases employee retention, and attracts the right talent to your organization. Get a demo of ClearCompany Performance Management — sign up to speak with an expert today.