We're at a pivotal point for the HR industry — post-pandemic, companies are adjusting to new ways of working while dealing with a possible recession and facing skills shortages, leading to layoffs in some industries and talent shortages in others. Your HR team is juggling the need for engaging candidate and employee experiences, ensuring fair and effective performance management, and providing people analytics insights to aid decision-making. There's a lot on your plate, and you need the right modern software tools and best practices advice to execute your people strategies.
That's why ClearCompany never stops innovating. As the only full-spectrum talent management platform on the market, our software gives HR teams unprecedented clarity over the entire employee lifecycle. We're always improving and expanding our already-unparalleled tools for maximizing employee talent at every stage, adding value for clients, and setting the standard for all talent management software providers.
We're raising the bar once again with the release of six new products and eleven new features. Learn more about our newest additions that are helping clients maximize employee talent.
@ClearCompany's Spring 2023 Product Release contains 6 new product lines and 11 new features, including #Compensation Benchmarking and Mass #EmployeeTexting for recruiters:
A New Look to Match Our Refreshed Brand Identity
We released a refreshed brand identity earlier this year, so it's only fitting that our product gets a matching facelift. The Platform UI Refresh kicks off these changes. Users will see that some screens and the placement of tools have been updated. The UI Refresh helps create a more intuitive experience for all ClearCompany users.
Expanding Recruiters' Toolbelts
These updates to ClearCompany Talent Acquisition products help recruiters do everything from strengthening their employer brand to automating tedious tasks so they can regain valuable hours in their workweek.
ClearCompany clients will have the option to access Compensation Benchmarking by role and location directly within the platform to inform equitable compensation decisions. Access the most up-to-date labor market data sourced from Payscale to ensure your salaries and offers are fair and competitive. Compete for top talent by paying every employee what they're worth.
Enhance your employer brand, improve site visitor engagement, and attract more talent with our first-of-its-kind Company Culture Career Sites tool. Leveraging ClearCompany's unique understanding of mission, vision, values, and teams, users can add compelling content and video to their career sites to highlight their employer brand identity and attract talent.
Recruiting CRM including Drip Campaigns enables recruiters to create email drip campaigns to build pipelines for new positions quickly. Recruiters can now automate targeted email outreach, nurture high-potential prospective talent for future opportunities, and expand their reach and communications frequency, increasing hiring success and efficiency.
With streamlined Self-Service Interview Scheduling, recruiters can set scheduling parameters and let candidates self-select their own interview times, cutting down on scheduling back-and-forth and improving the candidate experience.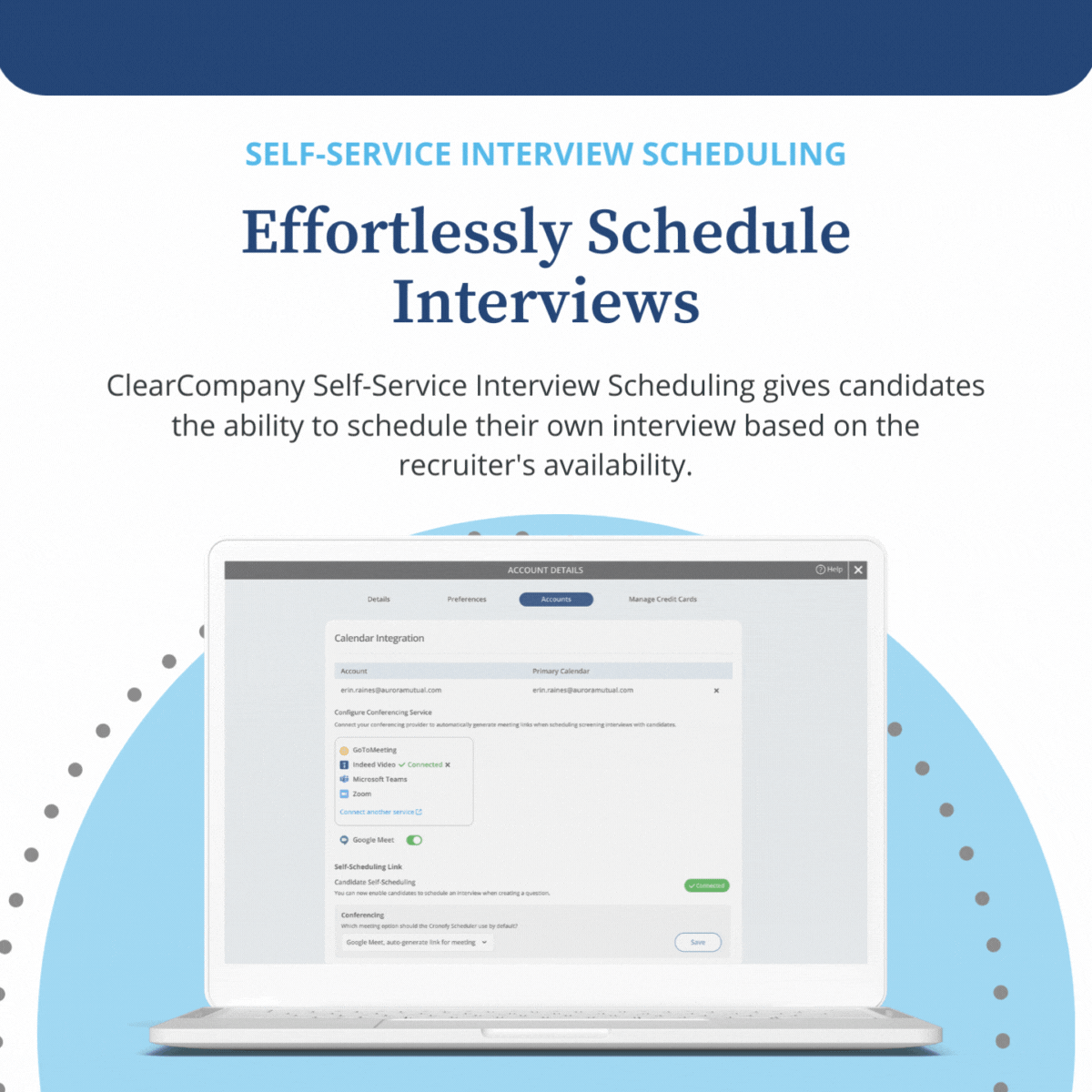 Recruiters and hiring managers that want to learn more about a referral can now see information on any referrer and the quality of their past referrals in one easy view with Profiles on Candidate Referrer.
Streamline the time-consuming process of checking references with Automated Reference Checks. Send standardized questions to references via email and ensure all parties can access reference intel for decision-making.
Create Your Own Custom Reports
ClearCompany's Data Lake for BI Reporting gives client data analysts direct, on-demand access to their company's ClearCompany HR data via Snowflake so they can use their BI tools to build in-depth customized reports and gain powerful insights into how employee dynamics impact their organizations.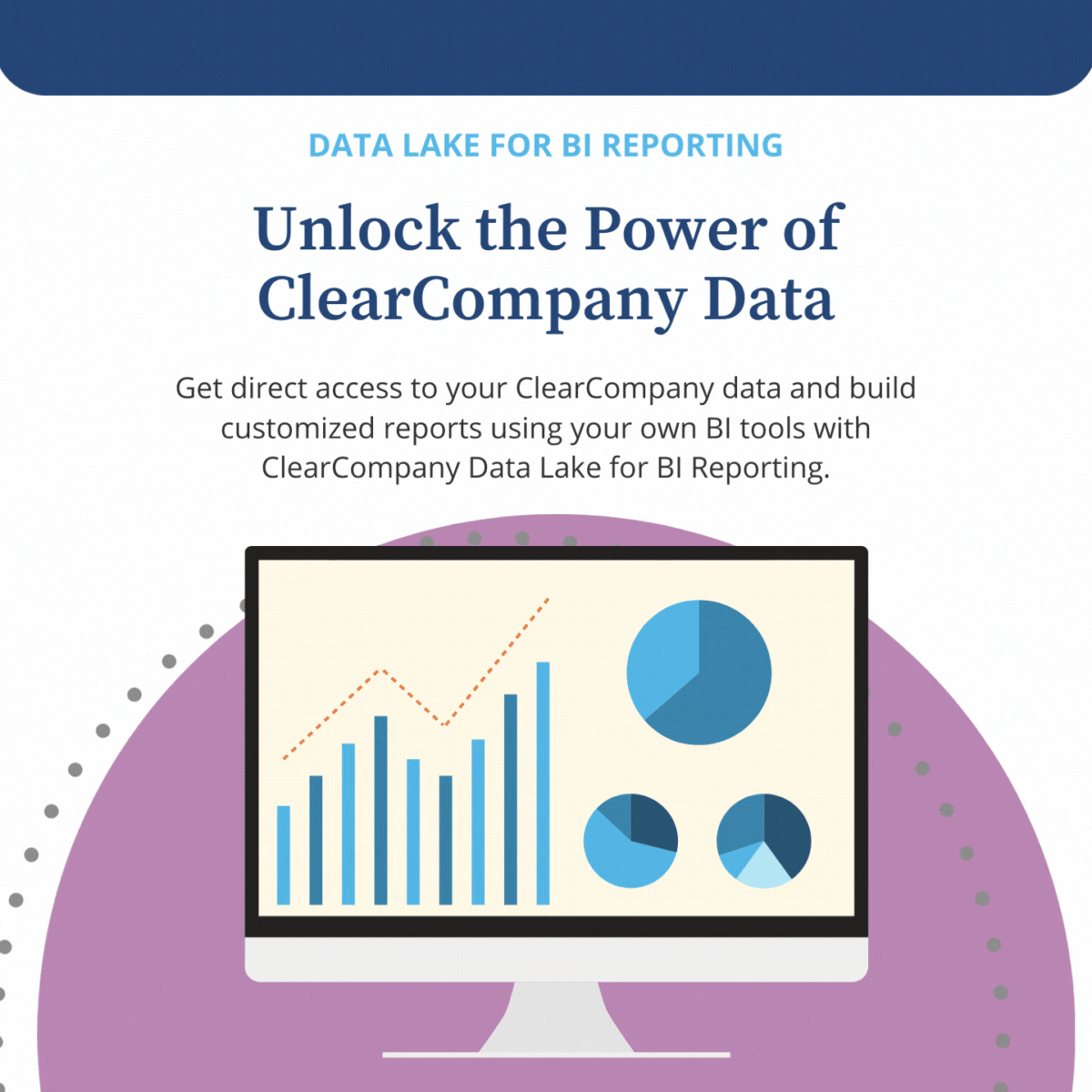 Enabling a Better Employee Experience
Several new feature updates help HR improve communication with employees, strengthen performance management programs, and keep tabs on employee engagement with ease.
@ClearCompany proves why its #TalentManagement software is industry-leading with its latest new product and feature release. The release includes Mass Employee Texting, a new feature for keeping your employees informed — learn more:
Send important HR and business-critical announcements and notifications by text to employee groups of any size with Mass Employee Texting. ClearCompany Employee Text Broadcasts get the word out quickly, ensure hard-to-reach field and remote employees see communications promptly, and keep recipients informed and up-to-date.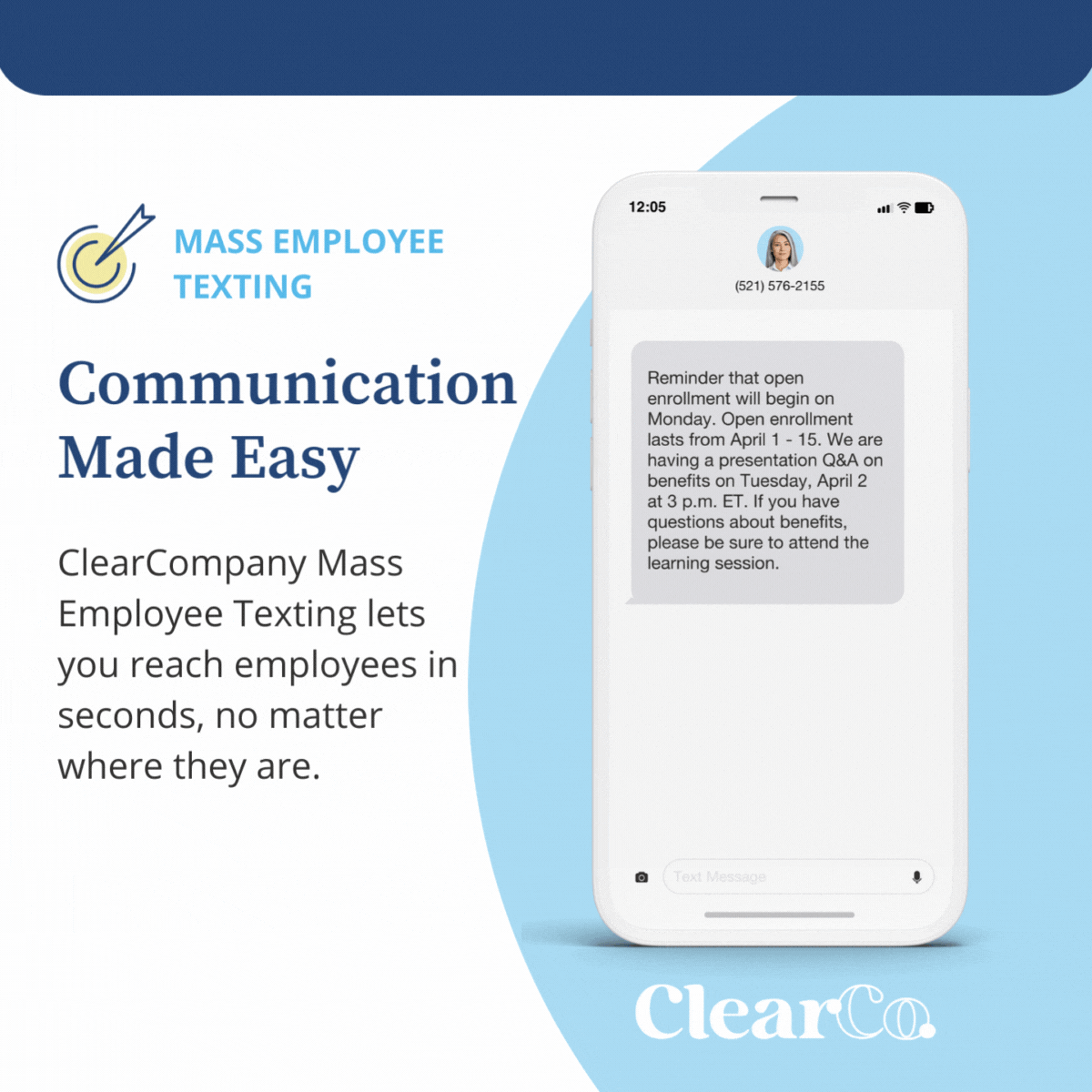 Goals play an integral part in the Performance Management process for many organizations, and ClearCompany's new goal categories and weighting options for goals provide managers and employees with more visibility into progress against high-priority initiatives. Individual goals can be grouped into higher-level goal categories. Goal weighting provides employees and managers greater clarity into what's most important, enabling manager-employee alignment in key areas of focus.
1:1 Workspaces enables managers and employees to purposefully connect, share notes, and exchange regular feedback — and keep track of those conversations, too. We've expanded 1:1 Workspaces to provide managers with greater visibility into upcoming 1:1s, past meetings, and email scheduling reminders with 1:1 Consistency Tracking. The feature provides a few key metrics to managers to understand 1:1 meeting schedules and sends a reminder email with a link to the 1:1 feature in the product.
ClearCompany has expanded its employee survey suite to include standardized, high-frequency Employee Pulse Surveys. Pulse Surveys augment longer-format employee surveys, enabling HR and managers to get a quick read of employee sentiment in real-time on important topics like workplace satisfaction, engagement, company culture, and belonging and measure trends over time. Pulse Surveys run for short periods of time and are designed for employees to complete in two minutes or less.
Strengthening Software Integrations
ClearCompany integrates with dozens of software solutions, breaking down HR tech silos and consolidating HR functions and people data in one accessible platform. We're pleased to announce that we will expand our UKG Pro payroll integration to support the bi-directional flow of data between systems this summer.
We've enhanced the capabilities of our first-in-the-industry bi-directional payroll integration with ADP. ADP Integration Enhancements simplify and speed up the initial setup of the ADP-ClearCompany Bi-Directional Connector, as well as provide users with more control and flexibility over the data fields that are included or excluded in the data sync.
Use the Salesforce Plug-In for Goal Metrics to save managers time by integrating Salesforce metrics with employee goals. Managers often need to evaluate multiple data points to understand their direct report's performance levels. Quantitative data from Salesforce is helpful when assessing progress toward goals for managers of employees in client-facing or quota-bearing roles. Save managers time by gathering this data in a convenient location in the ClearCompany Performance, Engagement, and Goals suite.
These improvements ensure our clients have the advanced capabilities they need to recruit, ramp, recognize, and retain their employees — and we'll keep them coming all year long. Keep an eye out for more updates in our next quarterly product release this summer.
Sign up for a personalized demo with a ClearCompany expert to find out how these features can help your company meet its talent management goals.