Wondering how on earth to determine one great ATS from an HRIS lite? Trying to figure out how your career in HR became littered with tech terms? Well, don't fear, even if you're well-versed in HR technology verbiage, we've pulled together a glossary to ensure you have a firm grasp on what these mean when talking to best-of-breed technology vendors.
When you're unsure of the difference between API and RSS, grab this resource to help you keep it all straight (and help you pick the best HR tech solution for your company).
What does Integration mean in terms of HR Software?
Integration: Using various technologies effectively and efficiently with different functionalities in the business processes.
In layman's terms: Your ATS speaks seamlessly to your onboarding software, which speaks to your performance management system, which also ties into your payroll system.
Why it's important: Having all your HR data in one place can help with payroll, employee records and even help protect your company when it comes to overtime protections for your workers. Having your systems integrated allows you to get a comprehensive view of your entire workforce, which in turn can make your employees more productive and hep HR professionals identify bottlenecks.
Fun fact: Did you know the average company has 31 systems in its HR tech stack?
What does API mean in terms of HR Software?
API: A set of standard routines, which are accessible and documented, whose purpose it is to help the programmer build software applications.
In layman's terms: A tech version of "phone a friend". One of your systems doesn't have the information it needs, an API "calls" out to another system and retrieves it.
Why it's important: Um, who has time to sign into 31 different systems every day? APIs help you sign into fewer applications every day, making your job (hopefully) easier.
Fun fact: There is a list of fun APIs including Chuck Norris, Star Wars and NASA APIs.
Do you know the difference between HRIS and HRMS? Check out this guide of #HRTech Terms all pros should know:
What is a CSV file and what do I do with it?
CSV: A CSV (Comma Separated Values) file is a way to collect the data from any table so that it can be conveyed as input to another table-oriented application such as a relational database application. Microsoft Excel, a leading spreadsheet or relational database application, can read CSV files. A CSV file is sometimes referred to as a flat file.
In layman's terms: In most of our world's CSVs are used to export and input employee or candidate data. First name, Last name, etc, etc...
Why it's important: Because as HR technology continues to get progressively more intense (and helpful, don't forget helpful) we need ways to ensure the data can be imported into our increasingly sophisticated systems. Also so we can send mass emails.
Fun fact: APIs sometimes talks by "calling" information from CSVs! You can learn more about it and laugh a little with this CSV of jokes.
What is a parser and how does it work in Recruiting Software?
Parser: A technology that processes online resumes by extracting data.
In layman's terms: A parser can take all the stuff and data from a resume or profile and pull it out in an intelligent way. It helps recruiters to efficiently manage documents and resumes sent via the internet.
Why it's important: Well, YOU don't want to enter every piece of resume into its corresponding form field and neither do your candidates. Parsers can grab what's useful and match it up with your open positions on the back end and bubble the best matches to the top...in theory.
Fun fact: If a parser is less than 90% accurate, the number of glitches will be too many to permit it to load data into a resume database without public human intervention.
What does SaaS mean in terms of HR Software?
SaaS: A way of licensing and distributing software and one of the most common deployment methods for HR technology these days. A third-party provides the applications – all of which are hosted in 'the cloud' – and makes them available to customers via the internet.
In layman's terms: You don't need giant servers of your own to house your data. If one piece breaks, your data is backed up and your activities are generally undisturbed.
Why it's important: Easy access anywhere and on any device, no need for mass-storage capacity and updates are automated. The decision between SaaS and On-Premise is pretty important to an HR technology purchasing process.
Fun fact: 55% of SAAS companies rate Customer Retention Cost as the key metric to measure. If you have a SaaS vendor, ensure they value your business with great service.
What does On-Premise mean in terms of HR Software?
On-Premise: On-premise is installed and runs on computers on the premises (in the building) of the organization using the software, rather than at a remote facility such as a server farm or cloud.
In layman's terms: On-premises software is sometimes referred to as "shrinkwrap" software, and off-premises software is commonly called "software as a service" ("SaaS") or "cloud computing".
Why it's important: Advocates point to customization, security and control as reasons to have their HR software on-premises.
Fun fact: 80% of companies that adopt the cloud (the opposite of on-premise) see improvements within their IT departments within six months.
What is an EDI and why does it matter to HR?
EDI: Electronic Data Interchange (EDI) is the computer-to-computer exchange of business documents in a standard electronic format between business partners.
In layman's terms: A process which allows one company to send information to another company electronically rather than with paper. Business entities conducting business electronically are called trading partners.
Why it's important: Newer EDIs are a significant improvement over old, paper-heavy and faxing systems, but APIs are the best solution for syncing, seamlessly entering and updating benefits data real-time. Some benefits providers still insist that smaller companies enter information manually or with cumbersome EDI requirements (which smaller businesses cannot meet if they are doing most of their business in the cloud). This can hamper benefits and other data-based innovation.
Fun fact: While EDI is better than its paper-heavy predecessor, API is vastly superior to EDI and the technology most vendors are working toward.
What does Core HR refer to?
Core HR Platform: Core HR is the information and processes that pertain to the employees in any company.
In layman's terms: Any software stores all employee information in a database, uses employee information to run reports, and allows HR professionals or managers to create employee profiles may be called part of Core HR software. When these programs are linked together, it is the Core HR platform.
Why it's important: The information contained within Core HR is critical to HR management. If you know your employee headcount you can plan for hiring needs. If you understand your payroll and production costs you can account for labor costs. Understanding which employees sit where and what their titles and job history within the org, it's simpler to create training programs and create succession plans.
Fun fact: While Core HR is a broad enough definition to have many meanings to different people, there are shockingly few fun facts about it.
What is an HRIS comprised of?
HRIS: HRIS software is designed to manage people, policies and procedures.
In layman's terms: Recruiting or ATS + Core HR + Benefits Admin + Absence Mgt + Compensation + Training + Workflows + Reporting = HRIS
Why it's important: People, policies and procedures are a massive part of what HR professionals are tasked with managing BUT they are not the only piece which is why these are categorized as an information system. You won't get what you need for performance or engagement from an HRIS, for example.
Fun fact: The Supreme Court has its own private basketball court called "The Highest Court in the Land". There are no fun HRIS facts.
What does all-in-one refer to in terms of HR Software?
All-in-one: A system that has everything needed to run an HR department integrated with the rest of the business. This may include: HRIS, Payroll, Applicant Tracking Systems & Recruiting Automation, Benefits Management, OnBoarding, Total Rewards & Recognition, Performance Management, Time & Attendance/Scheduling, Learning Management, HR Analytics, Succession Management, Engagement Tools, Interviewing tools and Assessments, Wellness Management, Compensation Management, Collaboration/Communication Tools, Case Management, Workforce Planning & Workforce Management.
In layman's terms: Your entire HR Tech stack and a bag of chips.
Why it's important: There are many different kinds of businesses, so while having an all-in-one system may work incredibly well for some companies, for others it can be a nightmare. All in one HR software offers the simplicity some companies need, while locking others into a system that may not scale with them in the future.
Fun fact: Do you know the difference between HRIS vs. HCM vs. HRMS?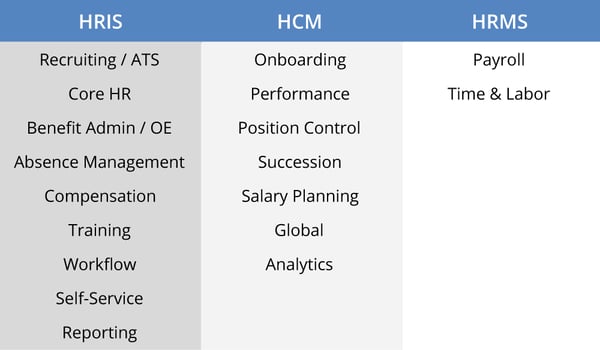 What is OFCCP and why does it matter to HR professionals?
OFCCP: The United States Department of Labor (DOL) Office of Federal Contract Compliance Programs (OFCCP) monitors the adherence to contractual promises of affirmative action and equal employment opportunity required of those who do business with the federal government.
In layman's terms: While equal employment opportunity laws prohibit unlawful discrimination against applicants and employees because of their race, gender, age, disability or national origin, they usually do not require formal affirmative action programs.
Why it's important: Because OFCCP stands for an office, they are consistently making rulings that impact HR professionals. As of this writing, the most recent was this one.
Fun fact: Did you know it's perfectly legal for employees to discuss their own pay with other employees?
What is EEO and why does it matter to HR professionals?
EEO: Equal Employment Opportunity laws prohibit specific types of job discrimination in certain workplaces including age discrimination, discrimination based on ethnicity or national origin and discrimination against those with a disability.
In layman's terms: Equal Employment Opportunity is fair treatment in employment, promotion, training, and other personnel actions without regard to race, color, religion, sex (which includes gender, sexual harassment, and pregnancy), age, national origin, reprisal (for prior EEO activity), physical or mental disability, genetic information, status as a parent, and sexual orientation.
Why it's important: Equal Employment Opportunity means freedom from discrimination on the basis of protected classes such as race, color, sex, national origin, religion, age, disability or genetic information.
Fun fact: Behavior can be "harassing" even if it isn't directed at the individual victim. If, for example, a mostly-male workplace is full of nudie calendars and obscene talk, a female employee may have a valid harassment claim -- assuming she is offended, and she probably is. Likewise, anonymous behavior, such as graffiti, can be harassing and can result in liability for the employer if the employer doesn't do its best to find out who did it and stop it. - Robin Shea
What is a System of Record?
System of Record: A System of Record (SOR) or source system of record (SSoR) is a data management term for an information storage system (commonly implemented on a computer system running a database management system) that is the authoritative data source for a given data element or piece of information.
In layman's terms: Systems of Record are the ERP-type systems designed to run businesses (financials, manufacturing, CRM, HR).
Why it's important: A core HR system of record provides the level of security, consistency, and reliability required to run multiple other employee systems, including SaaS products while remaining in compliance.
Fun quote: "HR managers live and by this problem – if no one uses the system then your purchase was a flop. Data is inconsistent, processes are inconsistent, and the whole promise of integrated talent management becomes sub-optimized." - Josh Bersin
What is an ATS and how does it support recruiting?
ATS: The term Applicant Tracking System is in wide use and is considered part of a "recruitment management system."
In layman's terms: With an ATS, you can organize, collect and store candidate- and job-related data and track and monitor candidates through all stages of the hiring process.
Why it's important: An ATS combines talent into a searchable database, allowing access to former applicants, members of your talent network and resume database members with one search.
Fun fact: There are over 100 ATS on the market!
What are competencies and how can I use them?
Competencies: Competence is the ability of an individual to do a job properly. A competency is a set of defined behaviors that provide a structured guide enabling the identification, evaluation and development of the behaviors in individual employees.
In layman's terms: A competency is the combination of knowledge, skill, and/or ability one needs to successfully perform a job function.
Why it's important: Workplace competencies give employees a guide to employer performance expectations and give insight into which behaviors are valued, recognized and rewarded by the organization.
Fun quote: "Although most organizations see themselves as unique, they are largely looking for the same set of competencies: EQ, good judgment, integrity, global mindset, resilience and learning agility." - Tomas Chamorro-Premuzic