With the year winding down and the holidays right around the corner, businesses are ramping up their hiring for the holiday season. As consumer spending and hiring expectations increase, employers are faced with the challenge of meeting the demands of staffing goals, while trying to actively recruit top candidates to fulfill the needs of the company.
During seasonal hiring, it is essential for recruiters to explore and develop ways to enhance candidate experience. In today's market, recruiters are competing for top talent that embodies the skill set and values their company is looking for, not only for seasonal hiring but also as the potential leaders of tomorrow for your business. Recruiters are using technology as a competitive edge to simplify the candidate experience. Creating a simple and easy process for applicants can save you time without worrying about missing out on A Players.
With the holiday season right around the corner, the push for #HolidayHiring begins. Discover the ways that @ClearCompany can help your business produce efficient and effective strategies to improve your #CandidateExperience.
Start Strong
Your company's ability to successfully recruit and attract talent starts with how well your hiring process is managed. Nearly 60% of candidates have expressed having a poor experience. When processing and developing a strong candidate experience, begin with including a list of interactions and forms of communication that candidates receive during your hiring process, stemming from your company's brand messages. Remember, your goal is to attract top-tier candidates, so you should be sure your message helps candidates understand why your organization is the best choice for seasonal work. Relaying information about the job, description, shifts, wages and expected hours will pique interest in prospective candidates that possess strong qualities that your company needs to fulfill. But don't just stop there. Continue to spotlight the job and company by listing potential benefits of the job and detailing your company culture. A recent study showed that when asked, "what do you want to know most about a company?" 66% of candidates answered culture and values, while 54% answered perks and benefits. The more your message resonates with candidates, the more value it can drive to your hiring process.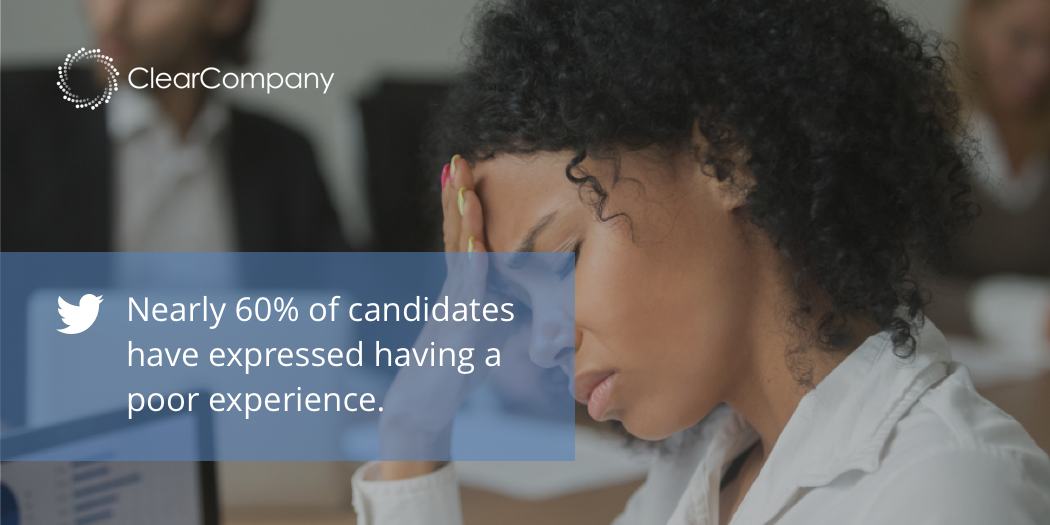 Once the nature of the job has been presented, take some time to review the application process for your candidates. Your ATS plays a large role in shaping your application experience. Is your application easily accessible? For both desktop and mobile formats? If posting the job on social media, do the links lead directly to the application? Is your application too lengthy? A main problem employers face is candidates abandoning online applications. 60% of candidates reported quitting an application due to its length or complexity. Reducing the length of your application, and utilizing only viable information upfront, will balance out what's necessary for recruiters with what's user-friendly for applicants.
Work Smarter and Faster
During mass hiring pushes, recruiters and hiring managers have to work faster and smarter than ever before to develop strategies that enhance the candidate experience.
Enhancing the candidate experience through proactive, contextual, timely and personalized communication is a must. 65% of applicants have stated they rarely or never heard back from an employer, while 80% of applicants stated they would be discouraged in seeking out other opportunities if a company failed to notify them of their application status. Proactively responding to candidates ensures a positive effect on engagement, decreasing the chances of top applicants losing interest or accepting competing offers.
Focus on how your business can improve #CandidateExperience during seasonal hiring @ClearCompany.
Companies are always looking to gain a competitive edge. By looking to modern technology, employers are able to balance out speed, quality and efficiency, while creating an innovative candidate experience. According to a study of 1,000 participants, 49% of the respondents stated that their top use during hiring and recruiting is the use of AI. To make sure top talent candidates receive your offers first, integrating tools such as chatbots, automated scheduling and on-demand text interviewing will leverage your candidate pool, as you continue into your seasonal hiring workflow. Using AI, recruiters are able to gain a deeper look into candidates by sorting out the most viable applicants and answering initial questions, moving candidates into the hiring process faster. These applications are designed to cut time, while actively engaging with candidates through mobile platforms.
Develop a Strong Human Interaction
When it comes down to it, enhancing your customer experience starts and begins with making a strong, meaningful interaction with your candidates. As technology continues to develop in making recruiting faster and easier, it's vital that recruiters remember to add a personal touch throughout the process. According to CareerArc, 60% of candidates stated that providing better communication before and after the process made the most positive impact. It's important to allow candidates to communicate with recruiters personally to let candidates know they are worthy of your time and consideration. Steps like this will benefit businesses in more ways than just a great hire. Continuing to personalize the process from beginning to end will help your business with candidate quality, referrals and a pipeline of future hires, making your brand look polished and attractive to prospective employees.
Want to learn how you can enhance your candidate experience? Let ClearCompany help you source ideal ATS solutions to fulfill your company's needs. Get started today!