If your HR team is facing persistent recruitment and retention challenges, you aren't alone. A July 2022 poll showed that 40% of workers are still thinking about joining the Great Resignation, and the voluntary quit rate is 25% higher than before the pandemic. So how can you keep your top talent from jumping ship and compete for candidates who have lots of options?
Start at the beginning with great candidate experience. First, we'll get into why it's such an important part of the employee lifecycle. Then, we'll cover four ways you can improve candidate experience and reap the rewards of increased retention and engagement, and solid company culture.
Get 4 tips from @ClearCompany for an engaging #CandidateExperience, based on what Talent Board's #TheCandEs Report winners are doing differently:
Why Does Candidate Experience Matter?
You should care about the candidate experience because it starts long before potential employees talk to your talent acquisition team. If they start with a poor experience, they may be put off by your company before even meeting a recruiter. On the other hand, there are many benefits of great candidate experience. Of the employees who had a good experience, 75% say it was a big part of their decision to accept the position.
You should also care about it because your competition cares. According to Talent Board's 2021 North American Candidate Experience (CandE) Research Report, employers named overall candidate experience among their top priorities in 2022. That's a data-backed decision: the Report found that companies that prioritized candidate experience had a "competitive advantage."
The CandE Report also pointed to what those companies are doing better than the rest:
They make it easy for candidates to do their research. Before applying, 60% of candidates spend an hour researching the company, so it's no surprise that companies with an established employer brand have an advantage. 70% said their career site, where they provide lots of content around company culture, diversity and inclusion, and employee testimonials, was crucial in the recruiting process.
They have an employee referral program. When candidates have a positive candidate experience, they're more likely to refer others to the company. Referred candidates, whether or not they are hired, are 40% more likely to increase their relationship with the company. It's a positive feedback loop that generates an engaged pool of past applicants and referred employees who are more likely to act as brand ambassadors and refer people themselves.
They communicate with current and potential candidates. Companies that want to provide a better candidate experience know the value of staying in touch. They communicate with current candidates via text message and utilize AI chatbots for quick answers on their career sites. Competitive companies also nurture past candidates, staying in touch with newsletters 40% more often than other companies.
Your company can gain a competitive advantage with an engaging candidate journey. Try these nine ways of enhancing the candidate experience.
1. Put Company Culture Front and Center
Company culture matters to job seekers today. They want to know if your company values diversity, equity, and inclusion, if they'll have remote work options, and what current employees have to say about working there. An employer value proposition (EVP) on your career sites and in job descriptions will attract candidates who are looking for the company culture yours has to offer.
There are lots of ways to show job seekers what your company is all about in addition to an EVP. One tool that CandE Award-winning companies consider especially important in recruiting is video. They use video to get candidates' attention during that pre-application research we mentioned. Videos can be put to use on your career site and social media channels.
2. Write Complete, Inclusive Job Descriptions
Reading a job description is often the very start of the candidate experience, often before job seekers visit your careers site. That is, if you can get it started — people decide in only 14 seconds if they're going to apply. Vague or exclusionary job descriptions can discourage great candidates from applying and don't communicate your company's values accurately. That leads to less diversity among candidates and can cause you to lose out on top talent.
Job descriptions should be thorough, listing role responsibilities, necessary qualifications, and your EVP. Avoid gendered language, jargon, and excessive job requirements in your descriptions. The job duties you include should be comprehensive so applicants' expectations are in line with what the role entails. That's also important because unclear expectations can lead to high turnover and even higher hiring costs.
Did you know that #CandidateExperience starts before they ever speak with a #recruiter? Get 4 tips to create the best candidate experience:
3. Offer Mobile and Text Message Applications
After they've decided to apply, candidates still need to actually submit an application. We know that the easier your HR team makes it, the more candidates you'll get. We also know that lots of people job search on their phones, prefer to communicate about jobs via text, and tend to respond to recruiters and hiring managers much more quickly than via email. Make applications easy and accessible with text recruiting.
We've seen the effectiveness of text recruiting tools here at ClearCompany, where clients using Text-to-Apply see 3.5x as many candidates. Text-to-Apply enables candidates to submit an application with just a few text messages instead of filling out pages of personal information.
Mobile-friendly job applications can also help bring in more applicants. Just think about how frustrating it can be when you're browsing the internet on your phone and run into a page that's not mobile-friendly. Most candidates would drop off right then. Save them from a negative candidate experience with mobile applications.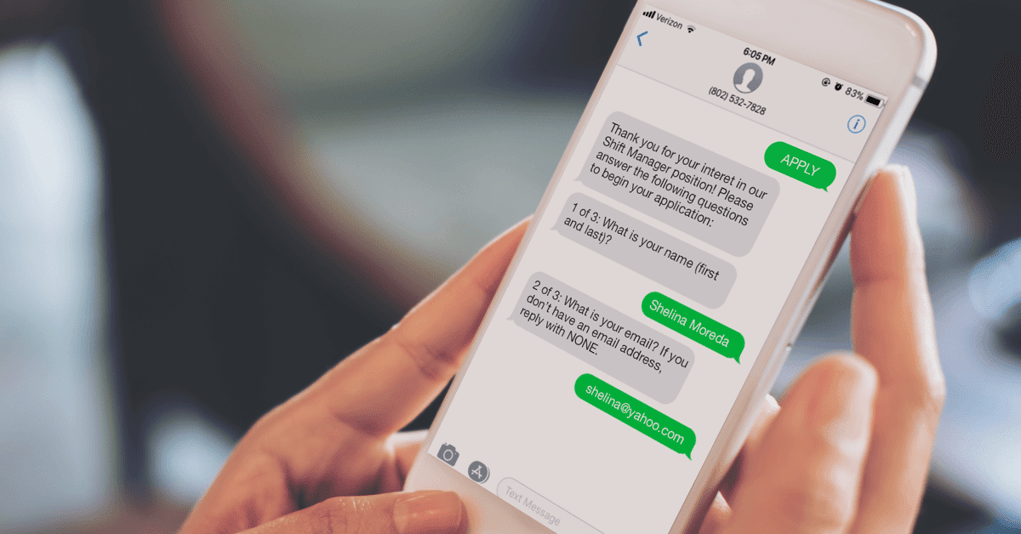 4. Don't Ghost Candidates
Don't ghost your candidates, especially when it comes to bad news. 71% of applicants want to know ASAP if they don't get the position. Still, over half say employers don't keep them updated on their application status and sometimes don't even acknowledge that it was submitted. They're left wondering if the position has been filled or they weren't qualified, or chalk it up to bad company culture.
The confusion and lack of communication make for a poor candidate experience — but it's easy to avoid if you're using an Applicant Tracking System (ATS) in your hiring process. Your team can automatically send dynamic rejection emails or text messages in bulk to let candidates know they're no longer being considered. That's also a good time to ask if they'd like to hear about other opportunities — recent research indicates that 48% of them will want to.
Don't ghost those candidates, either. Stay in touch like CandE Award-winning companies do by sending regular email newsletters detailing open positions, and be sure to include them in your sourcing strategy.
Outstanding candidate experience can be the difference between hiring — and retaining — A Players and just filling open positions. Attract top talent, create a pipeline of qualified candidates, and reinforce company culture by improving the candidate experience.
Get started with our Candidate Experience Guide developed by ClearCompany's own HR experts, including Director of Talent Acquisition Brian Abraham. Download your guide now.