You're most likely familiar with 'ghosting' as it applies in the dating world, but did you know that it can also apply during the recruitment and hiring process? 76% of employers say they have been ghosted by candidates in the past year — and 28% of employees themselves say they've ghosted a potential employer. Recruiters and human resources teams report an uptick in candidate ghosting throughout the recruitment process, among brand-new hires, and even after an offer has been accepted.
So what's causing this phenomenon, and how can you prevent candidates from ghosting your company? We're digging into the latest research on candidate ghosting from Ben Eubanks, Chief Research Officer at Lighthouse Research & Advisory, to find out.
Is your company among the 76% that say they've been ghosted by job candidates in the last year? @ClearCompany is covering what you can do to prevent #candidateghosting:
Why Are Candidates Ghosting Companies?
Lighthouse Research & Advisory found three top reasons candidates might ghost:
They lose interest after learning more about the position or company.
They accept another job offer.
The company's hiring process is too complicated or takes too long.
Other research found additional reasons for ghosting:
The job wasn't what the candidate expected.
The company implemented a policy requiring employees to return to the office.
39% of employers say candidates today are much more likely to stop communication altogether than they were two years ago. No doubt, that's partly due to the shifts we've seen in the labor market during that time. ClearCompany data showed that clients have 25% more open positions than in 2019, and 25% fewer applicants. If your candidate experience doesn't meet their expectations, job seekers have plenty of other options.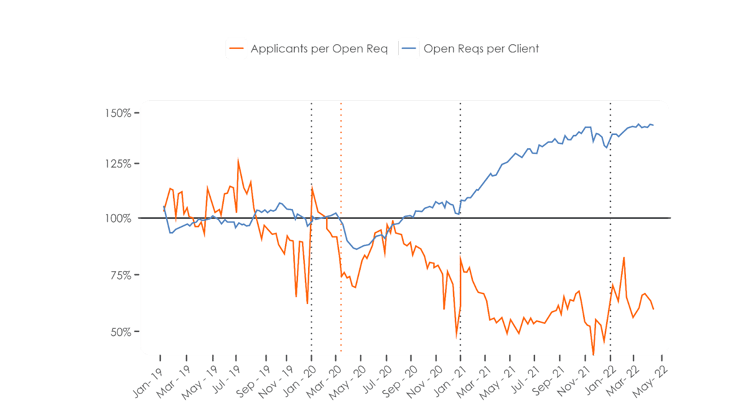 Eubanks also pointed to a shift in what's socially acceptable as a reason for the increase. His research found that younger candidates were far more likely to have ghosted an employer than older candidates. And as we mentioned, job seekers are ghosting no matter how far they get in the hiring process, with 46% ghosting interviews and 7% failing to show up at work on their start date.
Fortunately, being aware of the causes of candidate ghosting means you can be proactive to prevent it.
Be Transparent and Specific
As the research shows, ghosting often happens because the job or company was not what the candidate expected. We also know that candidates today are looking for a company whose values are in line with their own. Knowing that your company should help candidates get a better understanding of the position and company culture during the application process.
Aim to write straightforward, inclusive job descriptions that clearly outline the responsibilities of the position and goals the employee will be expected to achieve. Avoid listing requirements that aren't absolutely essential to the role, since that can lead to your company missing out on a large pool of top talent. Job posts should also avoid using gender-coded language — one study found that companies see a 30% increase in applications after removing that language.
#CandidateGhosting is on the rise — find out how to prevent it and leave candidates with a great impression of your company:
Company values and culture should come through in your employer branding, social media channels, and job postings. Share what sets your company apart in terms of innovation, inclusivity, and other important values. Create an employee value proposition to show what employees gain from working there, including a flexible work environment, unlimited PTO, and professional development opportunities.
Tip: 55% of employees want to know the starting salary for a role before applying. Eubanks recommends including salary information in the job description or discussing it during the first screening call.
Hire Candidates Faster
The study from Lighthouse Research & Advisory found that faster hiring can save over 70% of candidates from ghosting. Eubanks spoke to one HR leader hiring hourly workers who found that he only had a window of hours to respond to candidates to beat competitors to the punch. Hiring managers realize slow hiring is a problem, too, with 35% saying their company has missed out on candidates after taking too long to make an offer. Take it from the data and make faster hiring a priority to snag top talent.
Tip:
Don't assume candidates are waiting on an offer from your company — 29% of candidates ghost because they accepted another offer, and ghosting happens at every stage of the hiring process. Aim for more efficient hiring processes to avoid losing candidates to faster job offers.
Stay in Touch with Candidates
We may be talking about candidate ghosting, but employers do it, too. 38% of employees say potential employers leave them wondering about their application status, and 30% are disappointed when employers don't confirm that their application was received. A lack of communication from your company may cause candidates to lose interest in the role — after all, they're not sure if you're interested in them.
70% of candidates want updates about their application status at least weekly, Lighthouse Research & Advisory found. Keep candidates informed about their application status and next steps in the interview process. Don't forget to stay in touch even after the offer letter is signed to prevent ghosting before day one.
Tip: Most candidates don't get the job, but be sure your company isn't guilty of ghosting them. 71% of candidates want to know as soon as possible when they're no longer being considered for a role.
Exceed Candidates' Expectations
Although you can't stop every candidate from ghosting, there's a lot your company can do to keep it to a minimum. Be transparent about the role and company culture, and communicate about their status throughout the hiring process to keep candidates engaged and speed up hiring. As a result, even candidates who aren't hired will have a positive impression of your company — and 48% would be open to applying for another position at your organization.
If you're looking for more research and talent acquisition tips from Ben Eubanks to give you an edge in the hot talent market, watch his recent webinar, The Great Resignation? More Like the Great Reprioritization.