Truly successful recruiters all have one thing in common: They think differently. To gain a competitive edge in recruiting, thinking outside the box is a necessity: 31% of recruiters say their number one obstacle is a shortage of candidates.
Can you guess what 31% of recruiters say is their #1 obstacle? Read this:
Even when a lot of applications come through for a position, many may be a poor fit or underqualified. That's why, with the ever-growing presence of media in our lives, many recruiters are changing the way they seek out candidates. Keep reading for five strategies you can use to increase applicant flow.
1. Ditch the Standard Job Posting
How many job ads are featured on a website like Monster or Indeed? According to a 2017 survey by Statistic Brain, an average of four million jobs are posted online every month. Facing those odds, getting job ads to stand out can be difficult. Don't throw job ads out the window completely because all it takes is a little tweaking to get them to shine.
With ClearCompany's Recruiting Solution, you are able to easily post and manage your available positions on top job boards at a discounted rate. Click here to learn more!
To increase candidate flow, instead of posting the standard "job title - description - salary" job ad, write a brief description of the company and then add a personal note to the applicants. Use words that reflect your values and stand out from the crowd: "We're looking for driven, power-seeking, stop-at-nothing individuals who can contribute to the company's success."
Remember that the right person can learn new skills for a specific role, but the wrong person can't be forced into company values or culture. At ClearCompany, we believe that every role has a mission, and we promote the mission or goals rather than basic responsibilities. Ensuring every candidate buys into what we are trying to build from day one ensures that we are only hiring people passionate about the work they will do here.
Another approach we've seen work quite well in increasing applicant flow is utilizing non-traditional media, for example, employer videos or podcasts. Consider a quick Facebook Live session walking around your office or post an impromptu interview with a hiring manager. Speaking of social media, are you posting visual job ads on Facebook, Instagram, or LinkedIn? Taking little snapshots of employees chatting, working at their stations, and collaborating together will give potential candidates an inside look into your company with a simple photo taken on a phone. Apps like wordswag allow you to quickly add text and icons to the photo if you need to create a more polished or branded look.
Are your employees buying into your employer brand? Download this whitepaper to get them on board!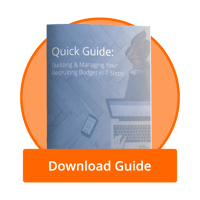 2. Host a Hiring Event
In addition to understanding the role, most candidates also want to get to know your culture during the hiring process. While mixing up your job posting can absolutely send a message about the type of people you are looking for, why not show potential candidates what makes your company such a great place to work in person? Hosting a networking happy hour in your office space or a virtual hiring event are great ways to engage with interested candidates while showing off your culture.
At ClearCompany, we hold open houses for interested candidates across departments. We give ourselves about a month to promote and use a registration system like Eventbrite to track who is planning to stop by. Our events are very casual — most of our employees normally attend and have a lot of fun together. We frequently get comments from candidates about how we look like such a fun place to work (we are!), and the candidates we meet at open houses are far more likely to remain engaged in the hiring process and accept an offer if extended. Additionally, we find these events get applicants to open up and reveal their true personalities.
3. Look in Unlikely Places
A huge number of candidates looking for jobs via job boards. For example, our Applicant Tracking System is processing 200,000 new applications every day. Unfortunately, every recruiter on the planet knows to look at the big players (and they do bring good candidates), so in a candidate-driven market, competition is high. The solution is to start looking outside job boards, in places you might not normally think to search. As an example, the use of social media for recruitment has grown 54% in the past 5 years.
Think of what platforms your target candidate is using and what events they might attend. If you're looking for young creative types, the artist's haven DeviantArt is a great place to look. If meeting candidates right away is ideal, try local art shows or exhibits.
Another good place to look is the group event platform, Meetup.com, where you can look for candidates out in the real world. There are groups for web developers, writers, educators, and more. In contrast to social media, a Meetup group presents the opportunity to interact with potential candidates face-to-face.
4. Dream Big
We see many recruiters feel they need to limit themselves to passive recruiting. Instead, you might need to actively seek out A-level talent. Use LinkedIn, Facebook, or other social media outlets to target the company's ideal candidates and increase applicant flow. LinkedIn's search function, for example, offers the opportunity to search for candidates who have exactly the right skills. A quick message makes it easy to gauge a candidate's interest.
Whether the chosen candidates are currently looking for a job or not, the results will be surprising. In fact, 84% of candidates would consider leaving their current company if another company with excellent employer branding offered them a job. Don't forget to sweeten the pot: A small, personalized gift (a set of pens for a graphic designer or a monogrammed notebook for a writer) goes a long way toward showing a candidate they're wanted.
5. Innovate Always
The world of recruiting is constantly evolving. The methods change as technology and culture change, which means that while these ideas might kick things up a notch now, they won't work forever. The best thing you can do to keep recruiting creative is never to be satisfied with the current method. Always push forward and look for unique ways to discover candidates.
However, what won't change is the need to track and organize candidates that have been gathered through various methods. ClearCompany's Applicant Tracking System is a tool that will last through the trends and help you every step of the way. Demo our Applicant Tracking Software for free.
Recent Posts: