About half of the companies polled in this year's PayScale Compensation Best Practices Annual Report are having a difficult time filling skilled positions. Popular belief is that these hard-to-fill positions are strictly in the IT field –not so. CareerBuilder found that management, healthcare and maintenance and repair workers are also proving very hard to come by lately. When we consider how broad even just the category of management can be, it reveals a much bigger problem.
Companies now have to find ways to gain a competitive advantage against one another to snag top talent in many fields. Here are three ways to get ahead of the competition in hiring, and stay there.
Hire the best and stay on budget with our quick guide!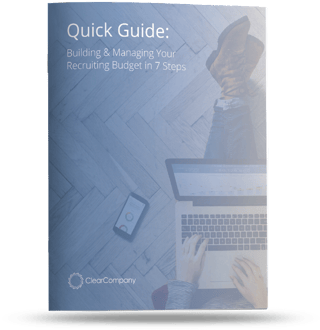 Talent Forecasting
Sourcing, hiring, onboarding and training talent when you need them is going to be too late, that's why talent forecasting is so important. You don't need to be able to read tea leaves to track business trends, create timelines and roadmaps for new projects or track succession needs. What you do need though, is a talent management system to help you with all of that. Recruiting pro, Rosemary Gantz said:
"I believe the most painful shortages we feel are self-induced, i.e., preventable. I'm not saying that we don't need more engineers or scientists or skilled electricians…but I am saying that companies have the ability to forecast their specific situations and create a path, a plan, to prevent these shortages through re-training, job shadowing, job-stretch programs and good ol' talent pipelining efforts."
Offering an Amazing Candidate Experience
When a candidate is faced with the decision to choose between two companies, one who offers a seamless, well-communicated and speedy process, and the other –an average, lengthy and unwelcoming process; it will be a very easy decision to make. Regardless of the disconnect that is often present between HR/recruiting and management, candidates will always view their experience in the hiring process as a strong indicator of how they will be treated, how things run and, in general, what they can expect from this company.
Elaine Orler, chairman of Talent Board, the nonprofit organization that delivers the Candidate Experience Awards each year, talks about how respect is a common denominator among award winners. Orler said:
"Some organizations commit to sharing the expected process and timeline; others create online chat sessions so candidate can check in; and others set up call centers to respond to candidate requests or provide direct contact information for recruiters and hiring managers."
Create and Display an Attractive Culture
LinkedIn's 2013 Global Recruiting Trends Survey revealed that 72% of mobile visitors expect to see a description of your company culture on your career site. As much as we stress the importance of hiring for a cultural fit, building the company culture and living the culture on our end, candidates want that as well. They want values that they can get behind and a work environment that they enjoy. No job seeker ever said, "Gee, I just love job hunting." They want to find a place they fit, and stay there. How can you show them that your company is that place? THAT is your competitive advantage.
We would love to connect with you about the many more ways that ClearCompany's totally integrated hiring suite can help your company gain a competitive edge in hiring. Our software was designed with all users, leaders and candidates in mind. If you would like to see how ClearCompany can transform your recruiting and hiring processes, please click here to take a demo today.
photo credit: thor_mark  via photopin cc