This post was originally published in April 2016. It was updated in September 2023 with current information.
Do you know which of your employees have leadership potential? What would you do if your CFO announced their resignation? Are there any critical positions that are currently vacant at your organization? Does your company have career paths designed to develop its future leaders?
If you don't know the answers to these questions, it's a good time to perform a talent review at your organization. A talent review helps your business place the right people in the right roles and prepare for inevitable changes in leadership.
Find out what your talent review should achieve, how to prepare for the process, what to look for in your employees, and 29 questions the talent review team should ask.
A talent review reveals skill gaps and enables better succession planning for critical leadership roles. Check out these 29 questions to ask during a talent review, and learn how they're different from performance reviews:
What is a Talent Review?
A talent review is a strategic process where human resources and business leaders collectively evaluate the performance and future potential of all employees. It's a recurring assessment of employees' skills, competencies, performance, and potential to take on greater responsibility or new roles. Talent reviews help you identify your high-performing and high-potential employees so you can create tailored career paths and flexible succession plans.
The goals of your talent review process should include:
Identifying employees who are likely to be successful in leadership roles or who are ready to take on more responsibility.
Guaranteeing a steady pipeline of leadership talent to fill critical roles.
Uncovering gaps in talent and creating development plans to bridge those gaps.
Aligning your organization's talent and business strategies.
Talent reviews should be a collaborative process between HR and leadership teams that occur regularly and are informed by your performance review data. The process should facilitate productive conversations where your team can make decisions and plans based on facts.
5 Steps for an Effective Talent Review Process
Successful talent reviews depend on a number of factors, not least of which is a prepared HR team to facilitate the process. Here are five steps you can take to conduct talent reviews with results.
1. Build and share your talent review framework.
Building your talent review framework means determining:
How you'll rate talent
Which roles need succession planning
Which employees will be rated (for large organizations)
The tools you'll use to conduct your talent review, like a 9-box grid
How you'll communicate and train leaders on the talent review process
2. Ask leaders to prepare.
Leaders participating in the talent review process should arrive at meetings prepared to share their ratings of employees or colleagues, why they assigned those ratings, and the tools they used. They should also be prepared with potential successors for their own roles and understand what kind of training would be required for them to be successful.
Not to be confused with performance reviews, the talent review process helps you fill skill gaps, develop your high-performing employees, and plan for the future. Use these 29 questions in your talent review:
3. Oversee talent review meetings.
While HR leaders should participate in these meetings, your department's main role is to act as a facilitator and keep meetings on track. Depending on the size of your business, you might host multiple talent review meetings, first with managers reporting to their leaders, and then with the entirety of the company leadership team. Be sure to stay on top of facilitating a productive, respectful discussion, allowing every leader to advocate for their teams while ensuring beneficial conversations.
How to Assess Potential During a Talent Review
During a talent review, leaders can use tools such as the 9-box grid to assess and plot employee performance against potential. A 9-box grid helps those involved with the talent review quickly identify where employees fall and gives them a common language to discuss employee performance.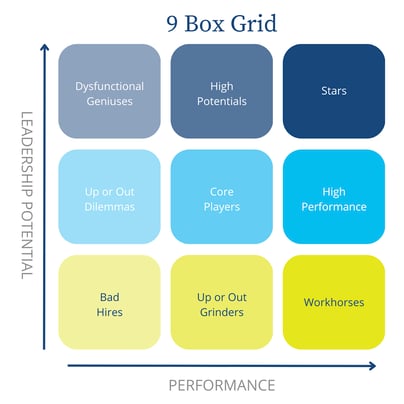 4. Analyze your performance data.
Do we have any skill or talent gaps?
Do we know which employees are top talent and/or who has potential for leadership development?
How are we developing our top performers?
5. Create action plans for talent development.
If your talent reviews don't have actionable outcomes, you aren't getting the actual benefits of the process. After you've identified the skills you need to develop among your workforce and which individuals are good candidates for development, it's time to help them grow. Your action plans might include:
Coaching and/or mentoring to encourage networking and develop soft skills
Stretch assignments to test employees' expertise
Formal training courses or workshops
29 Questions to Ask During the Talent Review Process
Asking the right questions during the talent review process can lead to deeper insights, uncover hidden strengths, identify areas for improvement, and reveal your company's future leaders.
Kick off your talent review process with these 29 questions:
1. Who is outperforming their role and seems ready for advancement?
2. Which team members are vital to retain?
3. Who might be slowing our progress?
4. Where does the company have talent or skill gaps?
5. Which employees are most likely to play a strategic role in our future success?
6. Do we have a succession planning strategy?
7. What is leadership's long-term vision for the company?
8. What positions will be most important in the future?
Consider these questions when your talent review team discusses specific high-potential and high-performing employees:
9. What are the employee's key strengths?
10. In what areas does the employee need improvement?
11. How has the employee shown leadership potential?
12. Has the employee expressed interest in a leadership role or increased responsibility?
13. Can the employee work effectively on a team?
14. How well does the employee handle stress and pressure?
15. Does the employee consistently meet their performance goals?
16. How has the employee contributed to the team's success?
17. Is the employee ready for a new role or promotion? If not, what's holding them back?
18. How does the employee respond to feedback and criticism?
19. Do you know how the employee handles conflict resolution?
20. What motivates this employee?
21. How has the employee demonstrated initiative or creativity?
22. How well does the employee adapt to change?
23. What is the employee's long-term career aspiration within the organization?
24. How can we support the employee's career development plans?
25. How does the employee align with the company's values and culture?
26. Is the employee at risk of quitting? Are there any other risk factors that may cause the employee to leave (e.g., retirement, misaligned career goals, etc.)
27. What is the impact if the employee were to leave?
28. Who could replace the employee if they were to leave or be promoted?
29. What action plans should be put in place for the employee's development?
Effortless Talent Reviews with Technology
Get access to the detailed employee and performance data you need for a meaningful talent review process with ClearCompany. Our Talent Management System equips your team with tools for managing the entire employee lifecycle, including performance, for a comprehensive talent review process. Give performance reviews, analyze the data, and make plans for the future of your workforce.
Sign up for a demo of the ClearCompany Talent Management System and ask about our performance management tools, including the 9-box grid and data analytics.