Talent Management Strategy Guide By: ClearCompany
Updated: March 2020
---
---
What You'll Learn In This Guide
Why Talent Management Strategy is Important

The Key Components of Talent Management

Best Practices in Talent Management

How to find the Best Talent Management System
What is Talent Management Strategy?
Applicant tracking systems, employee onboarding software, performance management are all part of the greater talent management framework. The right talent management strategy aligns these functions to give organizations a strategic advantage.
Performance Management vs. Talent Management
Often the terms performance management and talent management are used interchangeably. While acceptable and understood in most conversations, the reality is that the two have fairly different goals. Performance management is an assessment of employee performance as it relates to individually established goals and key performance indicators. In general, performance management processes are fairly transactional between employee and leadership, narrowly focused on the individual's productivity and ability to meet expectations.

Talent management, however, encompasses a broader company view. It takes into account the business side of people management, geared more toward driving operational growth and profit. A healthy organization is founded on talent management as a strategy with performance management as one of its driving principles. Other principles include workforce planning, recruitment, succession planning, learning and development, management structure... In other words, everything that you do to help your workforce bring business success is a part of the broader talent management strategy.
---
Talent Management Strategy Definition
A well-crafted Talent Management Strategy should enable HR and talent management leaders to benchmark their organizations, design and follow a path toward recruiting and retaining more A Players, and deploying them against business goals at a better rate than their competition. - ClearCompany
Why is Talent Management Important?
Planning a full-scale talent management strategy and process is important. The right talent management systems will carry talent from applicant to productive and engaged employee seamlessly. Each talent management function (recruiting, onboarding, and performance management) should enable you to effectively manage your people to drive success. Here's how:
Recruiting


Applicant Tracking Systems support the employer brand, manage internal and candidate communications, organize information, and allow recruiting teams to better collaborate.
75% of job seekers

consider the employer's brand before even applying for the job

60% of candidates

think better communication during the application process would make a more positive impact


Onboarding


Employee Onboarding Solutions can help keep organizations compliant, ease new hires into their role, lower time to productivity, and decrease turnover.
Organizations experience

50% greater

new-hire productivity when they have a standard onboarding process

Onboarding programs

have been shown to increase retention by 25% and even improve employee performance by up to 11%


Performance Management


Performance Management Systems help employees feel more connected to their job and goals, increase transparency and collaboration, boost the frequency and effectiveness of feedback and help drive succession planning.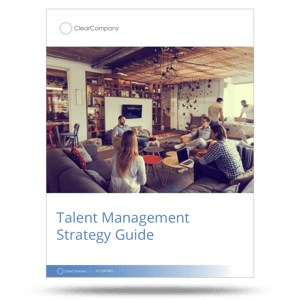 Don't Have Time to Read the Whole Article Now?
Enter your email and save the PDF for later.
---
By approaching talent management in three stages — Automate, Improve, Optimize — and incorporating best practices at every step, the Talent Success Maturity Model guarantees your organization will become more competitive, more engaging, and more successful.
Streamline, automate, and simplify existing talent management processes, setting the foundation for success and saving time, money, and resources.
Apply best practices to hire and engage A Players by understanding and leveraging A player profiles in recruiting, onboarding, and the entire talent management system.

Key Component #3
Build a learning strategy and create a cycle of continuous talent improvement, ensuring an increased ROI in your HR software and your people.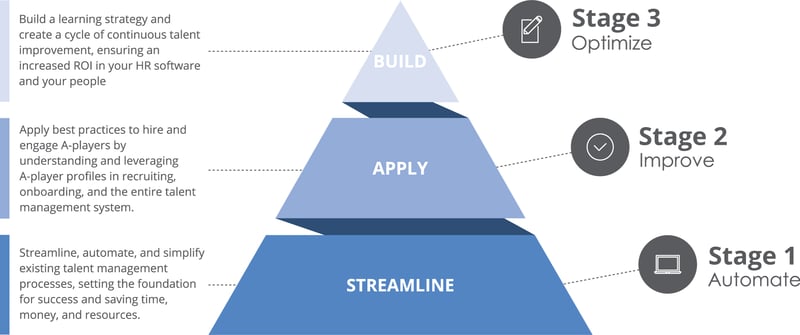 ---
Learn More
Visit our Best Practices Library for insight, strategy, and best practices from experts and thought leaders to help HR and talent management leaders shape their company's path toward hiring, developing, and retaining more A Players.
Don't Settle for Average: Drive Talent Success
Sadly, most companies accept it as inevitable that A Players will comprise no more than a small minority of their workforce (typically, 10 to 20 percent). That's another way of saying their top performers represent a statistically random sample of the population.
What's an A player and why does that matter?
A Players are the top performers that not only have a positive and measurable impact on your business but whose traits and competencies you want to define and apply to your hiring and talent management processes.
Know What Motivates Your A Players
But just knowing what motivates your A Players — assuming you can accurately identify them — isn't enough. You need to have the right systems and processes in place to recruit, grow, motivate, and retain more A Players. That means applying best practices to systems and processes.

The nine functional areas that any organization, at any level of talent management maturity, can act on to begin to better plan and manage for talent are:
Core

Recruiting

Onboarding

Performance Management

Goals

Engagement

Succession

Learning

Workforce Planning

Each functionality has a series of maturity levels — Automate, Improve, Optimize — moving your organization from foundational to strategic capabilities in each function. Most companies will likely not perform all of the functions at the same level.
---
Your ability to find, recruit, train and manage A Players is what drives the performance of your organization. If you have a good talent management system and process, you can feel confident that you will have a profitable company.
Unfortunately, it can be complicated to develop, maintain and improve upon this process. While technology certainly can help navigate a lot of the obstacles, if it's not designed or set up to help you track, manage and predict your talent strategy, then is it really helpful at all? Luckily, the market is full of talent management technology and tools from which to choose.
It's important to understand just how crucial a talent management system is to manage your people and processes effectively. You can, and many companies do, only choose to work with one or two of the mentioned tools. However, there is a greater chance for costly gaps.
Talent management accounts for every step of an employee's journey. The moment a job seeker hears about your organization, they are forming opinions and trying to picture their career with you. Once they apply and even after being hired, they're critically observing everything from recruiter communication to the overall office environment. Years into employment, your workforce is still thinking in terms of building their career with you. Or at least they should be...
Are they setting and hitting their professional goals? Do they like the work they do on a daily basis? Do they connect with their leadership, coworkers, or clients/customers?
With all of that in mind, consider just how far your workforce can go with the right strategic talent management. Use this Talent Management System Buyer's Guide to cover the intricacies of exploring and purchasing this critical system. In it, you'll learn to:
Audit your organization's needs and priorities

Correlate industry trends to your unique workplace

Demo products and solutions

Strategize your investment

Get executive buy-in

Approach implementation