It's the beginning of a new year, and your company has a brand-new set of business goals to meet. Many of those goals are dependent on critical sales quotas being met — but it's not uncommon for sales teams' productivity to fluctuate, leading to missed targets.
While there are many reasons for unmet goals, according to new ClearCompany data, the root of the problem may be your company's workforce plan. Our research shows that when companies use one headcount planning strategy, sales teams aren't just missing their quotas — they fail to meet even 90% of quota 50% of the time.
But what if we told you that your company could make more resilient headcount plans and meet or beat its goals 95% of the time? You can do just that when your human resources team uses our Effective Headcount Approach for strategic workforce planning.
Keep reading to learn more about how productivity becomes more consistent and predictable, and headcount plans are more resilient with Effective Headcount Approach. Then, download the full report, developed by ClearCompany's own President and Co-Founder, Colin Kingsbury, and Lead Scientist of AI & Data Strategy, Marie G. Evelyn, Ph.D.
Can you use #EffectiveHeadcount to help sales teams reach their quotas more often? Find out how it works:
Keep reading to learn more about the Effective Headcount Approach. Then, download the full report.
The Flaws in Traditional Headcount Planning
What is headcount planning?
Your company must have the right number of sales employees on staff — at the right time — to maintain steady productivity, meet its goals, and grow year after year. The "right" number is determined via headcount planning. The headcount planning process is a component of workforce planning in which HR teams and other business leaders create an organizational structure to see how many employees are needed.
By forecasting the number of people needed to meet the goals of the organization, HR departments aim to maximize productivity and make sure teams are not overworked or under-resourced. A clear headcount plan helps to ensure that the team is staffed with best-fit candidates, enabling the organization to recruit and hire people with the right skills and experience for the role.
Successful headcount planning can have lots of benefits for companies when done well:
Helps identify and close skills gaps
Uncovers candidates for internal promotions
Enables HR to create succession plans
Decreases turnover
Saves money and time spent on hiring and training costs
Helps teams meet projected goals
A well-thought-out headcount plan also helps to ensure that the team is appropriately supported with access to the resources they need, like training and development opportunities and manager feedback. With the right people and resources, the team is more likely to stay on track and achieve its targets.
@ClearCompany research shows that the #EffectiveHeadcount Approach prevents big swings in sales teams' productivity. Find out how to use this #headcountplanning strategy:
Traditional headcount planning strategies fall short
ClearCompany's report refers to two commonly used staffing strategies for sales teams:
With the Reactive strategy, teams maintain the exact number of employees needed to reach productivity goals. Open positions are posted after an employee quits or is terminated. There are no contingency plans for decreased productivity when roles are vacant or while new hires ramp up.
When using the Consensus strategy, companies attempt to account for unexpected turnover and new hire ramp time with an employee surplus "fudge factor" into productivity planning.
We found, however, that these headcount planning methods cause large dips in productivity and harm team performance in the long run. Let's compare how these strategies affect productivity.
With a Reactive strategy, productivity is negatively affected immediately because there's simply no person in the role. Then, when a new hire begins, it takes several weeks for them to reach full productivity. This period of no or low productivity can affect team performance over the quarter or even year.
Since the Consensus strategy is based on past years' growth and turnover, lots of hiring or higher turnover in the subsequent year can leave you with predictions that are way off base. Not to mention, the assumption of reduced productivity without addressing its cause can result in teams that underperform because they have become used to missing their goals.
ClearCompany research found that with these methods, sales teams' productivity is harder to predict and inconsistent. It only takes a little bit of unexpected turnover or a few new hires to reduce productivity, leading to missed quotas and rendering headcount plans futile.
How Effective Headcount is Different
The Effective Headcount Approach is a more resilient headcount planning strategy that enables more predictable, consistent performance. To use Effective Headcount, companies calculate the number of fully effective employees they will need to reach productivity goals. New employees are considered fully effective when they can replace the average tenured team member. Those employees, as well as employees who are nearing a tenure cliff, are considered "fractional" employees.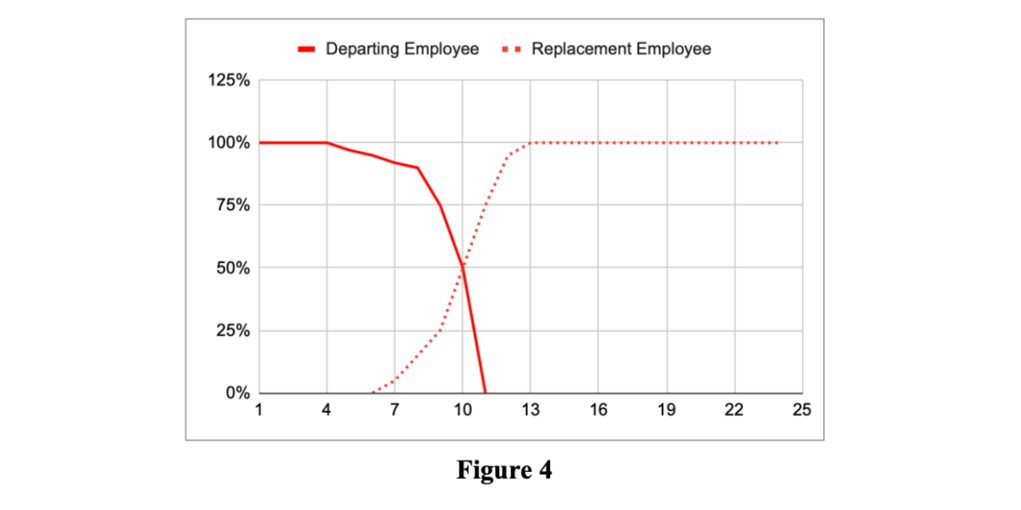 Figure 4 shows how hiring an employee's replacement well before their departure from the company prevents a drop in productivity when they do leave.


Effective Headcount is different from the traditional headcount planning strategies we talked about above:
Effective Headcount considers factors like tenure and performance to make more accurate turnover predictions.
It prevents roles from sitting vacant and the short and long-term negative impact of 0% productivity that Reactive planning can cause.
With Effective Headcount, sales teams are able to hit their targets consistently and avoid large swings in productivity, even when unexpected turnover occurs.
Turnover happens, and while it's not something that can be predicted with 100% accuracy, Effective Headcount can help make far better predictions. With Effective Headcount, your HR team can anticipate hiring needs, and sales teams can set more accurate targets. Then, the sales team can avoid those productivity fluctuations that lead to overall worse performance or underestimating their own performance potential.
Effective Headcount Put to the Test
If you're hesitant to test a different strategy for headcount planning, just take a look at the data. ClearCompany experts put our Effective Headcount Approach to the test, simulating 10,000 different scenarios, and the results were clear:
ClearCompany data shows that our Effective headcount strategy enables sales teams to attain 95% or more of their quotas nearly 100% of the time. Companies facing consistent but unpredictable turnover can employ the Effective+ strategy, which builds in that additional employee surplus "fudge factor." The Effective+ strategy enables sales teams to reach more than 100% of their quota 100% of the time.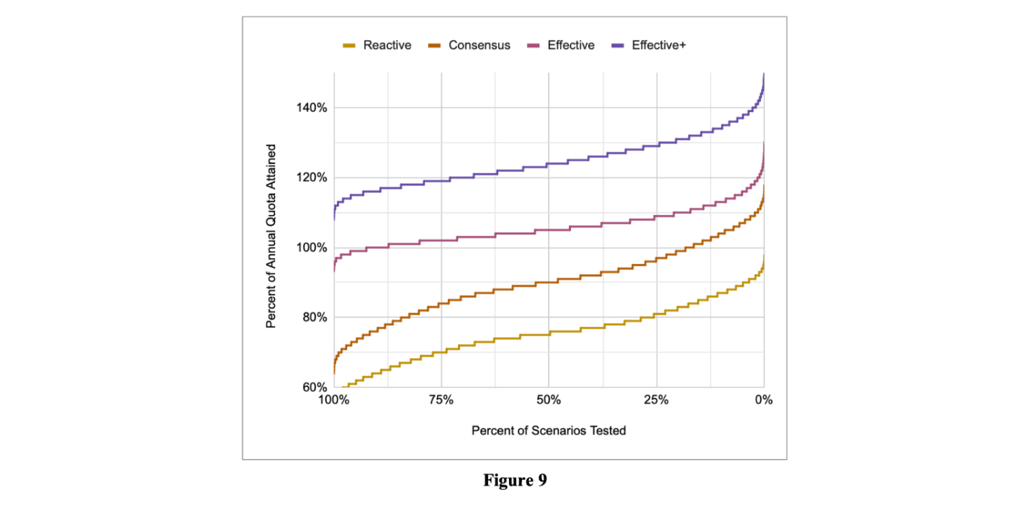 ClearCompany simulated 10,000 different staffing scenarios to test the performance of the four headcount planning strategies discussed in the Report. Figure 9 shows the median yearly performance of each of the four strategies.
Meanwhile, Consensus planning gets the same result just 35% of the time, and Reactive planning results in teams reaching less than 80% of their quotas about 75% of the time.
Do you want to help your sales team reach their goals and create better workforce plans? In our Effective Headcount Report, you'll learn more about our Effective Headcount Approach and how you can make more accurate predictions about productivity, motivate your teams with goals that matter, and hire the right people at the right time for every role.
Download the Report for full details on Effective Headcount, our simulation testing and results, and more from the ClearCompany Data Lab. Get the Effective Headcount Report here.