Organizations thrive when employees feel equipped to perform in their roles, and when a positive and empowering culture is visibly expressed at all levels. Establishing your team's culture early on in the hiring process can help weed out lower-quality candidates, but is that enough to ensure your new hires understand your organization's values and motivations?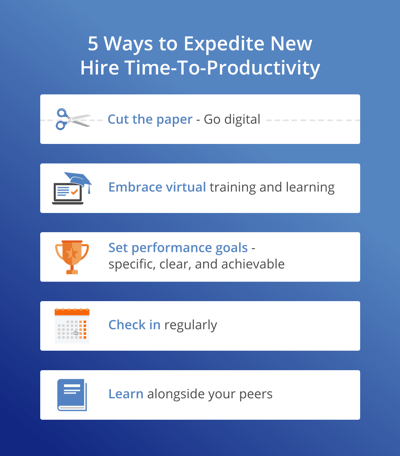 While every organization onboards new employees to some degree, many lack the effective and impactful experience employees crave in a newly accepted role. In fact, 88% of all employees believe their company doesn't provide a positive or effective onboarding process. Businesses need to create a strong and impactful onboarding process to equip their new hires with the tools and traits they need to be successful. Below, we discuss why having an effective onboarding strategy matters, the visible benefits of creating a strong process, and tips for taking your onboarding process to the next level.
Why Effective Onboarding Strategies Matter
In today's hiring landscape, candidates desire a positive experience when applying for and training for new roles. A subpar candidate experience not only negatively impacts the culture of your team but can damage the brand and reputation of your organization. 72% of candidates who have reported having a negative experience with the hiring and onboarding process of an organization are likely to tell others about their experience. This ripple effect may dissuade highly qualified candidates from applying to your organization. Of all new hires, 22% will leave a role within the first 45 days. Businesses need to focus on creating a positive experience early on in order to retain talent.
In addition to sourcing stronger applicants, a positive candidate experience and effective onboarding strategy reinforce your company's culture. The importance of a strong, shared culture for continued organizational success is evident. In fact, 96% of employees see an organization's culture as more important to success than the strategy behind initiatives. When you onboard new hires, you are presented with the perfect opportunity to identify specific processes within your organization and address any concerns before troubles arise. Organizations can (and should) take advantage of the onboarding process to ensure that employees experience a smooth transition into their new role and feel welcomed into your team.
Effective Onboarding by the Numbers
In addition to fostering a strong and supportive culture in your organization, an effective onboarding strategy also has quantifiable benefits for your company. As a general rule of thumb, the more effective your onboarding strategy is, the faster your new hires can become productive and successful members of your organization. By equipping your employees with the tools they need to perform their roles, and through a repeatable and robust training process, you can ensure all organization members are performing at their best abilities.

66% of #employees start looking for a new job within the first 6 months of joining an organization. @ClearCompany says an effective #onboarding process can help you retain your top talent: http://bit.ly/3ad9y4K

66% of employees start looking for a new job within the first six months of joining an organization due to the lack of an effective and positive onboarding process. With the costs associated with employee turnover being so high, a poor onboarding process can cost your organization significantly in lost revenue and talent. Employees crave a positive onboarding experience and are much more likely to remain in a role if they experience a strong process.

An effective onboarding strategy also helps to increase the levels of productivity and engagement within your organization. Some organizations have cited a 70% increase in productivity when employees are onboarded effectively. When new hires feel adequately prepared for their role, they more frequently meet performance goals and see higher levels of satisfaction in their professional career.
Take Onboarding to the Next Level with a Paperless System
In today's remote landscape, traditional paper onboarding processes just don't work anymore. The mountains of paper can lead to a tedious and ineffective system. Currently, 58% of organizations say their onboarding process focuses on paperwork leaving new hires feeling inadequately prepared to take on their new role. One way to streamline the onboarding process and create a more effective program is to adopt a paperless onboarding method.
58% of organizations say their #onboarding process focuses on paperwork leaving new hires feeling inadequately prepared. @ClearCompany says that #PaperlessOnboarding helps you streamline your process and better train your employees:
Paperless onboarding methods save organizations time and money by automating the most time-consuming tasks, leaving managers more time to collaborate with new hires and address concerns one-on-one. With much of today's workforce continuing to work remotely, embracing a digital and paperless onboarding process enables employers to adapt and refine their tactics to fit their current needs.
Conclusion
ClearCompany's Paperless Onboarding Solution offers seamless integration with our ATS and talent management platforms. Managers can start employees off on the right track, even before their first day on the job. The highly interactive and user-friendly interface ensures compliance, enables background screening, and facilitates integration with human resource and payroll processes. Additionally, our paperless onboarding solution allows new hires and managers to set and track performance goals throughout their experience. To learn more about how ClearCompany can help your organization digitize its processes and implement an effective onboarding strategy, reach out to one of our experts or sign up for your free demo today.