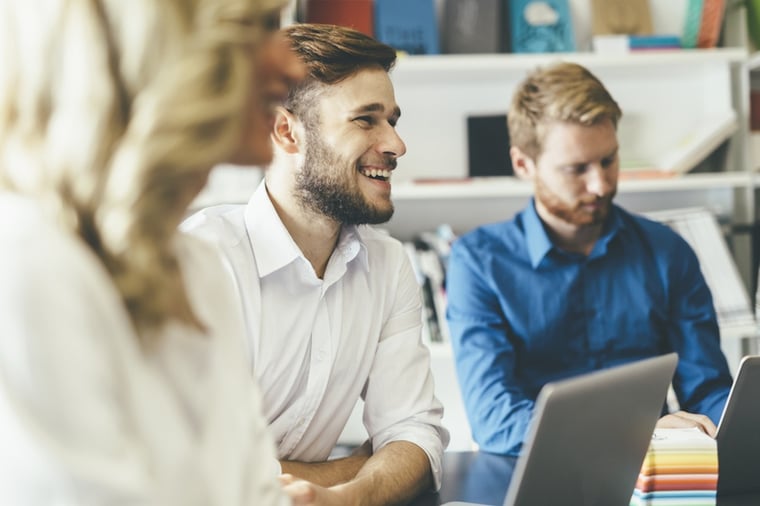 It's tempting for employers to speed through the employee onboarding process in the hopes that the new hire will become productive faster. However, as research shows, employees who experience longer, a structured onboarding process gain proficiency four months faster than employees who have been through shorter onboarding programs.
What is an employee onboarding process?
Onboarding is the process of adding new employees to company systems, getting them the correct supplies, and policy and procedure training. During the employee onboarding process, new hires complete HR documents, meet their coworkers, take training courses, and learn expectations. Onboarding helps new hires settle into their position and sets them up for success at your company.
For the sake of employee productivity, retention and engagement, every company should be able to check off each of the components of a successful employee onboarding program within the new hire's first 90 days.
We've compiled a thorough list of everything you need to do to ensure employees feel welcome and ready to start their new job. But first, here are seven of the most important steps to a successful onboarding process:
Prepare in advance
Ensure all documents are ready to go before the first day
Welcome them with a new-hire mentor
Walk them through all internal processes
Start the training process
Get them aligned with organizational and career goals
Start the feedback and recognition process
Now let's break it down:
Read 5 Noteworthy Tips for Successful Employee Goal Setting
BEFORE THE FIRST DAY
New employees deserve to start their first day off right. Hiring teams should prepare these items when onboarding new employees prior to their start date.
Send new hire documents online and have employees complete them in advance. This includes legal documents, the employee handbook, parking passes, and any other resources the employee should take a look at before they come in.
Map out the first week. Depending on the size of the company, the first week's details will vary. The first week is a great time to acquaint new hires with the leadership team and their coworkers and get them up to speed on how to use relevant programs and applications.
Set up the desk, computer, and other resources. Start off their first day right with a clean, organized place to call their own. Make sure they have all the goods — paper, pens, calendar, first week's schedule, etc. The icing on the cake: a welcome gift from the team!
Prep the team for the new employee. Inform the team about the new hire's name and role. Let them know you'll be making the rounds to introduce the new person and encourage them to be friendly and welcoming to their new co-worker.
Plan for important introductions. Schedule meet-and-greets with any managers, team members, and colleagues from other departments that your new hire will interact with on a regular basis. Make sure this is done well ahead of time so that no rescheduling needs to be done.
Download: Hiring Process Spring Cleaning Pack
THE FIRST DAY
Now that the big day has arrived there are some extra things you can do, or have available, to ensure that your new employee is comfortable and engaged with the rest of the team.
How do you prepare for a new hire's first day? Take your #onboarding process to the next level! @ClearCompany
Make an announcement. Your current employees may already know there's a newcomer in their midst, but you should still make an effort to let them know your new hire has arrived. Get the department together and introduce the new member. With everyone else in the company, have an email blast go out giving details about the new person, what they will be doing, and some background information so everyone knows a little bit about them.
Extra tip: Have employees respond with a little info about themselves. That way, even if a proper introduction can't happen until later down the road, the new employee will know a little more about their coworkers.
Take the new employee on a tour. The first day is perfect for the tour. Show the new hire where the restrooms are located, where to find each department, the best place to park, the break room, and the best local lunch spots to try out. This is a good time to make introductions to the team, and a great time to invite the employee to lunch or coffee on their first day!
Discuss the first week's schedule. Have a one-on-one to talk about what the week is going to be like so the new hire knows what to expect. Open up the floor for questions. You don't want your new hire twiddling their thumbs and stressing because they aren't sure what they should be doing.
Assign a mentor. You've introduced the team, have some tasks planned out for the week, and even have their workspace set up. Now that you've set your new employee up for success as far as their training goes, find a senior member of the team to mentor them on the ins and outs of the company. This should include everything from certain company-wide procedures down to how to perform daily tasks.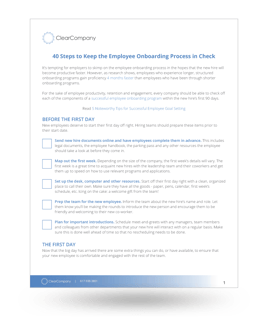 Get Your 40 Step Onboarding Checklist
Enter your email and download your copy of the resource.
THE FIRST WEEK
The first week on a new job should be just like orientation on a school campus. It's important not to overwhelm a new hire during this stage in the new employee onboarding process; it could cost you productivity and possibly an employee.
Walk them through important procedures and standards. Spending time the first few days to cover processes and procedures will help your new employee feel comfortable getting started on the real work. Be sure to cover what the rules and processes for internet usage, email communication, breaks, etc. are and start familiarizing them with the technology they will be using daily.
Introduce company culture. Now that the employee understands the expectations you hold within the company, ensure that you relate those standards back to your company culture. It's important that they understand not only what to do, but why it is important to the organization's success.
Get to training. Once your new hire is settled in and has been taken around the workspace, the second half of their first day should be spent by starting on their training.
Follow up at the end of the week. After giving the new hire time to get used to the office, workspace, and their trainer, follow up with them to make sure they are comfortable and picking things up at an appropriate pace. The end of the first week is a good time to discuss how the next month or so should progress, what you expect of them and where they should be once they reach that time.

Prep your employees. We spend a lot of time prepping the new hire (or at least talking about it) but sometimes we forget to prep the team for their new coworker. Share any relevant information about your new employee with the team, so they know what he or she will be doing and what type of new team member they'll receive.
Invest in a pre-boarding process. If your onboarding process doesn't include pre-boarding, you might be wasting your employees' time...and your own! You can get loads of boring paperwork out of the way so the first day is fun and exciting (as it should be). Tax forms, like W-2s or W-4s, identification forms, like the I-9 form, direct deposit information, and a signed offer letter can all be completed before Day 1 and tucked safely away in your electronic file cabinet.
Think ahead. What would you want to have on your first day? Well, maybe someone to show you around. Designate an employee as a buddy to help the new hire feel welcome and make it easier for them to ask questions.
Make sure they have the tools they need. That includes business cards, laptops, pens, etc. Ensure your new hire has all of their tools at their fingertips so they don't spend their first day twiddling their thumbs.
Practice inclusion! How can your new hire feel like part of the team if they don't have the same company t-shirt as everyone else? Make a swag bag part of the first-week experience!
Agenda time. If you don't plan your new hire's first day, it will likely be chaotic. Avoid making one person handle all the first-day stuff. Provide opportunities for several members of the team to teach the new hire how to navigate the intranet, locate the best spots for lunch, give them a tour of the building, and show them around the breakroom or gym.
Privacy, please. You may be forgetting important documents like non-compete documents, NDAs, or other privacy forms you need your employee to sign. Ensure you do this while explaining the purpose behind each one.
Give them your bible. The employee manual should be read and signed by your new employee. It's especially important to ensure they have time to read and digest it.
The overlooked rules. Go over other best practices you know will come up like your policy on Facebook at work or the best way to call in sick. Don't leave it to the employee to wonder.
Tech school. Every company has a sticky printer, a computer that freezes, and a door that doesn't accept the badge the first time. Have someone guide your employee through all the different (unique) technology intricacies in your office so they know how to use them!
Give them your digits. Phone numbers of coworkers they'll need to contact, extension lists they need to know and any codes to get into the building, bathroom, private offices should all be covered on the first day. Make sure to give them your number as well!
A visual guide. You can make your new hires' lives a lot easier by creating a sort of yearbook they can refer to. Don't have time? Point them to your About Us page or an intranet with pictures so they can put a name to the face and avoid awkward introduction mishaps.
Friendly advice. Does your new hire need to know that while Joe prefers phone calls, Jennifer prefers email? Are they aware that if you bring the IT group donuts, it will go a long way? Help them out with the inside info you had to learn the hard way.
Show them how to set up their stuff. From their phone and computer set up, to various processes and platforms your team uses, every company has a particular way of doing things, so walk them through it and then make sure they can do it on their own.
Create a workbook. Build a workbook that includes milestones of where they should be on Day 5, Week 2, and 1 Month. Giving your new hire concrete milestones to hit will help them plan their time.
Make time for questions. As you shepherd your new hire through the first day, encourage them to write down any questions or concerns, then give them time at the end of their first day and week to discuss.
Put a 2-week check-in on the calendar now. This is crucial if you're hiring a lot of people or trying to get an employee up and running in their new role fast.
Set up meetings for their team and their boss. Your new hire needs to gel with their new team, so make sure they have time in dedicated meetings to do so.
Familiarize the new hire with any training materials or modules. Make sure they know if there are any deadlines to completing certain training.
Give them something to do. If you spend too much time on training and onboarding, your new employee may begin to feel like a burden. Allocate a few hours per day to having them complete actual work.
Check out 5 Management Mistakes Hindering Employee Performance
BETWEEN MONTHS ONE AND THREE
This stage in the new employee onboarding process really dives into employee development and getting new hires firing on all cylinders.
If you have an extended #onboarding program, do you do this between months one and three? @ClearCompany
Establish lines of open communication. At the first month mark, the new hire should be settled into their office and getting into the crux of their training. This is the perfect time to open up some dialogue to gauge how the experience is going for them. Find out what is going well, not so well, and things (or people) they are struggling with. Encourage them to ask questions.
Get them involved. Truth is, you should be fostering engagement from the moment they walk in the door that very first day. Make sure you're providing opportunities to get involved with the company. Have a coworker's birthday next week? Encourage them to come and celebrate.
Start the feedback. Make sure to get updates from those who work closely with them and make an effort to point them in the right direction if they seem to be faltering or struggling with certain tasks.
Encourage independence. With training, introductions and communication all covered, it's time to start letting your new employees practice what you hired them for. Since they are still fairly new, you'll want to continue checking their work and providing feedback, but use this time to get them to begin working on more projects and tasks.
Set performance goals. Keeping your new employee engaged with goals will point them in the right direction and give them something to work towards from the start. Prior to their first review, give them a few S.M.A.R.T. goals to accomplish within their first 90 days so they hit the ground running in their role.
Build a career path. Once your employee knows a good amount about their tasks and team members, work with them to develop a career plan that fits their personal goals. Designate goals for building their career at your company.
Give them the first performance review. After 90 days, the new hire should be at a healthy proficiency in their role. The first review is the best time to evaluate their strengths and weaknesses and decide if the current training program is fulfilling all of their needs. Every company has different standards and every employee develops at a different pace.
Companies with structured onboarding processes experience 50% greater new hire retention. Follow this checklist to keep your company's new employee onboarding process on the right path. If you want to take your processes to the next level, ClearCompany's Onboarding Software will help you to track and automate tasks while providing powerful reporting to analyze the success of your program.
Recent Posts: