Diversity, equity, inclusion, and belonging (DEIB) strategies have long existed but quickly arose as a must for all companies in the wake of George Floyd's murder and the subsequent Black Lives Matter protests. The number of DEI-related job postings increased by 123% from May to September 2020. Companies pledged to hire more diverse employees, donate to nonprofits fighting for racial equity, and educate employees on topics from anti-racism to unconscious bias.
Unfortunately, just a few years later, there's a disconnect between what employers think they've accomplished and how employees feel about those efforts. 84% of CHROs say they're investing more in diversity and inclusion initiatives, but churn for DEI roles was around 40% at organizations conducting layoffs in 2022, compared to 24% for other roles. Not to mention, just 37% of employees agree that their companies are improving DEIB, and only 30% say they're being treated fairly.
#DEIB roles are on the chopping block — but putting DEIB on the back burner means your company will miss out on top talent:
Don't lose momentum on your essential DEIB strategy. Keep reading for some best practices to keep in mind as your company continues its journey to create an inclusive workplace culture. First, we'll explore the difference between diversity and inclusion, equity vs. equality, and why belonging turned DEI into DEIB.
Defining DEIB
DEIB encompasses much more than just hiring diverse talent. It also includes:
Ensuring every person in your organization has equal access to opportunities, including promotions, professional development, and mentorship
Giving everyone a seat at the table and the power to voice their opinions and be heard
Building connections and relationships to make sure every person feels welcome and can contribute to company culture
Let's look at the DEIB acronym in more detail.
Diversity and Inclusion
Diversity and inclusion are sometimes used as shorthand for DEIB because they're foundational concepts. Diversity refers to the demographic makeup of your organization, as well as the policies you put in place to maintain diversity.
Diversity comes in many forms; to name a few:
Racial and ethnic diversity
Age diversity
Gender diversity
Physical and neurodiversity
Even if your business achieves its diversity goals, you need inclusion to be sure your employees aren't just present but are an important part of shaping it. Inclusion means ensuring employees' voices are heard and listened to and that every person is able to have an impact. Without inclusion, your company won't benefit from its diverse workforce, and you'll likely have trouble maintaining representation.
Diversity and inclusion are important to your success as a business in concrete ways, too. Workplace diversity statistics show that increasing representation has excellent results for businesses:
Businesses that are racially and ethnically diverse are 36% more likely to financially outperform less diverse companies.
Three out of four job seekers and employees prefer diverse companies.
Cash flow is 2.5x higher per employee at diverse companies, on average.
Equity vs. Equality
Equity and equality sound similar enough that you might mistake them for interchangeable phrases, although they aren't. Equality means that every person receives the same opportunities and resources. Equity means taking each person's circumstances into account and distributing the opportunities and resources needed to reach equal outcomes.
There's a well-known image showing the difference between the two: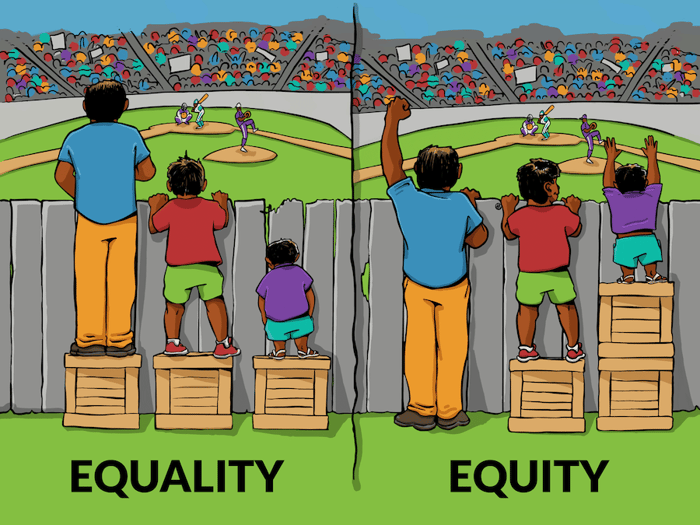 That's why we talk about equity instead of equality when it comes to DEIB. You want to consider where people start out to ensure everyone gets what they need to be successful.
The 'B' in DEIB
You might be used to seeing diversity, equity, inclusion, and belonging (DEIB) as DEI — that is, until recently. Adding the B for belonging is rising in popularity as we learn more about what helps employees feel comfortable being themselves at work. 76% of organizations say it's already part of their strategy and 64% plan to invest even more in belonging in the next year.
Employees that feel a sense of belonging are critical for your company culture. Belonging means that employees feel like they can be themselves at work and be accepted. It means employees feel a sense of community with their coworkers and generally have positive relationships with each other. Belonging can also increase performance by as much as 56 percent.
Is #Belonging part of your #DEIB strategy? It should be — a sense of belonging can improve performance by up to 56%:
5 Best Practices for DEIB
Creating an inclusive workplace doesn't happen overnight or by accident. Your organization needs to be intentional about promoting an inclusive, welcoming company culture to make it stick. Support diversity in the workplace, help every employee feel included and valued, and amplify every voice with these best practices.
1. Set diversity goals.
Setting clear and measurable diversity goals is the foundation of a successful DEIB strategy. Without goals, it's impossible for your company to measure its progress and stay accountable for making real changes.
Start by identifying specific areas of diversity to improve, such as gender representation, ethnic diversity, or representation of individuals with disabilities. Develop SMART goals to ensure they are actionable and trackable over time. Then, track your progress and make adjustments as needed to ensure your company is increasing representation.
2. Evaluate your initiatives.
DEIB initiatives are not one-size-fits-all. Even a strategy that works for a top competitor might not have the same impact on your organization. But you won't know that if you're not monitoring the goals you set and reviewing your efforts regularly. To create effective initiatives, your team must regularly evaluate and assess their outcomes.
You can do this by conducting surveys and collecting feedback from employees to better understand their experiences and needs. Use this data to fine-tune your DEIB efforts and tailor them to the unique challenges and opportunities within your organization. Remember, inclusivity is an ongoing journey, and being open to learning and adaptation is key to fostering an inclusive workplace.
3. Support underrepresented groups.
Your diverse workforce needs a supportive environment in order to truly feel welcome and included. Develop targeted programs and initiatives that cater to the specific needs of these groups. Consider implementing mentorship and sponsorship programs, affinity groups, and diversity training sessions to empower employees from underrepresented backgrounds. Providing a safe space for open discussions and active listening can also foster trust and promote a culture of inclusivity where every employee's voice is heard and valued.
4. Address barriers.
Recognizing Barriers to Inclusion
McKinsey partner and DEI expert Diana Ellsworth gave an example of what a lack of inclusion might look like at work:
"The LGBTQ+ community is underrepresented in the workplace, especially at more senior levels. As a result, many feel like an "only" at work and are more likely to experience microaggressions; they might feel unable to talk openly and comfortably about themselves, for example, or need constantly to correct assumptions about their personal lives."
Though it might be hard to admit where your company is falling short or what's holding it back from its DEIB goals, honesty is paramount. You can't drive meaningful change without being truthful about the current situation.
Here are some common barriers you might be facing when executing your DEIB strategy:
Recognizing and eliminating unconscious biases in hiring and promotion practices
Lack of representation in leadership positions
Systemic organizational problems
Engage in open conversations and training to educate employees about how to overcome these barriers. Share what your company is doing to knock them down to uphold transparency.
5. Start at the top.
DEIB efforts need to be modeled from the top down in order to truly permeate company culture. Leaders play a pivotal role in setting the tone and driving change throughout the company. Total leadership buy-in is essential to demonstrate the organization's commitment to its employees and the DEIB strategy.
Encourage executives and managers to actively participate in diversity training and stay educated on best practices. Promote transparency and accountability by holding leaders responsible for progress towards DEIB goals. When leadership is genuinely invested in fostering an inclusive workplace, employees are more likely to feel valued, motivated, and engaged, leading to improved productivity and overall business success.
Fostering a diverse, equitable, inclusive, and belonging-oriented workplace requires consistent effort, dedication, and a commitment to continuous improvement. By setting clear goals, embracing customization, supporting underrepresented groups, addressing barriers, and leading by example, organizations can cultivate an environment where all employees thrive, contribute, and feel a deep sense of belonging.
Investing in DEIB is not just a moral imperative; it's a strategic decision that ultimately benefits the organization's culture, talent pool, and long-term success.
The most important thing to remember is that DEIB is an ongoing process, not a project to complete. To that end, you'll need tools that can help your strategy evolve as your goals change. Explore the value of a full-platform talent management system for DEIB at your organization.
ClearCompany adds valuable capabilities to your diversity and inclusion efforts:
Standardized Interview Guides and Scorecards to increase fairness
Employee surveys to measure impact and gather feedback
Interactive dashboards and tailored reports to get insights from employee data
Shout Outs and Celebrations to encourage inclusion and belonging
Sign up for a demo of ClearCompany Talent Management to learn more about our tools that support your DEIB values.