We're just over halfway through another noteworthy year full of unique challenges and changing demands for human resources teams across industries. In the ongoing Great Resignation, recruitment remains competitive and your HR team may be experiencing higher employee turnover, feeling the effects of the labor shortage, or dealing with candidate ghosting.
As always, ClearCompany has remained in touch with the current state of the HR industry, collaborated with our clients, and listened to their feedback in order to update and expand our suite of features so our award-winning product can continue helping HR teams solve the problems they're facing.
That's exactly what we've done in our latest 2022 Summer Product Release: We're excited to announce that ClearCompany recently added 14 new tools and features to our Applicant Tracking System! Our enhanced capabilities include:
New texting tools in the Advanced ClearText Suite
Enhance the functionality of LinkedIn Recruiter System Connect with new features
Talent Acquisition Branding to ensure brand consistency for clients recruiting for multiple companies or brand identities
Fast, efficient, and transparent interview scheduling with Virtual Interview Links
Take a closer look at the new releases making the biggest impression on ClearCompany clients. Then, sign up for a demo of our ATS to try the new tools firsthand.
@ClearCompany's 2022 Summer Release includes 14 new tools and features to support #TalentAcquisition in today's competitive market. See what's new in the #ATS:
Advanced ClearText Suite & Texting Templates
Candidate texting is one of the most effective ways for recruiters to get in touch and engage with candidates quickly — most people have a cell phone and check it often:
97% of U.S. adults have a cell phone, and texting is the number one form of communication for those under 50.
Text messages have a 98% open rate, and 95% are opened and read within three minutes.
Americans check their phones 262 times daily on average, or every 5.5 minutes.
Texting is a fast, familiar way to communicate and expands your candidate pool to include those hard-to-reach candidates. Texting tools are a client favorite in the ClearCompany ATS — popular feature Text-to-Apply enables 400% faster time-to-hire for our users.
In the 2022 Summer Release, we continue to grow our texting toolkit with the Advanced ClearText Suite, which includes:
Text-to-Apply: Text-to-Apply allows candidates to submit applications via text — they can even scan a QR code to apply in seconds. Our clients receive 3.5x the number of applications with Text-to-Apply.
ClearText: One of ClearCompany's top features, ClearText enables recruiters to talk with candidates via text. Texting is low-pressure, personal, and lightyears faster compared to the traditional method of communication — emailing back and forth.
Bulk Texting:

With Bulk Texting, recruiters can send dynamic texts to up to 25 candidates at once for common text communications like reminders or rejections.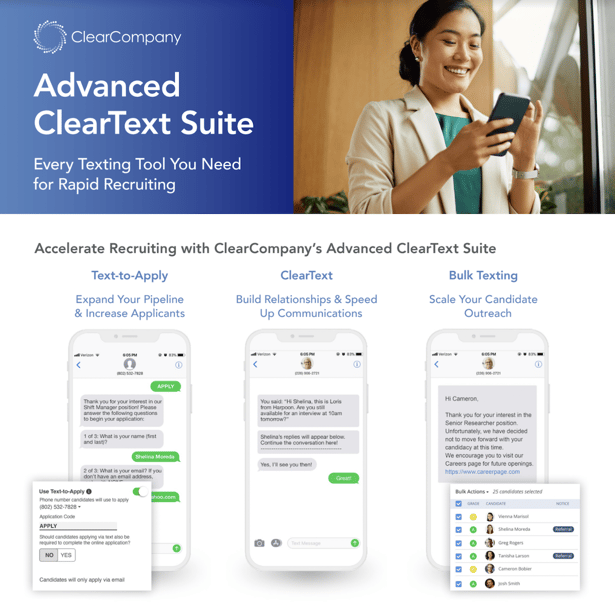 Their update includes another valuable new tool available for use with ClearText and Bulk Texting: texting templates. These templates allow recruiters to standardize their text messages while still maintaining a personalized approach to candidate communication.
The advantages of texting tools are clear for talent acquisition teams:
Capture every text exchange in candidate profiles
Choose from a library of time-saving texting templates
Recruiters can text from ClearCompany ATS, keeping personal cell numbers private
Ensure text messages are compliant with mobile carrier regulations
LinkedIn Recruiter System Connect Integration
ClearCompany first partnered with LinkedIn in 2020 with the release of our Recruiter System Connect integration, and in 2021, we became the first ATS to offer LinkedIn Apply Connect. ClearCompany users with a LinkedIn Recruiter license can sync candidate data between the two systems so both are always accurate and up-to-date. The integration automatically creates candidate profiles in ClearCompany and matches duplicate profiles to ensure outreach efforts are not repeated.
As part of the 2022 Summer Release, ClearCompany and LinkedIn Recruiter System Connect users can access increased functionalities:
Recommended Matches helps you add high-potential talent to your talent pipeline within ClearCompany, even if they haven't applied yet. LinkedIn automatically identifies candidates who match your requisition criteria, enabling you to reach out quickly or save matches that look promising.
Unified Search (available soon) expands the search fields used across systems to include location, job title, Open to New Opportunities, and an expanded list of keywords. Unified Search also enables you to search for candidates within ClearCompany or LinkedIn Recruiter and generates a merged list of relevant results from both systems.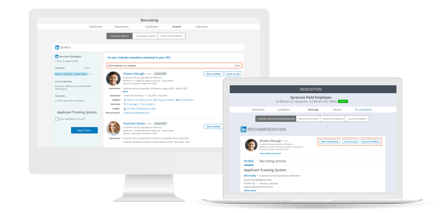 Virtual Interview Links
70% of talent professionals say virtual recruiting will become the new standard, which means that modern recruiting teams need seamless video interview capabilities. To grow these capabilities for our users, we've included virtual interview links in the 2022 Summer Release.
Virtual interview links enable recruiters to efficiently schedule and host video interviews on all major video conferencing platforms, including Zoom, MS Teams, Google Meet, and GoToMeeting. You can automatically add interview links to interview invitations with clear directions for the candidates, saving time and reducing errors.
70% of talent professionals say virtual #recruiting is the new norm — and the @ClearCompany #ATS has the tools to support your #virtualinterviewing and #hiring strategies:
Virtual interview links give candidates clarity around the interview process and allow them to start building connections with face-to-face video interviews. Create a positive candidate experience with video interviews and virtual interview links.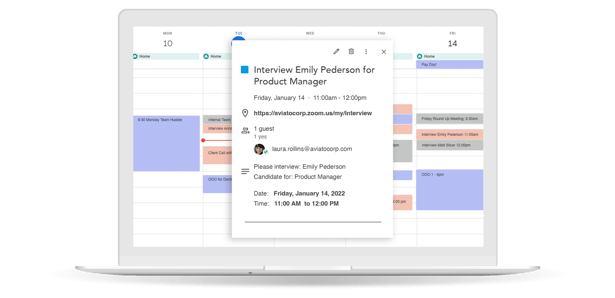 Talent Acquisition Branding
Many talent acquisition teams hire for multiple locations or brands with different names, locations, and branding. That can get confusing for candidates that are applying to many different positions — not to mention, for recruiters managing career sites, job applications, offer letters, and more across different brands.
ClearCompany included Talent Acquisition Branding in the 2022 Summer Release to streamline recruiting communications for these complex organizations. This update helps maintain brand consistency and eliminates the need to save multiple versions of recruiting communications, saving tons of time and reducing confusion.
Talent Acquisition Branding seamlessly adjusts brand and location information on your important recruiting materials:
Career sites
Job applications
Text-to-Apply
Email communications
Calendar invites
Text messages
Offer letters
Onboarding packets
Internal communications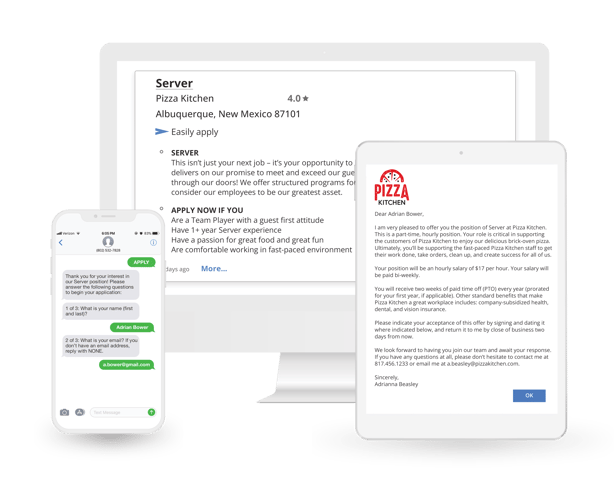 Talent Acquisition Branding enables a consistent candidate experience to keep candidates engaged throughout the recruiting process and remain a competitive employer in the talent marketplace.
Power People-Centered Strategies with ClearCompany
After the events of 2020, the value of the "people" side of people management is more apparent than ever, and HR has stepped up to help their companies "'navigate complex people-centric challenges.'" According to SHRM, "the role of HR has fundamentally changed;" more and more companies recognize your team as a key player in business strategy.
ClearCompany is the robust software solution that can support your HR team in that role and power modern recruiting strategies. We consistently update and develop our tools and features to meet our clients' needs and power effective talent management strategies no matter what's happening in the workforce. Keep an eye out for our next product release in the fall.
You can test all of these new ClearCompany Applicant Tracking System features — and several more we didn't cover — firsthand. Get in touch with the ClearCompany experts today to set up your personalized ATS demo.