We can't contain our excitement — ClearCompany is on an award-winning streak! As the summer draws to a close, we're thrilled to share the recognition we've received for our outstanding company culture, rapid growth, and product excellence this season.
Here are the highlights:
Named to the Inc. 5000 for the seventh year in a row
Earned a 2022 Great Place to Work Certification™
Awarded G2 badges for overall excellence, product functionality, and client support based on real customer feedback
See why @ClearCompany is a 2022 #GreatPlacetoWork and 7-time #Inc5000 honoree:
7 Straight Years on the Inc. 5000 List of Fastest-Growing Private Companies
ClearCompany couldn't be more proud to announce that for the seventh straight year, we've been named to the 2022 Inc. 5000 list! The prestigious list recognizes the fastest-growing independent businesses in the U.S. ClearCompany is among only 1% of companies that have landed on the list for seven years in a row. This year, ClearCompany ranks at No. 4598.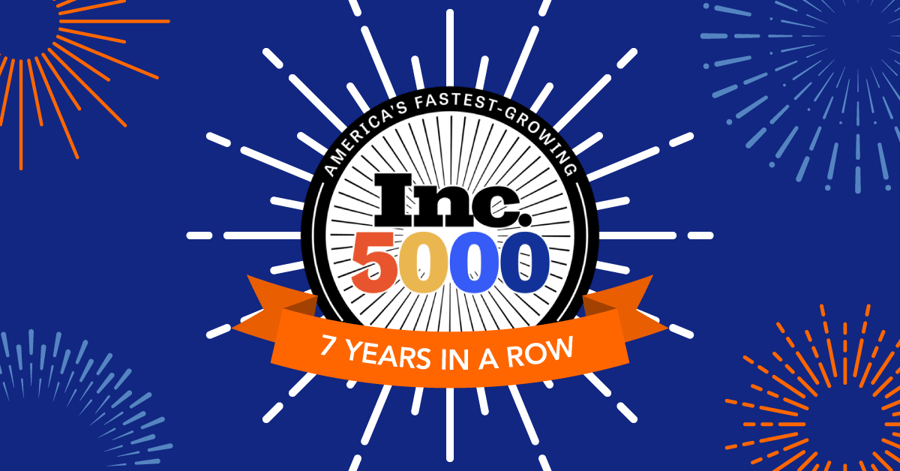 We've landed on the Inc. 5000 for seven consecutive years thanks to our commitment to our mission of helping our clients achieve their own missions. We do that through constant product innovation, best-in-class software implementation and client support, and an incredible amount of teamwork.
ClearCompany CEO and Co-Founder, Andre Lavoie, points to our amazing people as the reason for our continued success:
"We're honored to be part of just 1% of companies appearing on the Inc. 5000 for seven consecutive years. ClearCompany could not have reached this milestone without our people, A Players whose curiosity, drive, and enthusiasm have driven our success. It's our mission to help our clients achieve the same success by finding, engaging, and retaining diverse, equitable, and inclusive teams of A Players at their own organizations."
2022 Great Place to Work Certification™
We asked employees what they think makes ClearCompany a Great Place to Work:
"ClearCompany is a Great Place to Work because they give us the flexibility to maintain our personal life while working here!" - Josh Calhoun, Implementation Manager

"I think ClearCompany is a Great Place to Work because they see the potential in you, sometimes before you even see it in yourself!" - Laura Martella, Account Development Representative

"From my first interview to being hired, it was such an enjoyable experience, and the entire support team is amazing and humble at its best."

"The amazing people who work here breed an amazing culture and make ClearCompany a Great Place to Work!" - Quinn Finer, ADR
We've been hard at work crushing our business growth goals, but that doesn't mean our people fell by the wayside — quite the opposite, actually. We've earned a Great Place to Work Certification™ for the second year in a row! The Certification is awarded based entirely on employees' responses to the Great Place to Work® survey.
In 2022, 96% of our employees agreed that ClearCompany is a great place to work! This incredible rating is thanks to each of them, A Players whose drive, curiosity, and ability to work as a team truly make ClearCompany a Great Place to Work®.
Since 1992, Great Place to Work® has surveyed 100 million employees globally to learn what makes a workplace great (hint: it's trust). It is the global authority on workplace culture, employee experience, and leadership behaviors proven to deliver market-leading revenue, employee retention, and increased innovation. Its mission is to build a better world by helping companies become great places to work for all.
ClearCompany earned high marks from our employees in many areas on their famous Trust Index™ survey — here are just a few of our standout scores:
99% of employees agree that our leadership promotes inclusive behavior and avoids discrimination
93% feel respected by management and feel that there is open, two-way communication between employees and management
97% feel welcome and feel like they can have fun with their coworkers
97% feel a deep sense of team or family with their coworkers
96% say leadership behavior resonates with our company goals and values
96% feel free to express themselves in the workplace
95% feel like they can count on and support their colleagues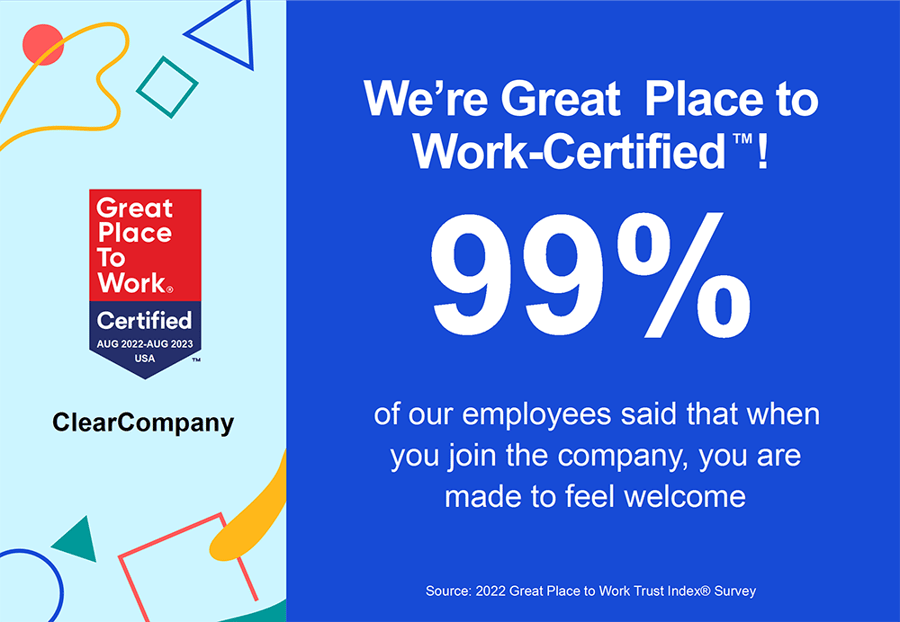 Overall, ClearCompany employees agreed that the work environment is safe and welcoming, that leadership walks the walk, and that they're valued at work. We're honored to know that our employees think ClearCompany is a great place to work, and we're excited to continue to make the workplace a welcoming, inclusive place for every employee year after year.
New Summer 2022 G2 Badges
ClearCompany continues to dominate G2 Reports thanks to more than 200 client reviews from real users. Notably, we were named a 2022 ATS Leader and placed at #13 on G2's 2022 Top 50 HR Products list.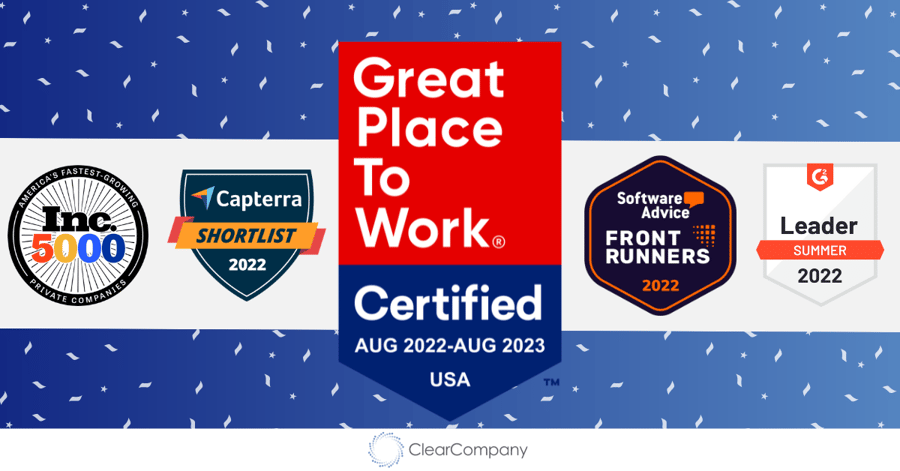 Our clients' five-star ratings and stellar reviews helped us earn recognition in 13 software categories and on 54 G2 Summer 2022 Reports. ClearCompany ranked on several reports thanks to users' high ratings of both our product and the support they receive:
Grid® Report for overall product excellence
Implementation
Results
Momentum Grid®
Usability
Relationships
ClearCompany received G2 badges to note standout performance in many areas — again, for both our product and our customer support:
Users Love Us (Recognizes consistently high user satisfaction)
Best Support
Easiest Setup
Easiest to Use
Our consistent recognition on G2 is all thanks to our clients — we're thankful for their reviews and for their continued support of ClearCompany!See our latest awards and hear feedback from real ClearCompany ATS clients.
Software Advice and Capterra Recognition
Outstanding client reviews helped ClearCompany earn recognition from two more trusted software review websites in addition to G2:
We're excited to keep innovating, evolving, and collaborating with our clients to bring them a best-in-class talent management platform and give them the tools they need to meet their talent acquisition, employee engagement, and performance management objectives.
Experience the award-winning software and support our clients love — sign up for your personalized demo of the ClearCompany Talent Management Platform today!