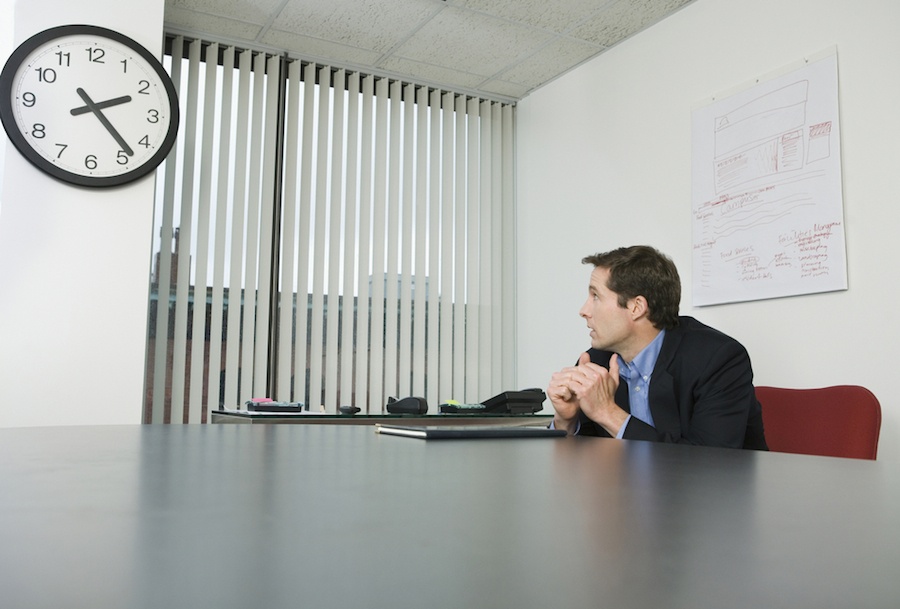 Gallup reports only
32.

5

% of U.S. employees
are engaged in their work, which is a shame, because engagement lays the foundation for improving

employee

performance

. Gallup also reports at least
70% of variance
in

employee

engagement can be attributed to managers.
So, while many companies are paying big bucks for

employee

wellness programs, handing out complimentary food to employees or organizing a company-wide day of volunteer service, their own engagement problems might actually lie in their

performance

management

practices. The good news is many of the leadership traits employees seek to find in managers today are easy and practical to implement.
Becoming a more successful manager
is just a few tweaks away...
Mistake #1: Not initiating frequent communication with employees
Regular communication is positively correlated to

employee

engagement. In fact, employees whose managers regularly communicate with them are nearly
three times more engaged
than those with managers who don't regularly communicate. Tripling your employees' engagement levels can be as easy as popping by their office one or two times a week to shoot the breeze.
How to avoid this mistake:
Managers can keep themselves accountable for checking in with employees by setting reminders on their phone, computer or within their HR software. Group settings can work, but one-on-one interactions with employees will pack a stronger punch for engagement.
Mistake #2: Lack of constructive feedback
Managers have the challenging job of
managing

employee

performance
. It's a balancing act knowing how much positive feedback to include and when to focus on improvement.
71% of employees
who believe their manager can name their strengths feels engaged and energized by their work. On the other hand, focusing feedback on an

employee

's weaknesses can cause their

performance

to decline by 27%.
Focusing feedback on employee weaknesses can cause performance to decline by 27%.
How to avoid this mistake:
Zenger Folkman

suggests using corrective feedback

, "For the purposes of [our] study, we grouped praise, reinforcement, and congratulatory comments together as positive feedback. And we've chosen to call suggestions for improvement, explorations of new and better ways to do things, or pointing out something that was done in a less-than-optimal way corrective feedback."
72% of respondents felt that their

performance

would improve with corrective feedback.
Mistake #3: Failure to provide employees with "the big picture"
Only about
50% of the workforce
strongly feels they understand what is expected of them at work. That means the other half is more or less "winging" it. Not only do these employees not know what is expected of them, but that means they have no clue how their work really contributes to the bigger goals of the organization, which will make it hard to retain them long term.
How to avoid this mistake:
When
managing

employee

performance
, take every opportunity available to demonstrate how your employees' actions impact the organizational goals of the business. This increases goal transparency and gives them a line of sight as to the effect their work really makes and where it's headed.
About 50% of the workplace is "winging it." Here's the solution:
Mistake #4: Failure to recognize employee accomplishments
According to the 2015 Trends in

Employee

Recognition Report,
68% of surveyed companies
feel

employee

recognition programs have an extremely positive effect on

employee

engagement. The same study showed 38% of respondents felt it positively impacts

employee

retention. The power of praise is evident and it doesn't necessarily have to come in the form of recognition program to make it happen.
How are you implementing employee recognition in the workplace?
How to avoid this mistake:
Create an environment of recognition by taking opportunities daily to recognize small successes. Even recognizing personal achievements or struggles can provide meaning for employees and consequently, a more engaging work atmosphere. For example, if you know Sam is taking night classes at the local campus, let her know how impressed you are with her work and dedication to further her education.
Mistake #5: Failure to lead by example
It's hard to be perfect all the time, but managers don't just manage people, they lead them and that means they are expected to lead by example.
70% of employees
who lack confidence in senior leadership are not fully engaged, making the values and characteristics managers display at work even more critical to influencing

employee

performance

.
How to avoid this mistake:
When opportunities arise, show your teams what kind of leader you are. For example, when your team makes a mistake, that's a reflection on your leadership. Resist the urge to place blame. Take responsibility for the situation and let your team know you're working to improve on yourself. They will appreciate your humility and honesty.
Are your
performance

management

practices
hindering

employee

performance

? Take a step back and reflect on your current processes. If you're making these

mistakes

, it might mean your team isn't performing to their full potential.
Related Posts: