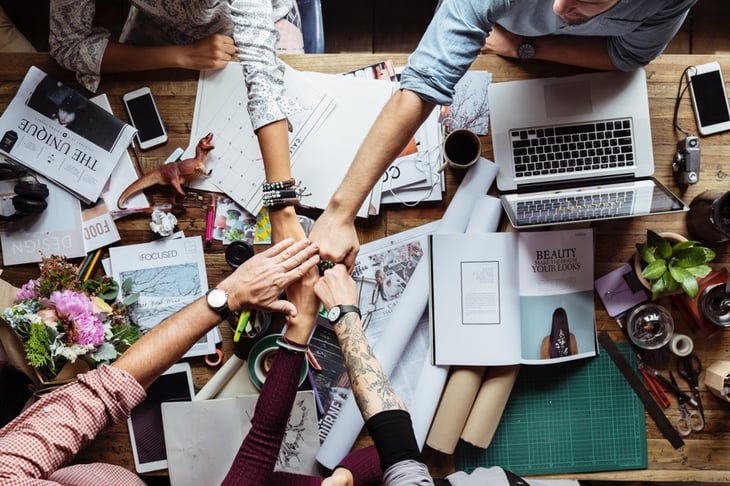 The benefits of an organized new employee onboarding process isn't a secret, mostly because statistic after statistic prove its value:
It's not the obvious benefits of onboarding that hold organizations back from implementing programs that work. It's the necessary time, money and manpower that keep leaders and their new hires from a highly engaging first few weeks on the job. That's where onboarding software comes in.
Is employee onboarding software really worth the investment?
Onboarding software is technology that helps employers facilitate a smooth transition for new hires. Often, onboarding software features a digital dashboard that allows talent acquisition teams to easily communicate with one another and track the progress of each hire as they move through the onboarding stage of employment. This includes I-9 verification, compliance insight and tools, integrations for payroll and benefits administration. Some software even acts as a connection between the organization's applicant tracking system and performance management system to provide a seamless transition in the new hire's employment history.
Implementing onboarding software like this helps managers and leadership address the needs and concerns of their newest hires without placing too much administrative burden on HR or managers. It also standardizes the process, which means your new hire introductions are consistent and appropriate for the role. Finally, it assists with compliance, ensuring you don't lose or misfile important new hire information.
For example, an entry-level candidate will receive a full introduction to the company and KPIs, while a tenured, internal hire can focus more on the additional or newly added responsibilities. Meanwhile, the onboarding team won't have to create a new program to match the candidate, simply follow the guidelines already established.
Do You Need Onboarding Software?
There is a tool or software for just about every process your department has in place. The sheer amount of options can cause leaders to wonder just what is actually necessary for their company. In general, companies should have an onboarding solution or tool if:
Bringing a new hire on board causes the HR team to spend most of their time sending, tracking, checking and filing paperwork instead of welcoming and working with the new employee
You work in a compliance-heavy industry
You're experiencing onboarding hiccups (for example, forgetting to send a background check or missing I-9 deadline)
You have high turnover early on in an employee's tenure
This list isn't exhaustive, but it is a great indication of some common issues faced by a company who will benefit from employee onboarding software. If your organization is facing exponential growth, it might be time to start exploring your options before these issues begin.
Why Adopt Onboarding Software?
The first few weeks on a job are critical for both the success of a new employee and the relationship an employer forms with them. In fact, a third of employees surveyed stated they knew whether they would stay or leave a company after the first week on the job. Creating and maintaining an onboarding program that satisfies the new hire's need for training and also keeps productivity levels at their peak is a challenge many organizations struggle with.
Employee onboarding should equip new hires with everything they need to be successful and satisfied within the company. There's everything from establishing logistical employment standards to explaining unspoken internal collaboration rules. That can be a tall order and mean a lot of planning for organizations.
Adopting employee onboarding software reduces the risk of missing out on crucial steps in the process because it standardizes the program for each new hire, while allowing customization for specific job titles and employment levels. What works for an executive hire will be completely different than that of an intern, but both will likely need new hire paperwork and introduction to the company mission, values and culture. Employee onboarding software does this by providing these features:
Managing New Hire Paperwork: When bringing on a new hire, it can feel like the paperwork never ends. With onboarding software, employers can house all documents in one place as well as carry information from form to form, reducing time spent keying in redundant information as well as errors.
Employment Documentation Compliance: Employment compliance is complicated, but onboarding software can help ensure your organization is using the latest forms while providing thorough explanation and guidance to the employees who are filling them out. From state tax forms to E-verify automation, a new hire onboarding software can help your team stay compliant while saving time.
Background Checks: Background checks are important to keeping your organization and your new hire safe and protected, so it is essential that they are handled appropriately. With onboarding software, background checks can be sent with one click, and your team will receive automatic updates once the new hire has authorized the check, and again when results are in. No more chasing down authorizations or internal bottlenecks.
Automatic Workflows: Onboarding software will allow your organization to set up multiple automated workflows so that you can set something up once, then never worry about it again. Most softwares allow the organization to define a process for each role or department, including setting deadlines and reminders for the new hire and internal team with specific directions for each step. Once one step is completed, the responsible individual will be notified and given the next step to be completed in the process.
Access to Employee Information: This includes everything from benefits enrollment and details to employee handbooks. Because the system is a tool for both the employee and employer, both have access to critical employment information through it.
Progress Reporting: Do you know where your new hire is in the onboarding process? Do you know who will be training her on the intranet tomorrow? With onboarding software, each step the new hire has completed is clearly displayed and easily followed by leadership. This functionality can also help audit the performance of the onboarding team, helping to improve the onboarding process as a whole.
These features, while critical, are not standard in every onboarding software or platform. Finding the right one for your organization requires research and an understanding of how your company would like to onboard talent. ClearCompany's Employee Onboarding Software has perfected every feature above and even more. If you're interested in seeing how our tool can help improve your program, schedule a one-on-one demo with us today.
Recent Posts: