At ClearCompany, our mission is to help thousands of clients achieve their own missions by hiring, engaging, and retaining more A Players. The ClearCompany Talent Management Platform has helped revolutionize hiring talent and managing employees for organizations in every industry. Our experts have a passion for improving and supporting all types of workforces by way of our full-platform talent management solution and with best-practice knowledge.
Frequently, ClearCompany clients sit down with us to share what drove the need for a software solution at their company and their experience using our award-winning software. From biotech robotics companies to construction firms, we are dedicated to ensuring our clients' growth and success through the employees who make it happen every day.
To view all our case studies of real clients and their success using ClearCompany, please take a look through our ClearCompany Case Study library.
Read the #casestudy and learn how @Opentrons built a streamlined process to hire candidates with specialized skill sets across dozens of locations with @ClearCompany:
Streamlining Recruiting and Onboarding
ClearCompany is modular and each of our products can be used by all different sizes of companies in countless industries. Each of our products is supported by ClearCompany's collaborative and flexible approach to implementation, and backed by our highly rated customer service and retention scores.
Our clients derive the most benefit from using our full platform to hire and manage talent within their organization, but often customize their solutions to fit their company's current needs. Our client Opentrons Labworks, Inc. found that ClearCompany's Applicant Tracking System (ATS) and Onboarding Platform best fit their needs.
A View Into Opentrons
Opentrons is a biotechnology company that provides robotics solutions that automate tasks for biologists. Its solutions help save biologists time and alleviate physical stress so they can focus on much more significant work that leads to medical breakthroughs. Opentrons was also a key player in monitoring COVID infections, helping to improve the lives of millions.
See how Opentrons uses ClearCompany ATS and Onboarding for a consistent, compliant candidate and new hire experience: Read the Opentrons Success Story.
The Problem: High-Volume Specialty Hiring
Opentrons was growing fast and running into problems with compliance, consistency, redundancy, and inefficiency in the hiring process.
The biotech company had a few pain points:
Redundant employee records made it difficult to classify new hires and get them the correct onboarding documents.
Opentrons needed to fill a high volume of roles that required specialized skill sets for different businesses in various geographic locations.
The HR team wanted to automate some recruiting and onboarding tasks.
Opentrons was searching for a collaborative software partner, not just a software solution.
The Solution: Consistency and Consolidation
With ClearCompany as their recruiting and onboarding solution, Opentrons has streamlined processes across three laboratories, three business entities, and 36 states. They formed a strong partnership with their ClearCompany Customer Success Manager and worked closely together to build out workflows and templates to fit Opentrons' specific needs. The company quickly grew from 60 employees to 700.
@Opentrons needed a structured, efficient #hiring process across 36 states — find out how @ClearCompany helped the biotech company build custom workflows and automate HR tasks:
ClearCompany Onboarding enables compliant hiring practices, consolidating new hire data and making it easier for Opentrons' HR team to ensure new employees receive the correct documents at the right stage of the hiring process. Opentrons also tracks valuable recruiting and onboarding data effortlessly in the ClearCompany Platform.
"We built out workflows and templates to accommodate all of our different division locations and really make the system function the way that it was meant to. We automated so many elements of the process."

- Danielle Tillman, Associate Director of Employee Services
The Results: Hands-On Support and Streamlined Processes
Opentrons found the collaborative partnership they were looking for at ClearCompany. The Customer Success Manager's dedicated support helped Opentrons achieve its goals and create consistent, compliant processes that could be maintained across dozens of locations.
"The thing that was a change agent for us was the dedicated support. I know support is a very challenging thing to make consistent for any organization, but it seemed to me that there was a service model in place that allowed for a lot of dedicated support."

- Danielle Tillman, Associate Director of Employee Services
View Case Study: Learn how ClearCompany and Opentrons partnered to streamline hiring and onboarding processes across three laboratories, three business entities, and 36 states.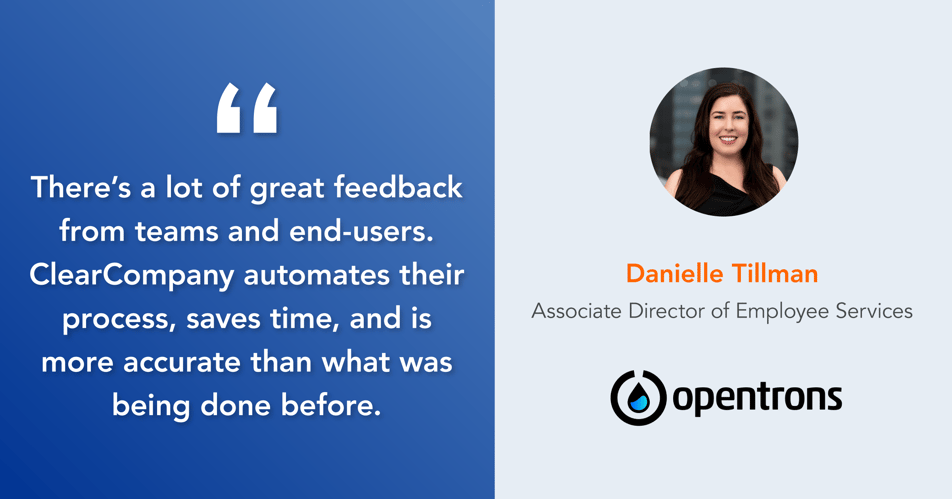 For the fast-growing biotechnology company, the benefits of a central Recruiting and Onboarding platform are clear — they've achieved consistency, compliance, accuracy, and efficiency in their processes, and established a collaborative partnership with their dedicated Customer Success Manager at ClearCompany.
To learn more about Opentrons' success with ClearCompany, read the full case study. To find out how your business can see similar success with our solutions, get in touch with a ClearCompany expert today.