Finding a talent management system is easy, finding the right talent management system can take a little more work. Software decision makers have to take into consideration all users, the candidate experience, cost, integration needs and so much more. After investing so much time and so many resources into finding the right one, it's important to be sure that you and your team are using the software optimally. This ensures that your team is working efficiently and the organization is getting a good return on their software investment.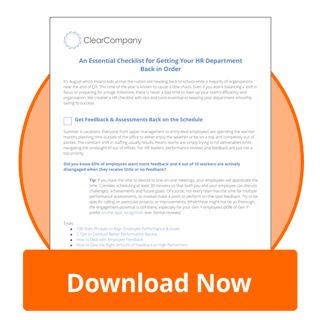 Set Goals With Your Team
Quite often, goals will be established at the top of the ladder and then marching orders trickle down. There are two problems with this traditional way of managing a team or organization. Firstly, when management sets goals without the proper input from those carrying out the goals, they could potentially be totally out of line with what is realistic. Business goals are going to have several moving parts; each part has to be open and honest about what they can and cannot deliver with the resources available to them.
Secondly, when leadership and management are the only people who know the big picture goals, everyone else is doing their job with no context or reason behind it.
Even the most transparent and tracked goals are going to be ineffective if they aren't thoughtfully established by everyone. Rachel Hutchisson director of corporate citizenship and philanthropy at Blackbaud said:
"Approach goal setting as a communal process, one where each party brings ideas to the table. Share ideas. Discuss how potential goals relate to the organization's objectives that year. Use the time to make sure everyone understands the broad view, then narrow that view to what the team needs to accomplish and how each person plays a role in that success. This is a time both for listening and leading."
Utilize Support
A truly goal-aligned talent management system is going to require a high degree of in-depth support. This means that the best support will come from personal account managers. When a leader starts this process by fully defining their vision, it is a very different process than simply implementing new software. This support will have to not only offer great tech guidance and training, this account manager will also have to know the ins and outs of your vision on an individual level, as well as the big picture objectives.
Be Transparent with Analytics
You're going to be gathering some pretty amazing analytics and seeing some powerful numbers that have the ability to change your organization. Share them! The entire process of aligning your goals with your talent management has to be completely transparent in order to work. If changes are being made, let your team know why. Share with them the knowledge that you have gained and all the "whys" behind your decision making.
Co-founder of GrowThink, Dave Lavinsky said:
"Employees must be able to see results on their big and underlying goals at least daily. Doing so allows them to understand how they are progressing and what changes they must make, if any, to achieve their monthly goals.Not doing so is similar to telling an athlete the score only after the game is over. You aren't giving them a chance to modify their strategy and performance based on whether they are winning or losing."
Making sure that you and your team are getting the most out of your software is part of a solid investment. The right traning, support and a shared vision can take your talent management system from being another step in the process, to being your process road map. Your talent management system will be as powerful as you allow it be.
Want to know more about how to optimize ClearCompany's talent management software? We want to talk to you about it now!