Another unusual, yet busy and fruitful year has come to a close, and we're at the start of a fresh new one. We're looking forward to an exciting 2022! But first, let's look back at 2021, its successes, its challenges, and how ClearCompany adapted to clients' changing priorities and helped them reach their goals.
The competitive labor market of 2021 endures, and there's no sign that the 'Great Resignation' will end anytime soon. One CEO says it's likely resignations will be on the upswing this month as workers refresh their job searches in the new year.
Luckily, we know what employees want from their employers and how to adjust strategies to attract and retain dedicated workers. We know that employee engagement has a huge impact on retention and productivity. We know your goal is to hire the right people for the job and keep that top talent at your organization.
We also know how talent management software can help you achieve those goals. That's why we spent 2021 developing ClearCompany's Talent Management software to meet rapidly changing hiring needs and HR strategies. Let's take a look back at the most impactful software updates and improvements we made in 2021.
In 2021, @ClearCompany made product updates to help users navigate the changing talent landscape. Check out the highlights:
New Product Launches
Employee survey templates to help you gather useful feedback
Our Employee Engagement Suite makes it easy to gauge employee sentiments and get their feedback with new pre-built survey templates developed by the HR employee engagement experts at KeenAlignment. Ask your employees how they're doing and get feedback on the topics they care about now. Asking for feedback is a proven way to increase engagement, and it makes employees feel more empowered to do their best at work.
Our new survey templates include: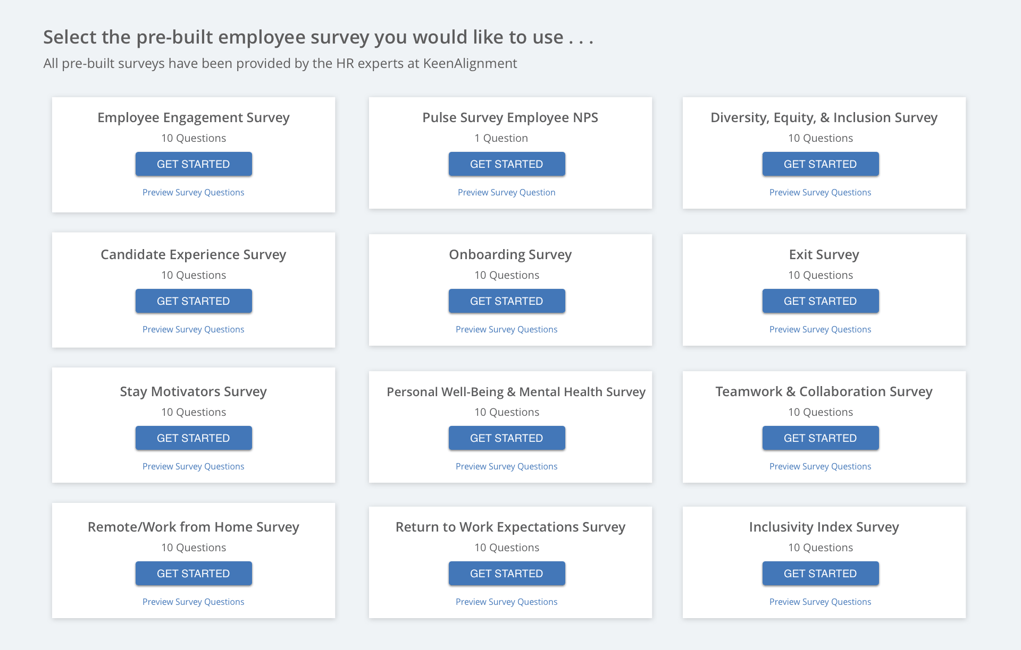 ClearCompany users can also launch surveys by text message, send surveys anonymously, and generate more useful survey reports. About 95% of text messages are opened — and responded to! — within just three minutes of being received. They're a powerful tool not only for bringing in more job applications with Text-to-Apply but also for getting employee feedback.
Sharpening our focus on employee performance, engagement, and goals
In addition to adding new employee survey templates, ClearCompany made performance reviews accessible and easy to use on mobile devices so they can be completed at employees' convenience. Managers and employees can now also e-sign performance reviews for immediate, no-hassle acknowledgment.

We also revamped Performance Analytics, bringing users seven new useful reports:
Review Cycle Progress: See how many reviews have been completed, the stages reviews are in, and which managers are working on reviews.
Employee Scores: View and compare employee performance review scores, determine the average score company-wide, and spot high- and low-performers.
Manager Scoring: Spot managers who score outside the standard deviation at your company to spot-check their scoring process and promote fair scoring.
Employee Goal Use: See which departments and employees are utilizing Goals.
Goal Alignment: Get insight into whether goals are being aligned, and which managers are using goal alignment tools.
Goal Progress and Updates: Find out how many goals are active at your organization, if they're on track or behind, and how many require updates.
Scores Over Time: See how performance scores have changed over time at your organization.
Take Charge of Performance Management in 2022: Get ClearCompany's Performance Review Mega Bundle Now
Rehire faster with retained employee profiles
In 2021, ClearCompany updates made it much easier for recruiters to identify candidates that are former employees — and made it easier to rehire them if you choose by retaining employee profiles after a termination.

If an individual who was terminated from your organization reapplies, their application will be matched with their existing employee record. Recruiters and HR teams will see a Former Employee designation on their profile. This update makes it easier to keep detailed notes on terminations and reduces issues with duplicate records.

This update is also useful in situations like a company merger, where employees of Company A become employees of Company B, or when companies hire seasonally and often rehire former employees.
Easily find candidates with candidate omni search
Talent is scarce, so in 2021, we made it possible for ClearCompany users to take advantage of a largely untapped talent pool: former applicants and candidates. Candidate omni search makes it easier than ever to search your Talent Communities and locate previous candidates. The smarter search function makes it easier to find the candidate you're looking for and see every requisition for which they've applied. You can also use omni search to quickly locate candidates that applied to multiple open positions.

The new candidate omni search also displays the location of the requisition, requisition ID, and requisition status. It's easier than ever to build a solid talent pipeline with the new, smarter candidate omni search.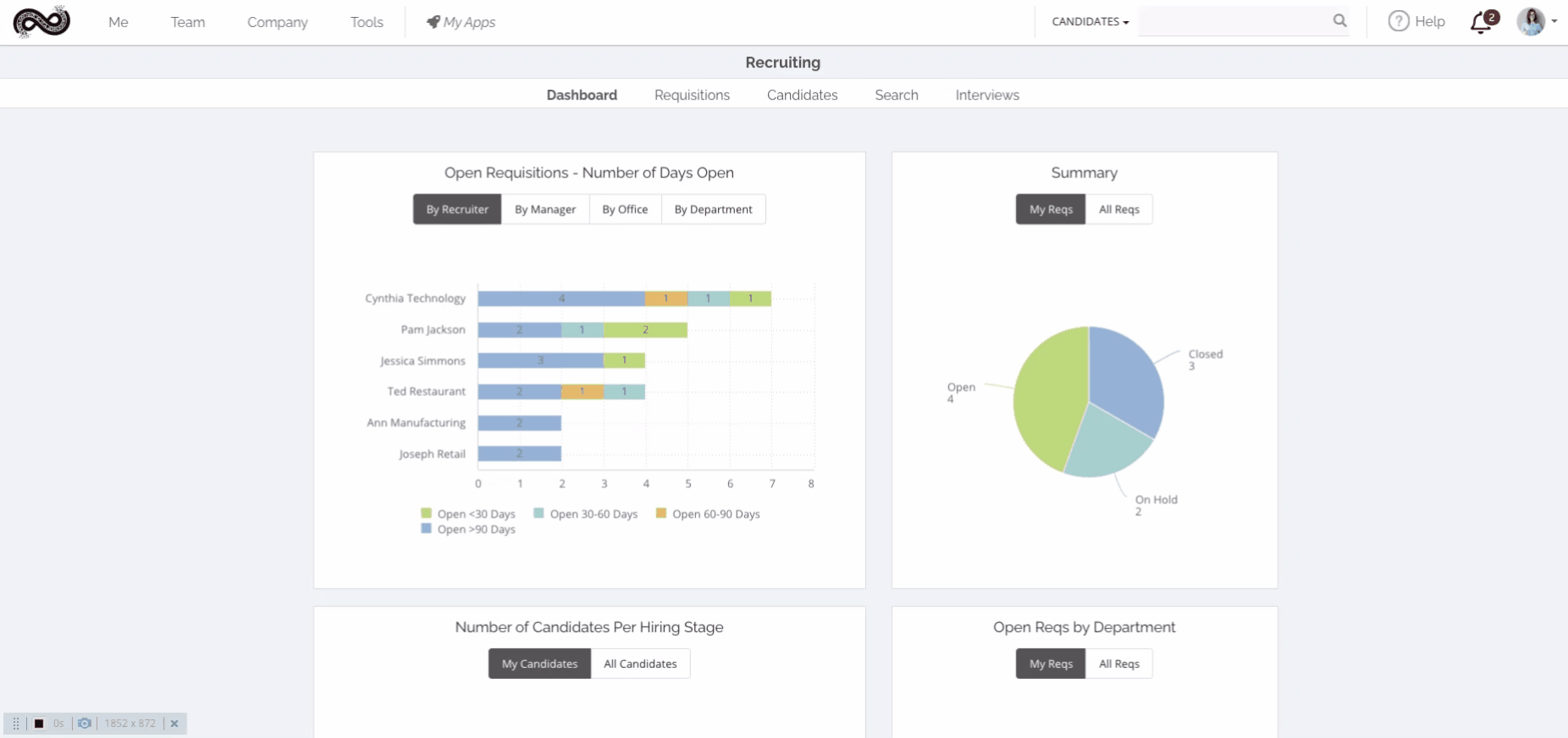 Get more insight with new dashboards and updated reports
We added several new dashboards to ClearCompany, helping users gain a deeper understanding of both candidates and employees:
Source Quality
Candidate Data
Requisition Data
360 Review Assignments
We've also increased the number of custom fields you can include in dashboards so you can see a wider range of data. ClearCompany clients can now save user-specific filters for reporting and analytics dashboards.

ClearCompany's Recruiting Report now allows improved data segmentation by role and by geographic location. This is a valuable update for large organizations whose recruiters focus on hiring in one geographic area or only for a select role or roles. Recruiters will also only see requisition information (including job requirements and compensation packages) for the roles they're assigned to fill.
Finding top candidates has never been easier: see how @ClearCompany's 2021 product updates can help you find the best people for every open position.
New Features & Enhancements
Conduct better interviews, hire better candidates
ClearCompany ATS interview tools received impactful upgrades creating a more streamlined candidate experience and structured hiring process. Our new features enable a hiring process that is fair and avoids bias. They help interviewers ask the right questions to find the right fit and hire based on business needs rather than personal biases.

These are a few of the upgrades made to our interview tools:
Unattached Interview Scorecards: Interview scorecards can now be sent without an attached calendar event.
Virtual meeting links: Allows recruiters to send a virtual meeting link for Zoom, MS Teams, GoToMeeting, and GoogleMeet
Streamlined interview scheduling: Clients can now view calendars for everyone at their organization from their ClearCompany dashboard for easy interview scheduling.
Self-service phone screens: Candidates can select a meeting time right from the recruiter's email for a faster interview and hiring process.
Bulk onboarding: HR can send onboarding packets to multiple candidates at once and get them added to the system more quickly than ever.
Partnerships & Integrations
ClearCompany is the Talent Management system that integrates seamlessly with your valuable HR tools. In 2021, we introduced integrations with several powerful tools you're already using to recruit, engage, and retain top talent.
LinkedIn Recruiter System Connect and LinkedIn Apply Connect
2021 was a big year for ClearCompany's relationship with LinkedIn. We became a LinkedIn Gold Partner and introduced integrations with two powerful LinkedIn Talent Solutions, bringing our users more recruiting power than ever. LinkedIn Recruiter System Connect, an integration that connects LinkedIn Recruiter and ClearCompany, went live. The integration allows ClearCompany users to see candidates' up-to-date LinkedIn profiles and statuses within the ClearCompany platform, facilitating faster and more straightforward candidate sourcing.

In addition, ClearCompany became the very first ATS to offer LinkedIn Apply Connect, a free-to-activate integration that helps you find the right applicants efficiently and simplifies the hiring process. With LinkedIn Apply Connect, applicants go through a streamlined and mobile-friendly application experience on LinkedIn — no redirection to an outside career site. Completed applications are then populated within ClearCompany. Customers can also enable applicant notifications which send an automatic notification when a recruiter has viewed their application, downloaded their resume, and/or when the candidate has been rejected.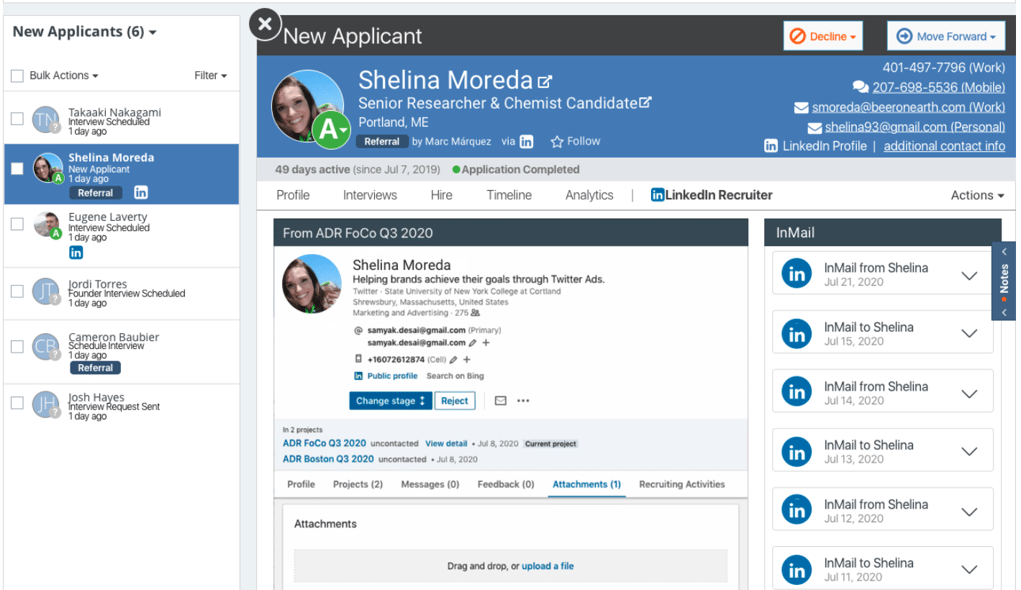 How Does LinkedIn Apply Connect Work?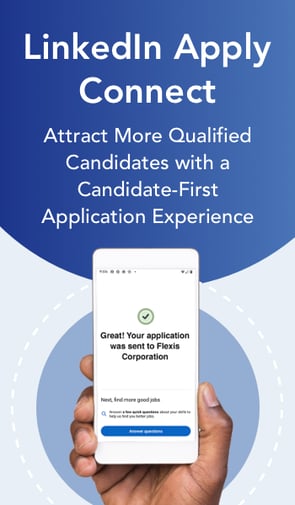 For Recruiters
Recruiters post job openings to LinkedIn from ClearCompany.
Completed applications are then populated in ClearCompany.
For ClearCompany users who are also users of LinkedIn Recruiter & Jobs, real-time LinkedIn profiles will be populated within ClearCompany.
For Applicants
Applicants apply via a streamlined and mobile-friendly application experience on LinkedIn.
Applicants receive a notification when a recruiter has viewed their application, downloaded their resume, and/or when their application has been rejected (if enabled).
BambooHR, UKG Pro, & Ceridian
This year, we introduced new integrations with three payroll providers for simpler onboarding: BambooHR, UKG Pro (formerly UltiPro), and Ceridian. These robust integrations automate the transfer of new hire data from ClearCompany into our users' payroll systems. That makes it even easier to onboard new employees, activate their direct deposit, and collect their tax information. This eliminates several tedious tasks for HR teams and lets new hires focus on settling into their role instead of filling out tons of paperwork.
More 2021 Integrations
ADP Canada: ClearCompany now serves clients of ADP Canada with a new integrated product offering available on ADP Marketplace. We're proud to be the first ADP Marketplace partner offering a full-platform human capital management (HCM) solution, Advanced Talent™. Advanced Talent™ allows ADP Canada clients to access the ClearCompany talent management tools their company uses. Clients can seamlessly connect and share data between ADP and ClearCompany's talent suite thanks to two-way data integration through the Bi-Directional Connector. By integrating and sharing data across HR systems, ADP Canada users can help support HR functions, evaluate and motivate employees, and plan for the business's future workforce needs.

PrismHR: With this integration, ClearCompany users can transfer up-to-date employee data from PrismHR to ClearCompany, allowing clients to access accurate performance management information.
Awards & Recognition
All of the work ClearCompany teams put in in 2021 is far from unnoticed: we received several awards recognizing our efforts and the capabilities of our software.
Here are just a few of ClearCompany's accolades in 2021:
Check out the rest of the awards we received in 2021 here.
There you have it — the biggest updates to ClearCompany's Talent Management Platform in 2021. It's clear we've had a busy year, and we expect 2022 to be no different.
We hope you'll join us in the new year and experience these new features and enhancements for yourself. Get started with a demo of our award-winning software from our ClearCompany experts — sign up today.