This article discussing the various advantages and disadvantages of HR Technologies was originally published in September 2018. All relevant statistics and copy have been updated as of February 2021.
Get more than 2 HR professionals in a room together, and you'll soon hear them discussing one of the most pressing questions: Best-of-Breed or All-in-One? Which approach to HR Tech and HRMS is the one to take?
There are a few situations that lead teams to start the research process for new technology:
Your employees are swamped with manual tasks and desperate for some relief. Your team is approaching a growth period that requires automation or reporting to be successful. You've recently been audited and realize that a technology solution will help you stay compliant. Or maybe your old technology just isn't cutting it anymore. Whatever the case may be, you're ready to explore every option HR technology has to offer.
Some companies embarking on a search for new tech are confronted with a choice between two paths forward: a "best-of-breed" solution or a "unified solution" (also known as an HRIS or all-in-one).
Which approach to #HRTech and Human Resource #Management Systems is the one to take in 2021? @ClearCompany discusses the advantages and disadvantages of best-of-breed, end-to-end, and all-in-one software systems:
On the one hand, ease and convenience are the order of the day, and all-in-one or end-to-end HR software seems to fit that bill. End-to-end software is integrated, or seemingly simple to integrate, one ring to rule them all, so to speak, to answer for many HR functions from one platform. On the other hand, Best-of-Breed takes the top performers in each category to ensure you have exactly what you need and when to solve your workforce and talent issues. It seems to work especially in an age when HR bleeds into so many other parts of the enterprise.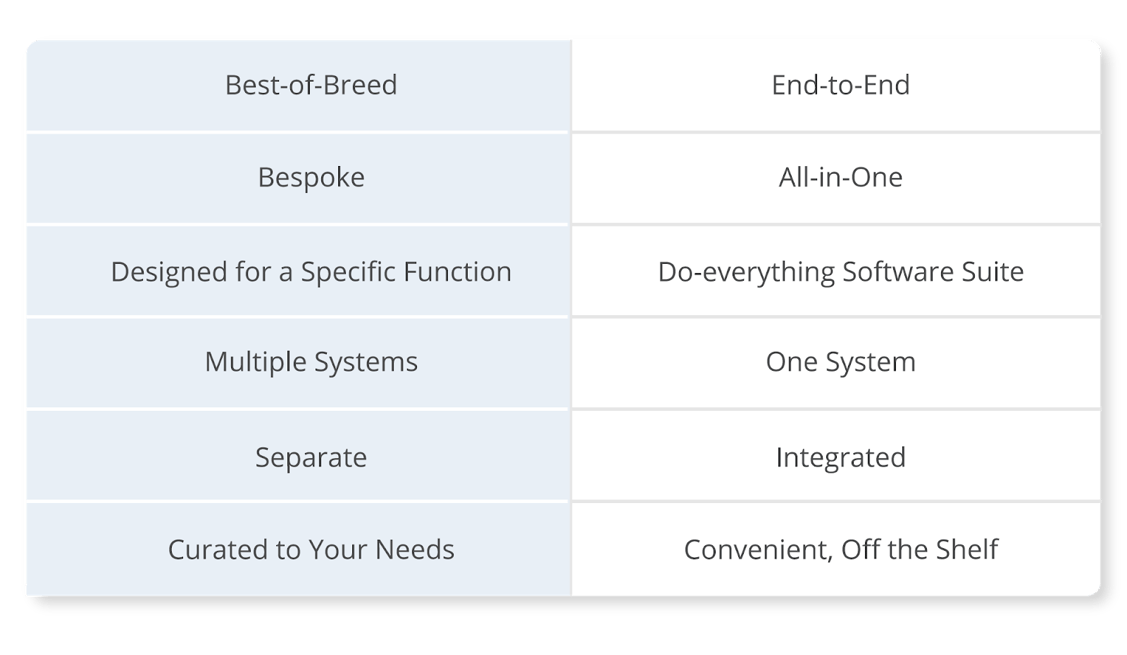 There are a lot of functions HR oversees. As the workforce becomes more dependent on people and talent becomes a real differentiator, more and more is put into the purview of HR. It touches virtually every other enterprise function, and many HR professionals find themselves drowning in data...and software choices.
It's tempting to want to solve all these issues in one fell swoop. Figure it out, implement it, and make everyday HR problems disappear!
To make the research process for HR Technologies easier, we're breaking down the pros and cons of All-In-One vs. Best-of-Breed.
Assess Your HR Technology Needs
Determining which option you may require is extremely specific to your company's structure and your departmental goals. We've structured this section to help you clarify what technology your team may require to bolster your talent management success plan. If you need to make a case to executive management, hold a meeting with all members of your HR team to work on this assessment before you build out your pitch.
Before contemplating any HR technology, you need to consider the following factors in your current strategies to better understand your needs and wants:
Budget
Employee training
Benefits packages and how they relate to each employee (organizational)
Feedback processes
Average monthly/annual hiring volume
Internal communication needs
Team size and individual responsibilities
Candidate assessments
Approach to sourcing applicants
Candidate experience (current or desired)
Candidate referral process
Current application process
Performance goals and management
New hire resources and paperwork
Background checks
Formal onboarding process
Centralized database with comprehensive employee information
Take a look at each of these bullets and write down what you currently have in place for each and how you'd like to improve it this year. For teams who may have not yet explored HR technology implementation, some of these processes might be performed manually in spreadsheets, leading to errors or double data entry. Here's where technology can help keep everything organized and in one place.
What is Best-of-Breed in HR Technology?
Each best-of-breed software module aims to "win" the HR function or solution it provides, such as onboarding, performance management, or recruitment. Best-of-breed features are usually more robust, by definition.
Best-of-breed is a term we use for those who are interested in a "custom" approach to their HR processes, from talent management to training and beyond. For example, after you and your team assess your needs, you come to find you really only need a solution for applicant tracking and onboarding at the moment.
Best-of-breed allows you the option to only select those systems you need and integrate them into payroll. This method of shopping around and integrating offers teams a more robust functionality. Individual solutions typically have more functionality than end-to-end solutions and provide a custom approach to solving business needs.
@ClearCompany makes the research process for #HRTechnologies easier, by breaking down the pros and cons of All-In-One vs. Best-of-Breed. Read more:
Advantages of Best-of-Breed HR Technology Solutions:
Installation and implementation are usually faster and more efficient. The scope is typically narrower and fulfills just one function, speeding up the process.
Better features due to a singular focus on an HR function typically means more features for users; things like gamification and user-friendly interfaces are more common in best-of-breed.
Frequent software updates make the software more likely to continue to meet needs as opposed to a large, integrated suite.
The expertise of the founding team and company tends to be deeper.
Change management is simpler because you can manage it one HR function at a time.
Less reliance on one vendor
A highly customized and functioning system is certainly appealing, but there are a few cons to consider in Best-of-Breed solutions.
Disadvantages of Best-of-Breed HR Technology Solutions:
Integrations: Studies by Bersin by Deloitte show 33% of companies have ten or more HR systems in place to help automate all their administrative work. Before you consider welcoming new vendors into your wheelhouse, make sure to ask if their solutions will integrate with the ones your team currently uses (if you have any in place). Incompatibility would duplicate data entry of employee data across several systems, complicating workflows and time spent on tasks.
Employee Training: Multiple solutions means multiple training sessions with employees who will be using the systems.
IT Bandwidth: If you don't have one already, consider hiring an IT team to help maintain several systems and databases for extra security. Before incorporating any new systems into your army of solutions, ask your IT team if they have the bandwidth to maintain all the systems you're looking to include.
Bottom line: If you're looking for a few solutions to help fill the gaps and automate some of your business' administrative work, best-of-breed is a fine choice for your team. Best-of-Breed is usually better if your organization is looking for feature-rich, flexible solutions. Smaller companies and startups typically select this option. It's also a great choice if you need a very specialized or sophisticated functionality. If you don't have any solutions in place yet, or you're looking for a vendor who can offer you everything in one fell swoop, read more about what a unified solution can offer you.
What is a Unified Solution for HR Technology?
A "unified" solution is exactly as it sounds, a combined platform including features that work together to streamline your complete HR workflow under one roof. An "HR Solution" gives HR teams one place to work with multiple tools and organize all company and employee data in one unified spot. This dramatically reduces multiple data entry errors and repetitive tasks - reducing time spent on fixing errors or duplicating work and making company reporting far simpler for teams of all sizes.
Functions of a fully-integrated HRMS often include a workforce database, time and attendance, and PTO management, and some include payroll, performance management, recruitment, onboarding, and talent management. The goal is to provide end-to-end management of the whole employee life cycle, and many integrated solutions are trending this way. Ideally, these sync to a single system of record, or source of truth, which ostensibly removes "dirty data" and allows multiple functions to access and view the same employee data.
Advantages of an Integrated End-to-End HRMS:
Easy service. Single vendor contact for HR software means there's only one company you need to contact when something goes wrong.
Lower costs. Combining several best-of-breed packages to meet organizational needs is often pricier than a single solution.
A single interface means training can be streamlined. Users have the basic foundation for using the full range of functions.
Exporting or integrating data is typically easier. Unified solutions usually have no compatibility issues between modules.
It eliminates the need for multiple data entries and reduces the possibility of human error and duplicate or inconsistent data.
A single-user interface and login offer a simplified feel to all HR technology.
Generating reports is cleaner and easier.
Generally, an integrated HRMS is better for enterprise or large, global companies, or those looking for a scalable, long-term solution for anticipated growth.
While all-inclusive solutions sound like the best choice right off the bat, there are a few small cons to weigh.
Disadvantages of an Integrated End-to-End HRMS:
Reduced functionality: Unified solutions, according to HRLabs, typically focus on quantity over quality. When vendors work on building out a solution en masse, the custom functionality gets lost and becomes more generic.
Difficulty customizing: Similar to the generic functionality, solutions are generally less capable of tailoring features to specific buyer needs. This could be problematic when reporting.
Implementation: Implementing an All-in-One can be a huge undertaking, sometimes becoming a full-time job. Before moving forward, make sure you have the resources in place to manage a large implementation.
Support:

With so many modules and areas of expertise, it can be difficult to find a fast solution to a question or problem you may have within the software.
Bottom Line: Ultimately, unified solutions give companies the option to streamline HR workflows in one step, reducing the need to thread multiple platforms and vendors together and risk multiple data entry errors, lost information, or hiring teams to maintain multiple systems. If you select an integrated solution, make sure it's truly integrated rather than a collection of best-of-breed standalone options productized as integrated. All the aforementioned benefits will lose their luster if the integration is more marketing speak than actual technical integration.
A unified system is a rising trend, but it's important to remember that no technology system can completely solve your business problems. Work with a technology system that makes it easy to work with your team, processes, and goals.
Take a free demo with ClearCompany to see what talent management system works for your unique business needs.