TSC season is here! ClearCompany will host Talent Success Conference 2023 on October 4, our eighth annual conference and fourth all-virtual event. Join us at TSC 2023 to discover new tools and strategies to navigate the competitive hiring landscape and build a workplace where employees want to work.

Your Guide to TSC 2023
TSC sessions are led by HR industry thought leaders and ClearCompany subject matter experts and built on data and verified best practices. You'll leave TSC 2023 with new strategies and knowledge you can use immediately.
Then, after the event, you can access TSC recordings on-demand to revisit your favorite sessions whenever you want. You can also earn SHRM and HRCI credits for attending the sessions!
TSC 2023 Welcome & Champion Your Purpose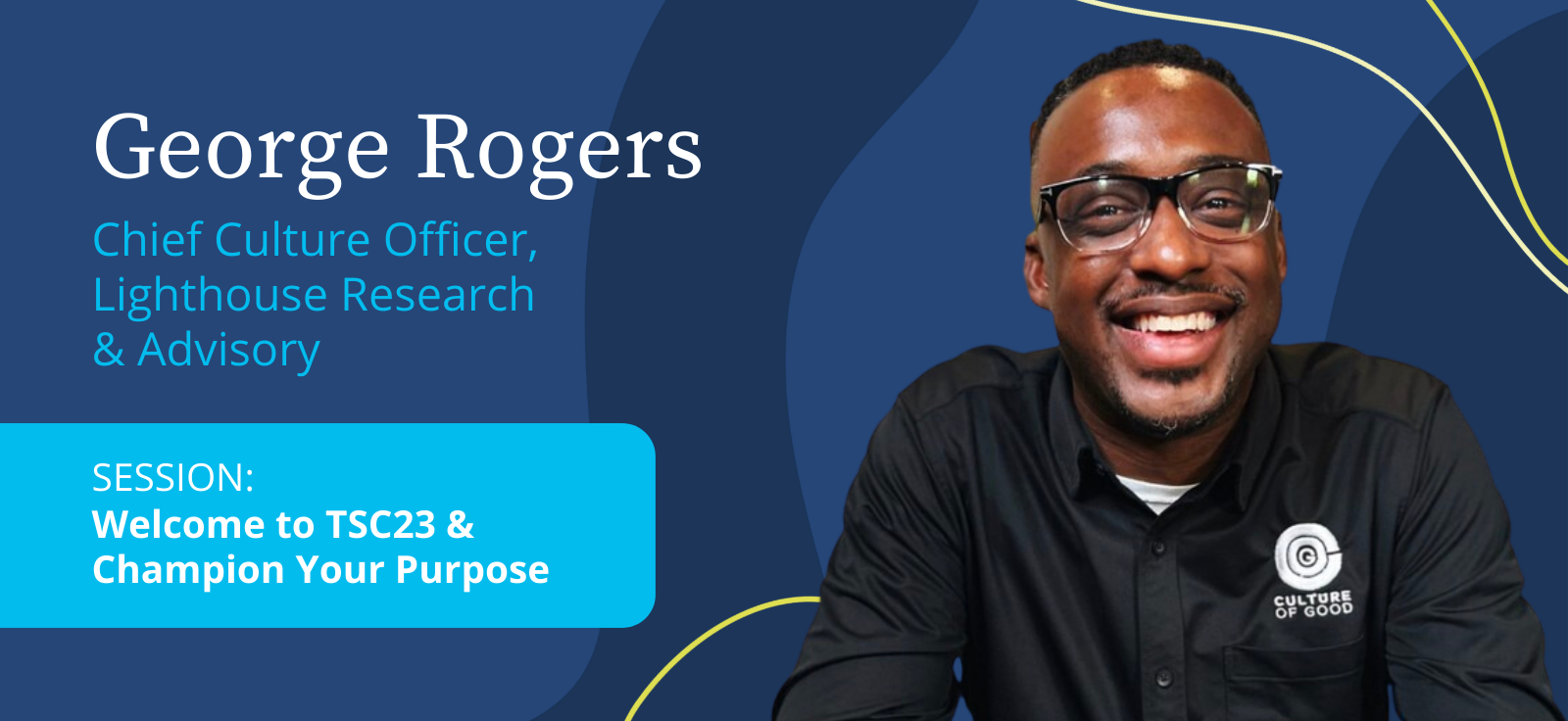 As is tradition, we'll kick off TSC 2023 with a message from ClearCompany's CEO and Co-Founder, Andre Lavoie. Then, we'll welcome George Rogers, Chief Culture Officer at Lighthouse Research & Advisory, for a session where he'll discuss:
How to lead the life you love with self-leadership
How to align with your organization's purpose to promote a more fulfilling work environment
How to authentically share the good you do to attract and retain the best employees and customers
How leadership impacts DEIB and the wellness of employees
You'll also learn about the current trends in employee engagement, performance management, and diversity, equity, inclusion, and belonging (DEIB) with fresh insights from Lighthouse Research & Advisory.
Navigating the Ethics of AI: Practical Recommendations for the HR Professional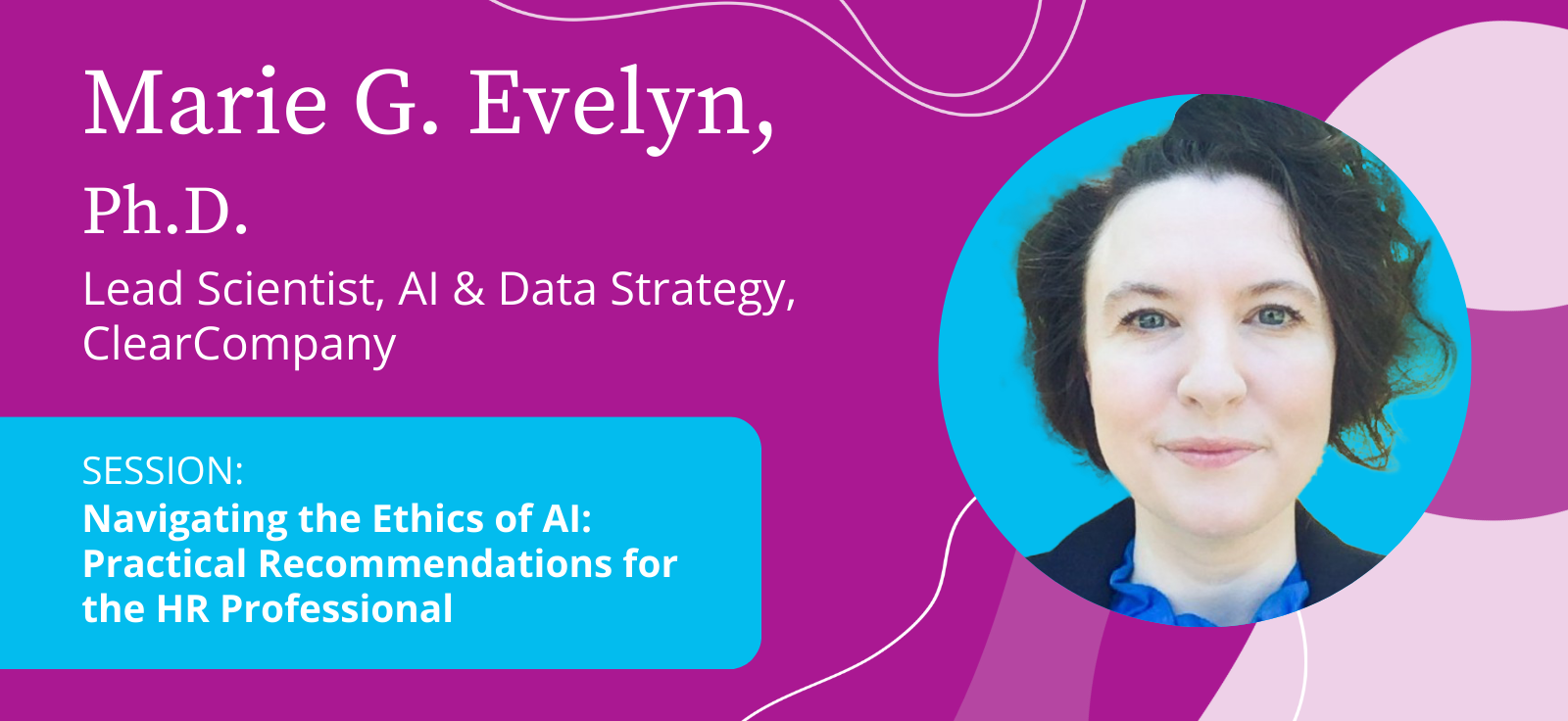 In 2023, AI is influencing every industry, and it's already a huge time-saver for many workers. But what about its impact on human resources? Some worry about the possibility of biased AI tools that take the "human" out of HR. And with so many talent management systems adding AI to their platforms, how do you navigate ethical, responsible use of AI?
In this session, ClearCompany Lead Data Scientist Marie G. Evelyn, Ph.D., will discuss Responsible AI and share tips on choosing the right AI tools to level up your talent management responsibly.
Staying Centered in Uncertainty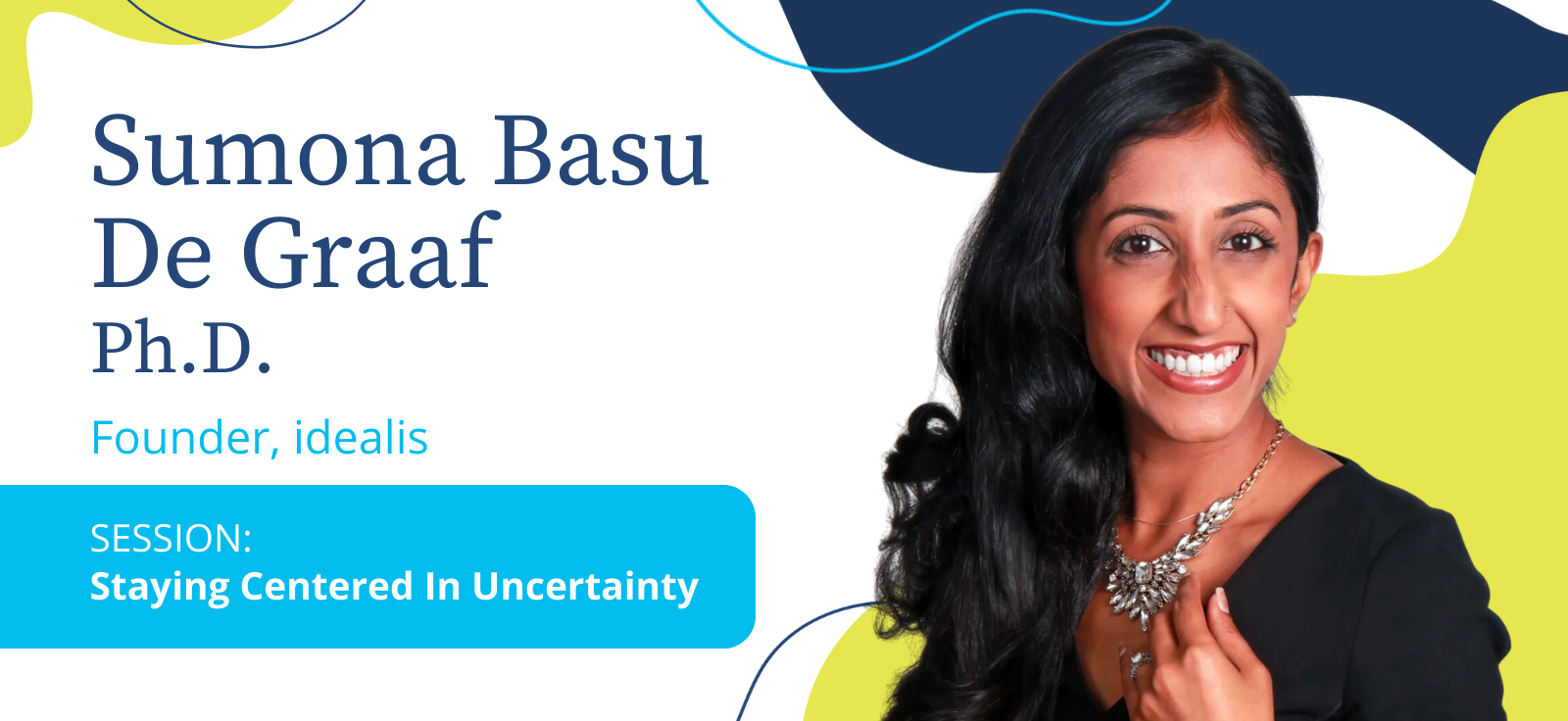 We're welcoming Sumona Basu De Graf, Ph.D., Founder and CEO of idealis, to discuss how HR professionals can best lead their teams during times of uncertainty.
People look to leaders to establish direction and purpose during uncertain times. Leaders — particularly HR leaders — must do much of the emotional labor required to keep people engaged, productive, and performing. It can take a toll on us personally and professionally.
Staying centered is vital to staying resilient and having the stamina to withstand the many dynamics that we all face. Know who you are and who you aren't. When leaders are clear on this for themselves, they are able to lead others — people from all walks of life — in a more human-centered way, which includes:
Leading with curiosity: Taking the time to learn, ask, and explore
Approaching with empathy: Appreciating perspective and alternative realities
Demonstrating agility: Flexing and adapting to the needs of others without losing yourself
Having courage: Standing up for what is right and needed despite external pressures
Reimagining the Employee Health Experience With AI and Technology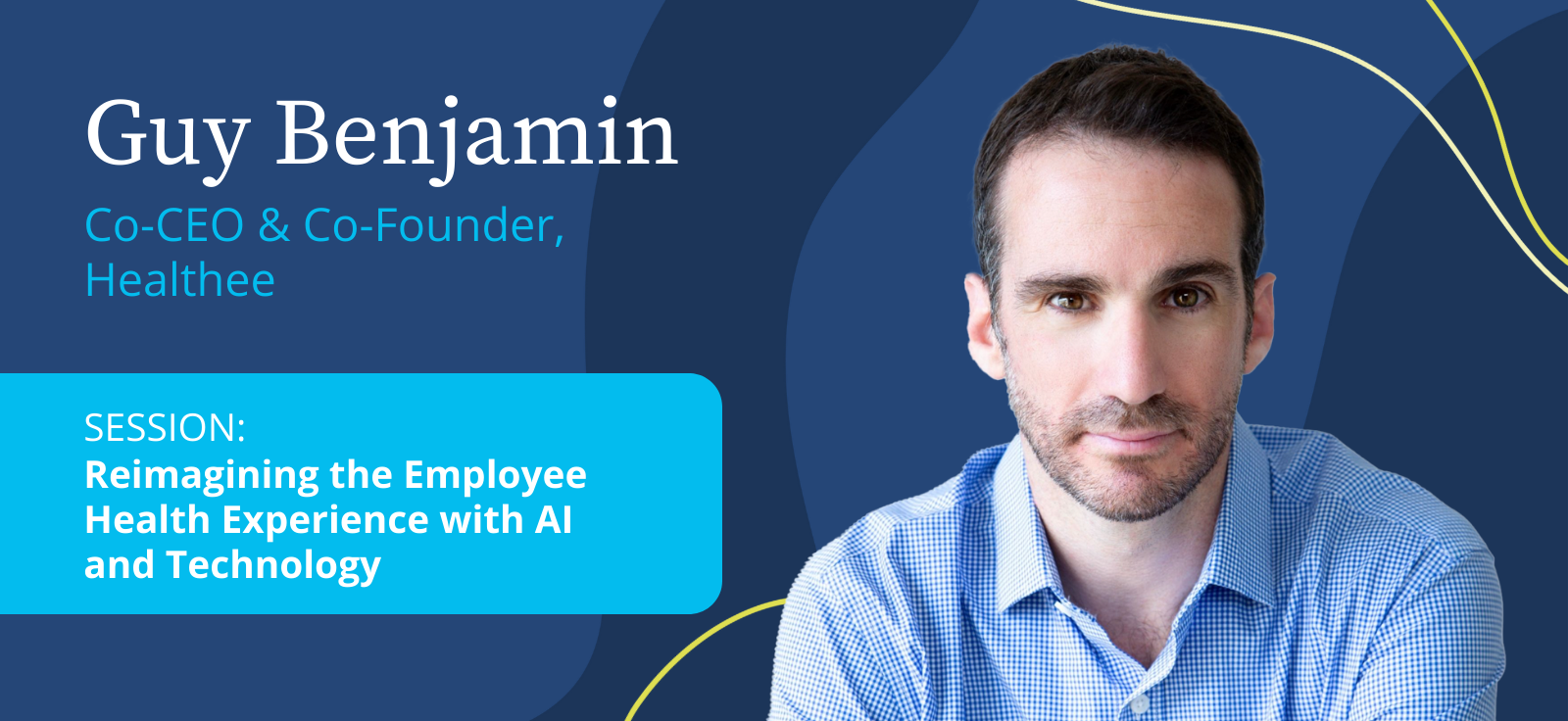 In this session, attendees will hear from Healthee Co-CEO and Co-Founder Guy Benjamin on how AI is changing the game when it comes to employee benefits. You'll learn how to:
Leverage technology to simplify health benefits experience for employees and bend the cost curve
Remove complexities around understanding health and wellness benefits to increase plan utilization, make optimal healthcare decisions, and eliminate unnecessary spend
Adopt a data-driven strategy to provide timely support, access to resources, and guidance tailored to an individual's specific needs
Empower employees to take control of their health and well-being by connecting them to quality care at the right time
The Evolution of Post-Pandemic Hiring: Trends, Triumphs, and Forward Trajectories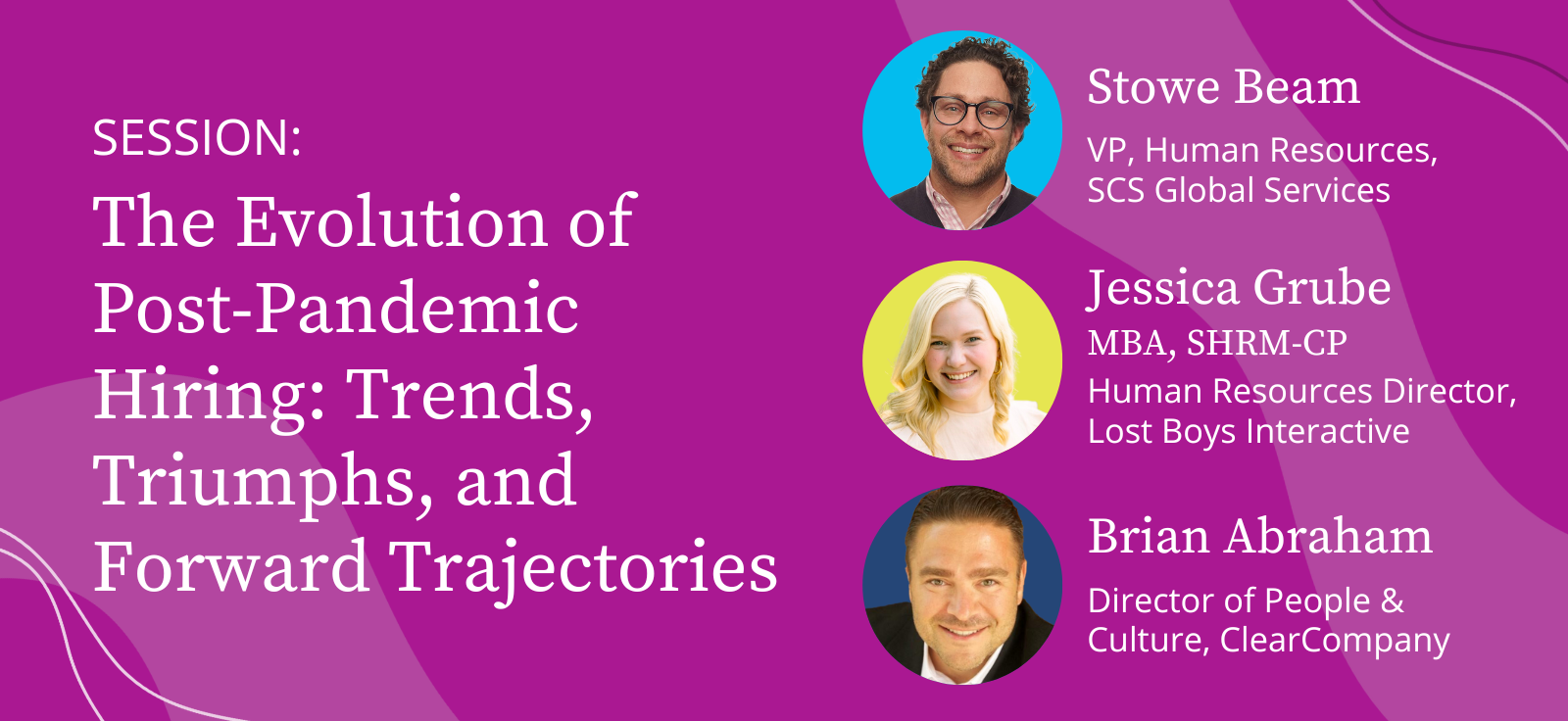 In an ever-fluctuating job market, HR professionals are left wondering, 'What's next, and how do I hire and retain my people during these uncertain times?" Join this session to hear from a panel of talent management practitioners discussing their industry's hiring trends since the end of the pandemic.
In this session, HR experts Stowe Beam, VP of HR at SCS Global Services, Jessica Grube, HR Director at Lost Boys Interactive, and Brian Abraham, ClearCompany Director of People & Culture, will share ways they've adjusted to trends and improved their processes to keep up with the 'new world of work.' You'll also hear their thoughts on what HR teams should do now to hire and retain top talent.
Beyond Recruitment: Retaining a Diverse Workforce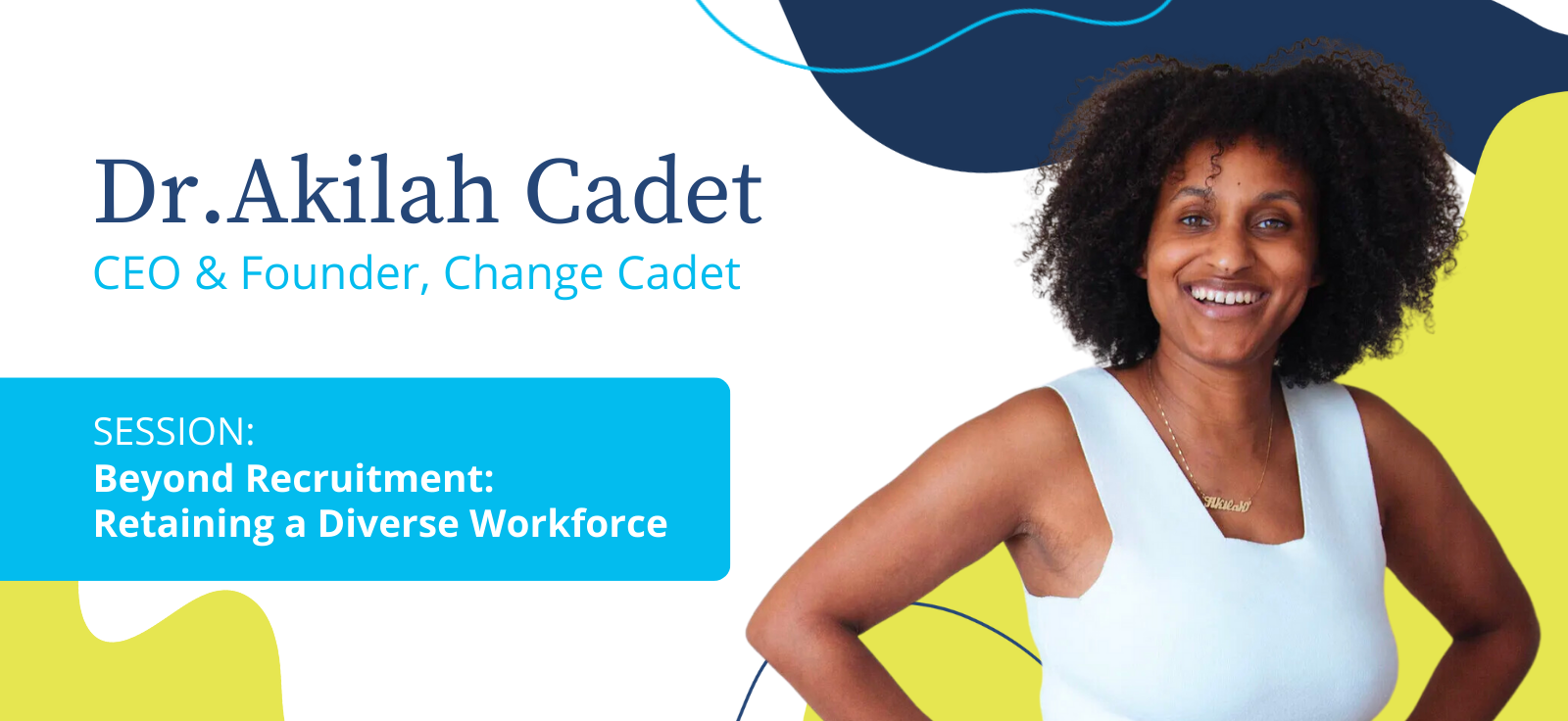 We're excited to welcome Dr. Akilah Cadet to TSC for the second time! Dr. Cadet is the CEO and Founder of Change Cadet, an organizational development consulting firm offering services that support embedding belonging into overall organizational identity and strategy.
Hiring and recruitment are often the starting point for diversity efforts, but no company can achieve inclusion without a focus on retention. Dr. Cadet's session will cover ways to support, develop, and retain a diverse workforce and foster a culture of belonging in the workplace.
"Leaders are often too focused on their own intentions to make DEI efforts effective and not focused enough on the impact of those efforts for the people they are actually for."
How to Hear From the Experts at TSC23
Register for TSC23 to get:
Access to TSC recordings after the event
Insider insights into current HR trends, including AI and automation
The opportunity to learn from and connect with peers
Expert advice from industry pros and ClearCompany leadership
We're excited to bring these HR thought leaders and expert advice to you on the virtual stage! Join our sessions from the comfort of your home or office.
Learn more about what's in store at Talent Success Conference 2023! Visit our conference page and register for free to attend this year's virtual conference.