How do you show employees that you value their work?
Employee recognition is important — it's directly linked to productivity, retention, and even customer satisfaction. The employee of the month recognition award is a popular way of integrating recognition into your workplace culture. It motivates hard work, boosts team morale, and increases overall job satisfaction.
It's surprising, then, that in Gallup's "Transforming Workplaces Through Recognition" study, they found that only 36% of businesses have an employee recognition program. It was also discovered in the same study that 40% of employees receive recognition from a manager only a few times a year or less. These employees are 5x more likely to be actively disengaged and 74% more likely to be looking for another job position.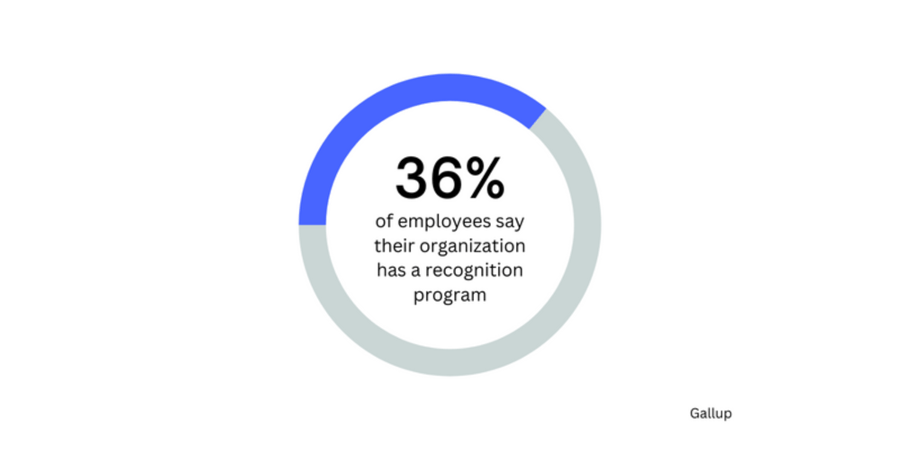 By implementing an employee of the month recognition program, you can motivate, engage, and retain employees.
However, it isn't enough to just have the program in place. It needs to be designed to align with your company's values and the preferences of your employees.
Create an #EmployeeoftheMonth award to show employees they're appreciated. Find out how to start your own program to encourage #employeerecognition:
What is an Employee of The Month Award?
An employee of the month (EOM) award is a type of recognition that is rewarded to one standout employee on a monthly basis. The reward can be either monetary or non-monetary. Your employee of the month award program works in tandem with your other employee appreciation initiatives to help drive a number of benefits.
The Benefits of Employee of The Month Recognition
When used properly, employee recognition programs, including an EOM award, can significantly increase productivity and job satisfaction — but how?
Boosts Productivity and Reduces Burnout
If employees don't feel you appreciate their work, they may fall victim to procrastination. And procrastination will have a detrimental effect on both individual and team productivity.
EOM awards can help fix this. Employees who know their work is recognized and rewarded are less likely to fall into procrastination or burnout. Recognizing and preventing employee burnout starts with putting your employee's mental health first. This involves recognizing their achievements on a regular basis.
Drives Motivation and Engagement
Equitable and authentic recognition programs spark healthy competition among employees. This can be a great motivator because it encourages them to perform at their best.
Employees with managers who are great at offering recognition are also 40% more engaged. An employee of the month award can be a good way to get managers involved in encouraging employees to participate and recognizing the winners for their work.
Improves Workplace Culture
Connecting employees with your workplace culture should be a number one priority. This is especially true if you manage remote or hybrid team members, as many of the natural bonding interactions aren't present in the virtual workplace. Recognition programs that involve remote workers can improve their sense of belonging.
Increases Employee Retention
Rewards and recognition increase job satisfaction — and satisfied employees will stay loyal to your business. 53% of employees say if they felt more appreciated, they'd stay at their job longer.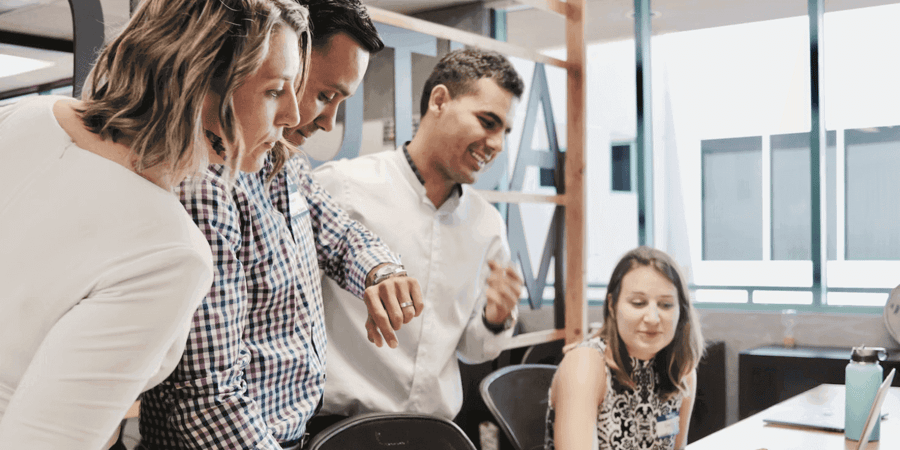 How To Start a Successful Employee of the Month Program
There's a process to creating a successful EOM program.
Define and Publicize Eligibility Criteria
An EOM program that lacks specified eligibility criteria is going to be ineffective. In fact, it could even negatively affect your employee's job satisfaction. Think about it — if employees don't know what they need to do to become an employee of the month, they don't have any reason to try to earn it. It will also be unclear why employees are given the award if the criteria is unclear.
Ultimately, this results in an arbitrary program that can foster unhealthy competition between employees. You can prevent this by defining and publicizing your criteria. Make it clear which behaviors and values you're looking for, such as:
Teamwork or attitude
Innovative ideas
Time management
Excellent attendance
Committed consistency
Outstanding customer service
Leadership skills
There are other eligibility rules to consider, too. For example, is there a cap on how many times an employee can win per year? Will higher-ups be eligible for the award?
Answering these questions will help you create an employee of the month recognition program that drives motivation and boosts employee engagement.
#Employeerecognition boosts engagement, productivity, and loyalty. Find out how #EmployeeoftheMonth awards can be part of a successful recognition program:
Create a Fair Decision-Making Process
Having just one person choose the employee of the month can result in bias. The same goes for awards that are based solely on the perspectives of managers and executives. A simple solution is to get employees and customers involved in the nomination process.
Ask customers if they'd be willing to provide feedback on your employee's customer service skills or a particular experience. You can even make peer feedback a decider by asking employees to nominate a hardworking coworker. Then, a panel can use the feedback to choose the nominees and winners.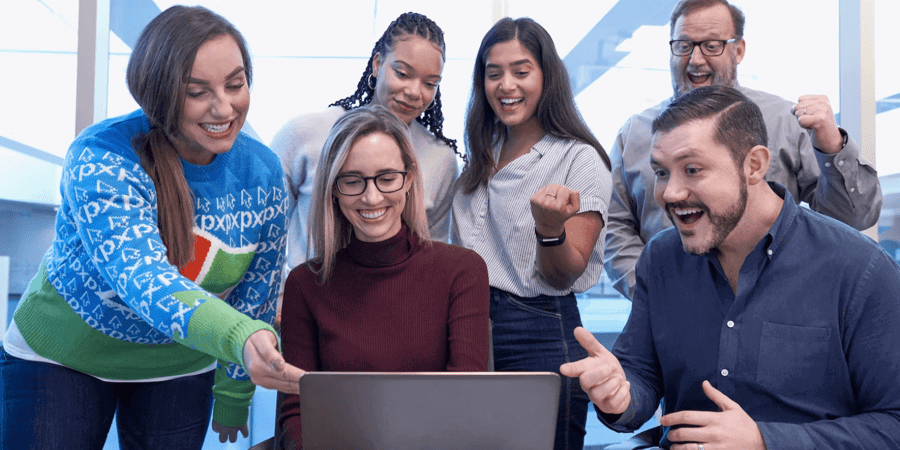 Personalize Rewards
Personalization is one of the most important elements of a successful recognition program. Without it, an EOM program can feel inauthentic.
Personalizing your recognition program can be as simple as taking the time to tailor your thank-you note to the individual you're addressing.
Don't Make Employee of the Month Your Only Recognition Program
As good as EOM programs are, they're still pretty restrictive. Being able to only choose 12 winners a year means that lots of employees will miss out. Understandably, it can be a little disappointing for some employees.
Remember, successful EOM programs don't create recognition cultures, they complement them. As part of an effective employee review strategy, you should provide employees with feedback and praise on a daily or weekly basis as well as during your review meetings.
Employee of the Month Recognition Ideas
These are a few ideas for different ways to reward employees.
Give Monetary Rewards
Monetary rewards take the form of cash bonuses, gift vouchers, prepaid cards, and paid days off. This type of reward is usually universally appreciated.
Personalize your monetary rewards by getting to know what your employees like and don't like. Maybe give them a gift card to their favorite store or let them choose when to take their day off.
Celebrate with Team Lunches
Team lunches help you express a very important workplace value: that individual achievements are team achievements. As your employee of the month recognition prize, arrange a team lunch but let your EOM choose the restaurant. This allows everyone to share the win, boosting team culture.
To adapt this for remote workers, you could have a virtual happy hour or cooking class via video meeting software. Exhibiting some of the best virtual team celebration ideas because they can bring remote and hybrid employees together.
Make a Charity Donation
Recognize your employees and support a good cause by making your EOM award a charity donation. Pledge a monthly amount and allow your EOM to donate it to a charity of their choice.
Give Employees Public Recognition
Public appreciation is effective at cultivating a strong culture of recognition. This is likely because it validates employees' hard work and creates more cherishable memories.
Public recognition ideas include:
Social media appreciation posts
Shoutouts via employee engagement software
Mentions in your company newsletter
Expressing appreciation during your team meeting
A picture on your physical or virtual Wall of Fame
Write a Thank You Note
Don't underestimate the power of the thank-you note. Some employees even prefer to receive praise over rewards simply because it feels more meaningful than a gift. Express your gratitude with a thank-you note. Don't forget to personalize it by being specific about why they've been chosen.
Send a Gift
Your appreciation gift could be something simple, like a mug or t-shirt. It could also be something more extravagant, like a care package, spa experience day, or tickets to an event. Whatever the case, personalizing this gift should be your top priority.
Ask your employees what their interests and hobbies are to help you choose a gift that they'll genuinely appreciate.
Fund Development Opportunities
Your employee of the month is somebody who strives to do their very best. So, why not support them even further by offering a development opportunity as your EOM prize? For example, you could fund an online course of their choosing or offer skills-based training in an area they're interested in.
Development-based EOM rewards are a win for your company as well as your employee. 55% of businesses responding to a survey admitted that their company is struggling with a skills gap. And what's the best way to address a skills gap? Training your existing employees.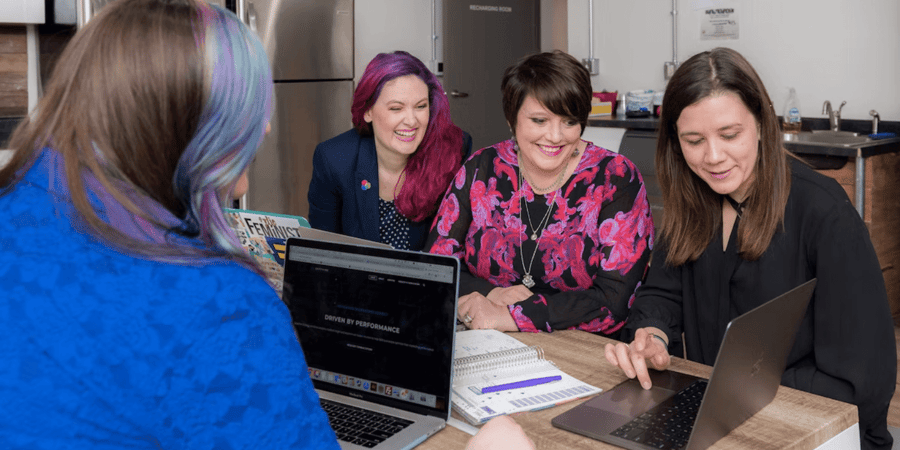 Recognition Programs That Fit Your Company
Employee recognition and appreciation are the keys to creating an engaged, motivated, and happy workforce. An employee of the month recognition program helps to integrate these values into the heart of your company — but only if you do it right.
Start by aligning your eligibility criteria with your company's values. Try to devise a program that focuses on cultivating company culture while embracing the recognition needs of your employees. Lastly, reward fairly and with personalization in mind, taking care to be specific and authentic.
You can make it your mission to foster a culture of recognition through regular and genuine appreciation all month long with ClearCompany's Employee Engagement Software.
Use our Shout Outs and Celebrations features to motivate employees and make recognition part of everyday interactions. Sign up for a demo to try these engagement-boosting tools.