This post was originally published in December 2020. It was updated in September 2022 with new information and statistics.Abraham Maslow's hierarchy of needs is a theory of motivation that attempts to explain what motivates people — why we do what we do. This theory suggests that we're all ultimately striving to reach our full potential and become self-actualized, but we need to fulfill some other basic human needs before we can get there.
We can apply Maslow's hierarchy of needs to employee engagement, where at the peak of the pyramid are highly engaged, motivated, high-performing team members. Use the Employee Engagement Hierarchy of Needs to be sure you're giving employees what they need to reach the top.
The Employee Engagement Hierarchy of Needs
Maslow's hierarchy starts with the fundamental means of survival: food, clothing, shelter, and safety. Then, it progresses to the more sophisticated, intangible necessities for achieving internal growth — a sense of belonging, self-esteem, and self-actualization. As individuals move up the pyramid, they achieve personal growth, become more social and productive, and get closer to reaching their full potential.
To create the Employee Engagement Hierarchy of Needs, we listed some of the things companies provide that contribute to higher levels of engagement. For example, if your company just gives employees a paycheck and a safe work environment, engagement will likely be lower than if employees also have access to advancement opportunities.
90% of employees say they're more likely to stay with a company when they believe their needs are met. @ClearCompany shows you how to implement Maslow's Hierarchy of Needs into your HR to keep #EmployeeEngagement high:
So what are the basic elements your organization needs to provide for your employees to keep them engaged in their work? What will you need to provide to increase engagement and job satisfaction and motivate high performance? Take a look at the hierarchy below: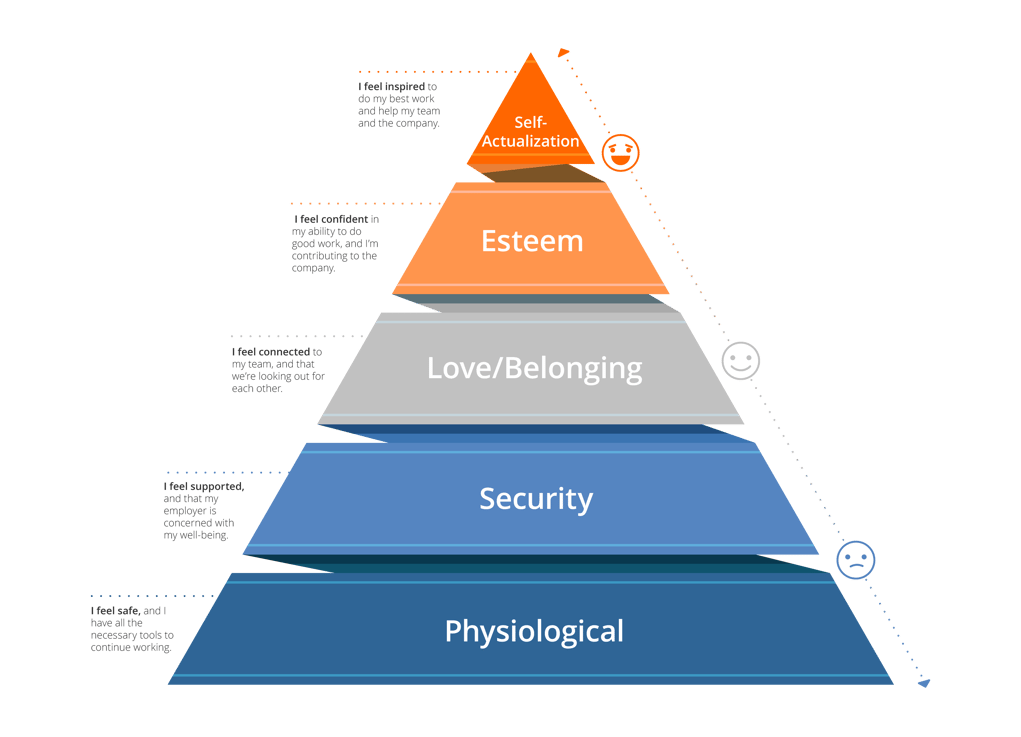 It's essential to understand the importance of meeting these needs to build a highly motivated and engaged workforce. 90% of employees say they're more likely to stay with an employer that empathizes with their needs. As they progress through each stage of the pyramid, you're gaining loyalty and increasing employee satisfaction and retention, and bolstering their independence, confidence, and autonomy along the way.
Let's take a look at each level of the Employee Engagement Hierarchy of Needs.
Physiological Needs
An employee's physiological needs are met when your company provides a paycheck and the tools and information required to get their job done. This stage is critical for progressing to the next stages and shouldn't be overlooked, but if it's the only thing you provide, it's likely employees will feel stagnant and lack motivation. An employee stuck at the bottom of the pyramid is a disengaged employee — the kind who only shows up for the paycheck.
Successfully meeting these basic needs while also providing a clear track to move up to the next stage requires a robust onboarding process that can shorten the employee's time to productivity and provide them with the training to make it to the next level. 69% of new hires are more likely to stay with a company longer than three years if they go through exceptional onboarding.Tip: Remain competitive when it comes to meeting the physiological needs of your employees! 90% of employers say they offer mental health coverage, according to SHRM's 2022 Employee Benefits Survey. Your company can also offer sick days, money management workshops, and additional health and wellness benefits.
Safety Needs
The next level of the Employee Engagement Hierarchy of Needs is safety, which includes job security and a safe work environment. Post-2020, your employees may have defined a new set of safety needs, and they're essential to meet if you want to improve employee retention and engagement.
"Safety" to the modern worker refers not only to job security but also to a safe work environment and an employer that encourages work-life balance. 74% of Millennial workers want paid family leave, and around half of workers say they'll look for a remote position for their next job. Employees need to feel supported and secure in their position in order to become more engaged.
Tip: If your organization can support remote or hybrid employees, consider expanding or strengthening those benefits. 64% of employees said they would forgo a $30,000 raise if they didn't have to return to the office. Working from home can help alleviate many of the stressors employees face within their personal and professional lives.
Belonging
We often talk about diversity, equity, and inclusion (DEI), and 42% of employees say it's a top priority when choosing a new employer. Today, more of the conversations around DEI also include belonging, expanding that acronym to DEIB. True "belonging" means your employees are empowered to embrace their unique qualities and feel comfortable being themselves at work. That's important because not feeling like they belong is a top three reason employees are quitting in the ongoing Great Resignation.
When employees feel a sense of belonging at work, they feel seen and heard and establish a stronger emotional connection to colleagues and shared goals. Belonging is proven to improve employee engagement and lead to better business outcomes. Research shows that a high sense of belonging can increase performance by up to 56 percent. It can even reduce the number of sick days your employees take by an incredible 75 percent.
Tip: While it can be tempting to prioritize culture fit during hiring, look for candidates who are culture adds. These candidates can help grow and shape your company culture and help more of your employees feel a sense of belonging.
Esteem
At this stage of the engagement hierarchy, your employees are well-compensated, feel safe at work, have access to the benefits they want, and feel like they belong at your company. Take the employee experience up a notch and engage employees by making them feel valued and helping them find meaning in their work.
When employees find meaning in their work, they put more effort into it, and they're less likely to quit. Helping your workforce reach this stage doesn't just serve the employee, but the entire organization. Companies are more profitable when their employees feel a sense of purpose and have clear direction and expectations.
Did you know 69% of new hires are more likely to stay with a company longer than three years if they go through exceptional #onboarding? Find out how @ClearCompany's paperless onboarding system fulfills employee needs and helps you retain your top talent:
Acknowledging good work when you see it is critical to meeting employees' needs — 37% of employees say recognition is their top motivator to do great work. Employees are also motivated when they feel their voices are heard, so ask for their feedback often — and act on it.Tip: Send an employee survey to find out if your employees feel a sense of purpose at work. Use ClearCompany's Employee Engagement Suite to create and send your survey, as well as analyze the results. Based on the results, you can help employees discover or strengthen their sense of purpose at work and show them their voices are heard.
"When a connection has been made between the source of power (the employee) and the beneficiary (the organization), the potential exists to amplify or add momentum to work in progress. When the connection does not occur, people disengage, burn out and quit." - Tabitha A. Scott, Epic Pivot, via Forbes
Self-Actualization
At the peak of the Employee Engagement Hierarchy of Needs, where engagement levels are highest, is self-actualization. Employees at this level of engagement feel a sense of connection at work, and they seek out challenges and aim for continuous improvement. Self-actualized employees are productive, curious, and innovative — more likely to think outside of the box. It's important to understand if your employees feel fulfillment, motivation, and connection at work, especially because employees are leaving jobs where they aren't valued or lack purpose.
You can help your employees find purpose and achieve continuous growth by helping them discover their strengths and offering opportunities for them to grow their skills. Encourage connections through mentorship programs and cross-departmental coffee chats — employees with a "best friend" at work are up to seven times more engaged. Tip: One employee engagement strategy that also encourages continuous growth is goal-setting. Set collaborative, strengths-based SMART goals to inspire employees to achieve challenging objectives. Use goal-setting tools like those in ClearCompany's Performance Management Platform to set goals, track progress, give feedback, praise great work, and foster long-term employee engagement.What else can your leaders and human resources team do to increase employee engagement and build a workforce of engaged, motivated A Players? Download ClearCompany's Talent Success™ Mega Bundle and fill out your own Employee Engagement Hierarchy of Needs to find out.