Before the outbreak of COVID-19, employees' basic needs were simple to understand and universally true. Now that we're in the throws of a pandemic, those needs have changed drastically, and they may differ from business to business and may change in relatively short time spans based on external factors across different regions. The new hierarchy of employee needs is a dynamic one, whereas before most employees gradually worked their way in an upward linear path, and the path today may go up and down as circumstances change.
So, what does this new hierarchy look like, and how can we use it to ensure we're meeting employees appropriately for the current environment and addressing them as they change in real time?
How has COVID-19 impacted #PerformanceManagement and #EmployeeEngagement? @ClearCompany has revisited Maslow's Hierarchy of Needs as it applies to a COVID workplace.
Physiological Needs Are Now About Health and Safety, Too
Before, an employee's physiological needs were largely a matter of making sure they had access to the tools and information required to get their job done. It's a simple yet critical stage for reaching one's own potential. Today, however, there is an added measure of safety to this stage.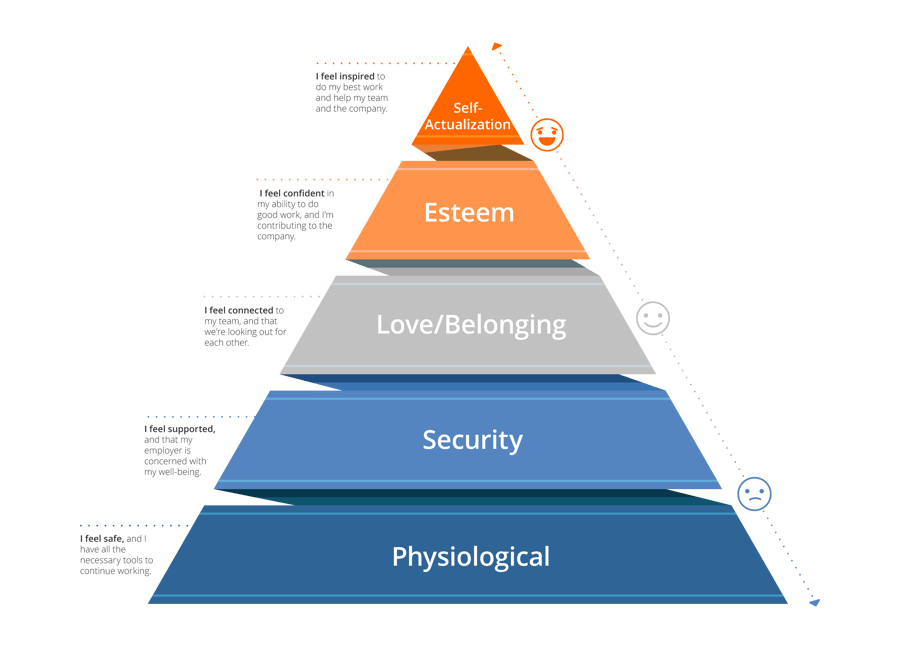 Offices are no longer a safe space to work in the same way that they were before. Whether employees are working from home for the foreseeable future or they're allowed back into the office with restrictions and safety guidelines, now employers not only need to ensure employees have the equipment, access, and facilities, but they also need to ensure that they are not putting their employees at risk of contracting the Coronavirus, either from surfaces within the office or from person-to-person contact.
That means, if working from home is unrealistic, there needs to be an increase in cleanliness around the office and a decrease in shared spaces and things. Hire a cleaning crew to disinfect three times a week or more, remove shared appliances like toasters and coffee pots, separate desks and cubicles six feet from one another, and any other physical safety precautions necessary to ensure the safety of all employees.
Safety & Belonging Through Transparency
The next steps of the pyramid straddle a much more abstract line than ensuring your organization doesn't put its employees' physical health at risk. While they may feel secure in their health, we're still in an unstable, unknown, and ever-changing economy that is a direct result of the pandemic, and that uncertainty inevitably brings insecurity.
In these stages, the critical mission is to help keep employees informed about any changes to the business, keep them abreast of any potential challenges they will face, and keep those employees still working remotely from feeling isolated and unseen.
Using clear communication, regular one-to-one conversations, and asking for feedback helps managers gauge where employees are in their headspace and how they're feeling about their work, and also provides opportunities for creativity, innovation, and community. The more communication flows, the more confident employees can feel that they are aware of what's going on and what their future looks like.
76% of workers say #CompanyCulture is important to their productivity. How are you adapting your culture to help satisfy the dramatic shift in needs since COVID-19? @ClearCompany shows you how to update Maslow's Hierarchy to better support your teams:
Especially for remote employees, maintaining contact, and facilitating social interaction helps employees feel connected, even when they're separated. 76% of workers say that company culture improves their work, so using tools like Celebrations & Shout Outs can help keep employees feeling like part of the team, engaged with their coworkers, and up to date as to what's happening with their peers.
It's possible to still reach the top of the hierarchy, even if the path has changed some. One thing we can know for sure, however, is that the situation is constantly changing, and employers and managers must be ready to address a given need at any time. Careful attention is needed to ensure that all needs are met as the crisis waxes, wanes, and morphs into something we've never seen before.
For more information on how the ClearCompany platform can help you organize your talent management strategy for our new normal, reach out to schedule your free demo and find out how our tools can help connect, energize, and engage your workforce.