Maslow's Hierarchy of Needs establishes a hierarchy of basic human needs. Maslow's table prioritizes, in ascending order, the fundamental means of survival — food, clothing, shelter, safety — as they progress to the more sophisticated, intangible necessities for achieving internal growth — a sense of belonging, self-esteem, self-actualization. As an individual moves up the pyramid, they become more social and productive; each need contributes further to the individual's full growth and potential. The same concept can also be applied to the workplace. What are the basic elements your organization needs to provide for your employees to successfully complete their duties, and what will you need to further provide in order to maximize individual contribution to the company and increase overall employee satisfaction?
The first step is to determine what the bare necessities are to achieve success for your organization, individual departments, or specific roles. It's important to understand the consequences of ignoring these needs as you aim to build a highly motivated and engaged workforce. 90% of employees say they're more likely to stay with a company when they believe their needs are met. As they progress through each stage of the pyramid, you're not only gaining loyalty, but the employee's independence, confidence, and autonomy are bolstered along the way, too.
Did you know 69% of new hires are more likely to stay with a company longer than three years if they go through exceptional #onboarding? Find out how @ClearCompany applies Maslow's Hierarchy to the workplace in order to meet the needs of employees:
Physiological
An employee's physiological needs are the tools and information required to get their job done. This stage is critical for progressing to the next stages and shouldn't be overlooked, but if it's the only thing you provide, your employees have no way to progress. An employee stuck at the bottom of the pyramid is a disengaged employee—the kind who only shows up for the paycheck.
Successfully meeting these basic needs, while also providing a clear track to move up to the next stage, requires a robust onboarding program that has the capability to both shorten the employee's time to productivity and provide them with the training to make it to the next level. 69% of new hires are more likely to stay with a company longer than three years if they go through exceptional onboarding.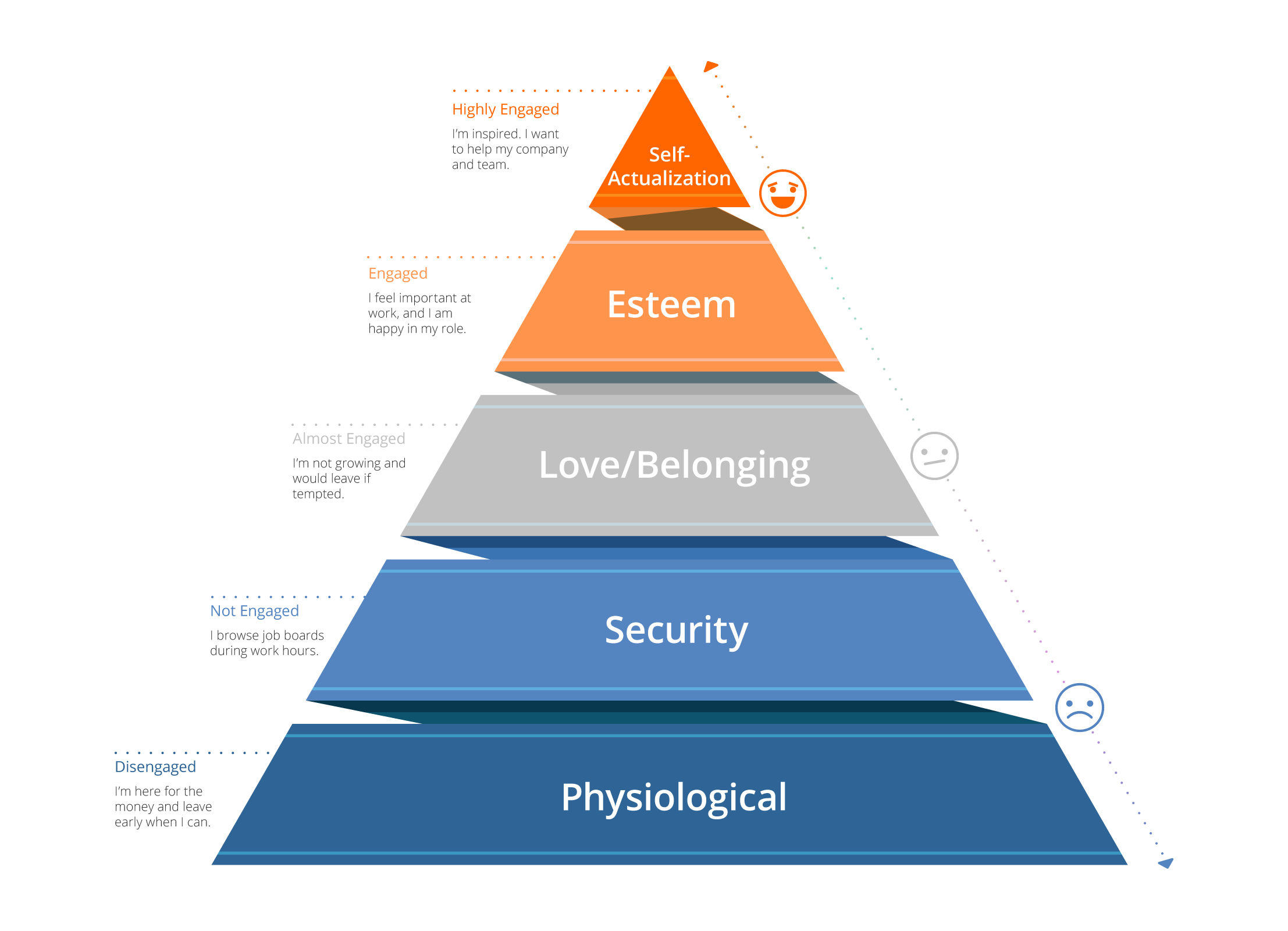 Safety
During the Great Recession and in its immediate aftermath, job security was a grave concern to a nervous workforce. But, today, with the current unemployment rate sitting at its lowest point since 1969, employees' priorities have shifted from being able to keep their jobs to the benefits packages their employers can offer them. With growing trepidation around the state of the healthcare marketplace and a younger workforce placing a priority on work-life balance, safety means to modern workers that they have support for growing families, room for accidents, or can take a few extra days of vacation after a stressful busy season.
Almost 60% of workers want paid family leave, and more than half of workers expect flexible or remote work options. And with ⅓ of all donations on GoFundMe's website going to cover medical costs, a good health insurance program is critical to employees' sense of well-being in the workplace. Employees today need to feel supported, trusted, and cared for in order to reach the next stage of the pyramid.
Belonging
Organizations with a strong company culture outperform their competitors by 20%. But, employees need to feel as though they belong in that culture in order to stay engaged. One symptom of isolation, Imposter Syndrome — when you feel you don't have competence for the role you have — affects 70% of people. Companies need to combat the sense their hires might have that they somehow haven't earned the job they were given, or that they don't fit in with their colleagues.
True "belonging" means your employees are empowered to embrace their unique qualities and are themselves at work. Feeling isolated or that they have to hide aspects of their personalities leads to increased worry at work, blocking them from building the esteem they need to progress.
Download Maslow's Hierarchy Pyramids for your
onboarding, development, or company culture strategy!
Esteem
Once employers have met the needs of the first few stages in the pyramid, they can begin to focus on professionally developing their team. Confident, competent workers who are independent self-starters are what managers look for in promotion candidates. Those who require little direction, possess the esteem necessary to take responsibility and accountability for their projects, and strive for improvement will be the chosen ones, and recognition is the top-cited motivational factor for producing great work. 79% of workers say they've left a job for lack of appreciation. Acknowledging good work when you see it, and rewarding those who produce it, is critical to meeting employees' needs.
90% of employees say they're more likely to stay with a company when they believe their needs are met. @ClearCompany shows you how to implement Maslow's Hierarchy of Needs into your HR to keep #EmployeeEngagement high:
Self-Actualization
The peak of the pyramid — the self-actualized employee — continually and willingly aims for improvement, seeks challenges, and pursues meaningfulness in their work. The top of the pyramid means fulfillment and is the ultimate career goal for every employee. In turn, it should also be the goal of management to help every employee reach the top of the pyramid into self-actualization. Self-actualized employees are the ones who think outside of the box, are highly productive, and are the most engaged among your workforce. Helping your workforce reach this stage doesn't just serve the employee, but the entire organization.
Understanding and meeting the needs of your employees through each stage of the pyramid takes a strategic effort and an organized plan. ClearCompany has the tools you need to get a clear picture of your unique organizational needs. We've created this downloadable guide to creating your own Hierarchy of (Work) Needs, or for more on this topic, visit this blog post. You can also reach out to us today and we'll help you get started.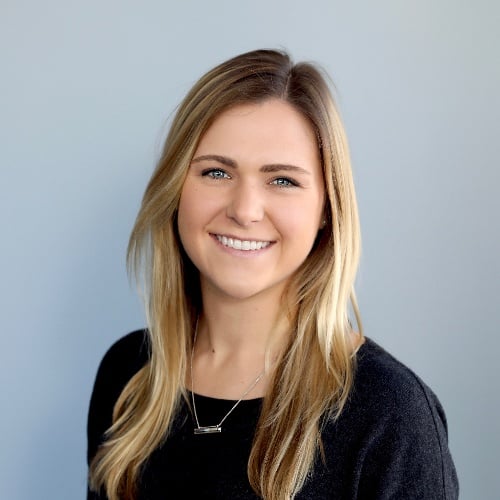 Meredith Wholley
As a Marketing and Event Manager, Meredith coordinates best-practice content and brand-awareness events for ClearCompany. With her career in HR tech, Meredith works closely with HR practitioners and is passionate about providing them with the tools and information they need to succeed.