Brushing up our employer branding is the top initiative of our recruiting team while we pause hiring to evaluate market conditions during the COVID-19 outbreak. We are a two-person recruiting team that has managed high-paced recruiting at a hyper-growth company over the last few years. We set our sites on developing a formal employer brand early on, but executing on continually growing hiring targets consistently took priority.
Further, we are opting to conserve cash and evaluate what we can accomplish on a limited budget during this pandemic. In my prior experience, this has been a common theme where enterprise organizations with larger teams and budgets are able to create and manage a formal employer brand, while remaining a wish-list item for many of us smaller, high-growth firms. My goal in this post is to help you develop an employer brand using your existing team and resources.
Whether or not your company is #recruiting right now, this is the perfect time to revisit your #EmployerBrand according to the latest from @ClearCompany:
Why Is Employer Branding So Important?
As we'll explore in this post, employer branding is about your relationships with current and future ideal employees. As such, you already have an employer brand — whether you know it or not. If you can't define what your employer brand is, are uncertain about your key differentiators, or are mirroring the messaging of your competitors, chances are your audience will be equally uncertain of what differentiates you. Creating messaging that attracts the right talent allows you to tell an authentic story, and it creates an emotional connection that will help you stand out. You want to be in control of your reputation in the market and with your existing talent, or they will define it for you.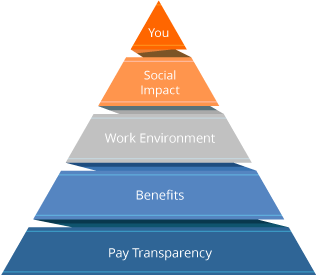 If that doesn't light your fire, let's explore why employer branding is so important by the numbers:
Employer Branding Defined
Though most recruiting leaders agree on the importance of employer branding, there is a lot of disparity in how it is defined. If you search for articles on employer brand, you'll find that many of the articles are vague, sidestep a concrete definition, or don't really know how to properly define the concept while speaking only to individual tactics like employer value proposition (EVP), social media strategies, video content, and leveraging on-campus or industry events.
What is the definition of Employer Branding?
Employer branding is a logical process of building the relationship between an employer and its current and future ideal employees. Your employer brand is the state of this relationship: good, bad, or indifferent.
To break this down further, an employer brand is about relationships. Strong relationships are built on trust, truth, and authenticity. Building trust and authenticity depends on applying logic; that is, looking at facts and applying sound reasoning to what you present to your audience, and how you approach them. Further, strong relationships are lasting and do not stop the moment a candidate signs an offer. They also may be formed well before you ever meet or speak to the person, and they can impact your business long after the employee has exited your company.
Notice that our definition targets "current and future ideal employees". ClearCompany, therefore, is not trying to cast as wide a net as possible and simply measure an increase in applicants or talent pools. When crafting brand messaging, we are targeting A Players; those thriving in our environment, and prospective employees who share similar core competencies for success.
Accordingly, employer branding is much more than showing up to a college campus with your logo on a shirt. It's not about being in as many places as possible with the singular purpose of creating name recognition. It's targeted, strategic, and measurable and creates a competitive advantage.
Employer Brand Model
To further illustrate the importance of employer branding to your organization, let's look at a model. Your brand sits at the center of your entire people strategy, impacting messaging and relationship building through all of your prospective employee channels, existing employee touchpoints, and alumni connections.
With this in mind, one of the core evaluations that I made when deciding to join ClearCompany was how well the technology was structured to manage our employer brand. Utilizing this model, and placing ClearCompany's cloud-based full-platform talent management suite at the center, you see the ability to seamlessly manage messaging and relationships through each of these channels with integrated Recruiting, Onboarding, Goals + Performance, and Talent Community tools. Further, paramount to organizations retaining and engaging employees is adherence to their mission, vision, and values — which ClearCompany's suite is founded upon. Our platform is built on the A Method of hiring. It provides a competency library and evaluation tools to aid in targeting, messaging, and selecting A Players. Lastly, our talent analytics can measure your results. No doubt, customers utilizing our full suite of solutions have an advantage in implementing and managing their employer brands.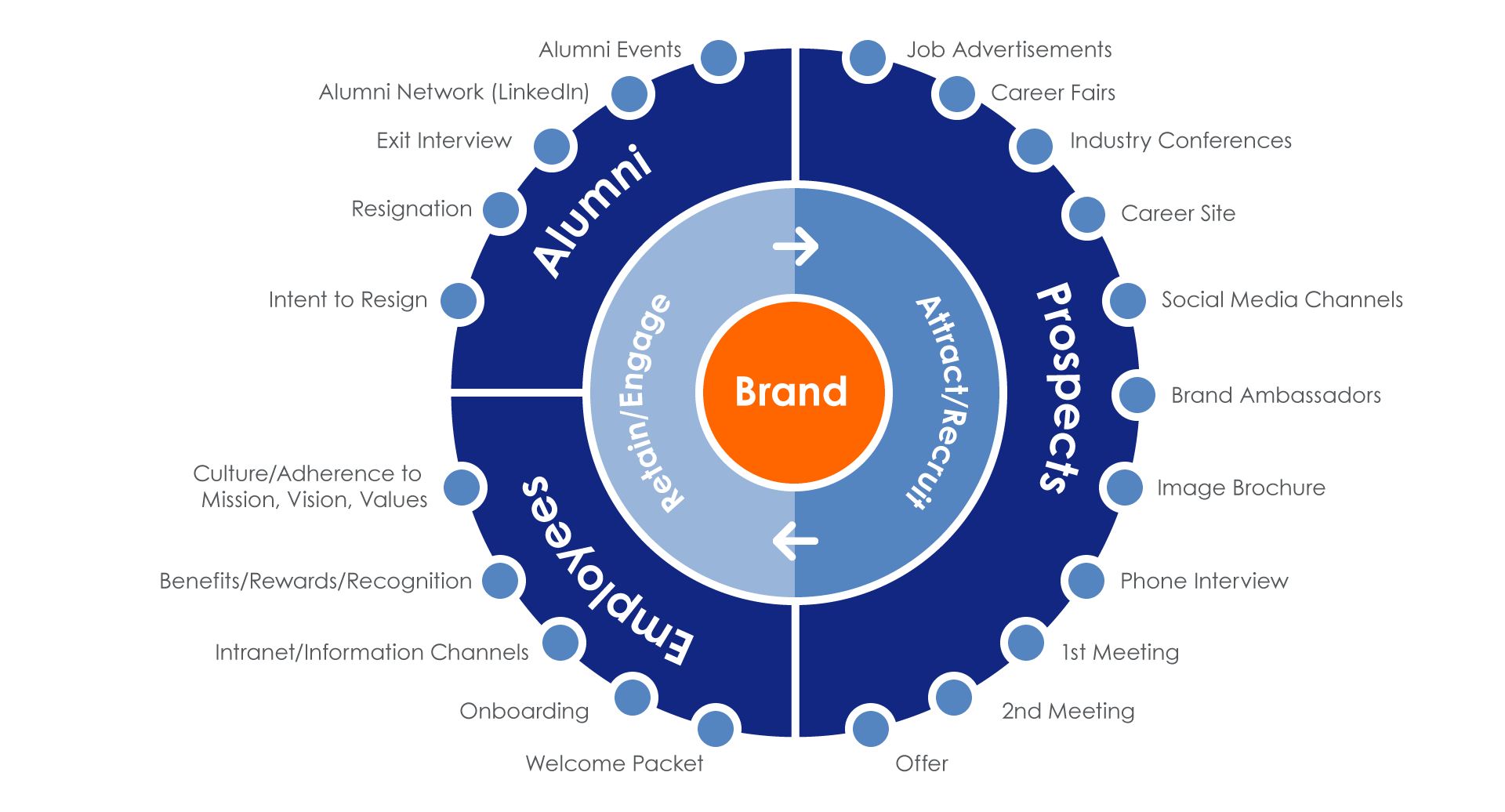 So How Do We Build Our Employer Brand?
Before moving forward, you should first define the goals that you wish to achieve. Our goals are to apply better structure to our existing communications and build upon our successes in diversity hiring, retention, engagement, and candidate experience — as well as improve our Glassdoor score to 4.5 or higher over the next year.
There are 4 remaining key elements to building a successful employer brand:
Know your culture: What keeps your

A

Players engaged and thriving?
Brand line development (also called EVP Tagline).
Employer Value Proposition (EVP)
Manage and measure your brand
Let's explore each step in detail:
Step 1. Know Your Culture: What Keeps Your A Players Engaged and Thriving?
In my opinion, this is the most critical step because this is the logical, fact-finding step of employer branding. It is also where companies make the most mistakes. Additionally, this first step will drive messaging and content for steps two and three.
Where do companies go wrong?
Mistake #1 is typically made on who you choose to define your culture, and consequently how you define your brand line and EVP. Many companies turn to the marketing team and recruiting or HR Managers to develop a "catchy" tagline that ties to the business, possibly with final approval from the CEO and CHRO. However, though we tend to be great corporate brand ambassadors, salespeople, and promoters of the company's products, culture, mission, and vision, our pitch may vary greatly from how A Players across our companies see it today.
Mistake #2 is that organizations try to broadcast who they want to be and not who they are. How many candidates have you spoken to that said their previous company or job is not what was advertised? Whatever story you're telling candidates, you better be living that story today.
For companies executing correctly at this stage, they interview high-performing A-players across the company. These companies will often hire employer branding firms with consultants trained to uncover the underlying — even subconscious — motivators and emotional connections that keep A Players happy and thriving. Targeted branding communications are developed from the resulting data.
Again, at ClearCompany right now we have a small window of time to execute, and no current budget allocation, but we need to conduct a similar process. For these reasons, we decided to interview one to two top performers in each department across the company as designated by department heads, performance reviews, and diversity across participants. I conducted the interviews, allocating one hour for each discussion, and informed the employees at the outset that the conversation was confidential and any sharing of results would be done without names or departments attached.
In partnership with our marketing team, our recruiting and HR team developed our own set of questions relying on our interview expertise as well as consistency in techniques across other corporate and employer brand methodologies. The questions would be open-ended, allowing us to continually ask "why" questions to drill deeper into candidate motivators. We also wanted to learn of employee emotions connected to our company — whether these employees feel we are living our mission, vision, and values or not — areas for improvement, and motivators outside of our existing presentations to the market.
The questions we developed are:
What emotion is evoked when you think about ClearCompany? Why?
Do you feel an emotional or intrinsic connection to ClearCompany and your role? Why? If not, what would provide that connection?
Do you feel part of something bigger than yourself? Why or why not?
Is there a core value that you would add that ClearCompany does not call out? Is there a core value that has been unrealized in your experience here?
If you could change anything about ClearCompany, what would it be?
Follow up to negative responses: What steps should the company take to make it better?
Did you know? 53% of companies want to invest more in their #EmployerBrand. But you don't need a big budget to make it valuable! @ClearCompany shows you how:
Step 2. Brand Line Development
An Employer Brand Line, also known as an Employer Value Proposition (EVP) tagline, is, ideally, a few words that immediately distinguishes you from your competitors. Developed using the data from your A Player interviews, the brand line will be used in every channel to introduce your company in the job market and reinforce to current employees why they stay. Your brand line should also:
Be strategic enough to serve as the "North Star" — or guiding light — that your EVP and corresponding communications will follow.
Relate to your organization's mission, vision, and values.
Speak directly to candidates and employees. Many brand lines use the personal pronoun "you" or the possessive pronoun "your".
See some examples of brand lines from leading employers here.
From our employee interviews, many common themes emerged. A few examples are:
Overwhelmingly, much of the joy and enthusiasm associated with working at ClearCompany is related to the other team members they get to work with, and they referred to our team as a "family". Emotions expressed were loyalty, belonging, support, and pride.
All of these employees feel we are executing our mission, vision, and values.
Many feel that this was the most transparent company they've ever worked for and that it possibly should be called out as one of our core values.
These top performers feel strongly that ClearCompany allows them to be themselves, have a voice, and do their best work.
Let's dissect a small portion of our analysis of these results:
The theme of "do your best work" or "join our family of talented workers" is almost a cliché in the talent space and beyond. Certainly, we will want to include this in our underlying EVP described in the next section, but we did not feel these themes to be differentiators or strategic enough in focus to create a competitive advantage.
Similarly, transparency is a guiding principle of our company and a theme we may include in our EVP, but most employees expect transparency from their employers and feel it is tied to operating ethically. Again, critically important, but not the differentiator we would use as our guiding light.
Knowing that our employees are resolute about our company following through on our own mission, vision, and values allow us to explore powerful, strategic themes that are linked.
There was one very interesting theme that began to emerge from asking employees about emotions evoked when thinking of ClearCompany, and whether or not they feel part of something bigger than themselves. The theme was based on the ClearCompany mission. It is important for these team members not only to have competitive pay and growth opportunities but know they are contributing to a change in the world.
At ClearCompany, our mission is to help our 2,000+ clients achieve their own missions by hiring, retaining, and engaging more top talent. However, these team members identified with our mission in different ways: All of them feel we are executing our mission and want to be a part of it. While some A Players are directly driven by our company mission, it was more prevalent with employees in customer-facing roles, and for others, it was a combination of the mission with other aspects of their work. Some said that our company mission itself "is not what drives me" or "what gets me out of bed in the morning".
When I dove into this further, it was personal missions that drove their engagement with ClearCompany. They either felt ClearCompany was giving them the chance to achieve professional goals and dreams inside of work, that ClearCompany provided the flexibility and freedom to pursue personal missions and passions outside of work, or a combination. However, it was at this intersection of being part of the collective company mission while achieving personal missions that all of these A-players' engagements converged.
Lastly, missions are challenging to achieve, and this theme would allow us to be direct and honest with our audience about challenges and traits for success.
As a result, we created the following brand line: Find Your Mission.
Step 3. Employer Value Proposition (EVP)
Along with your brand line, Employer Value Proposition (EVP) is your pitch of supporting details to persuade your target audience why they should consider your company above all others. It should include elements like total rewards, career growth potential, your mission/vision/values, and culture. A good EVP will hook the reader with the brand line, even in a crowded and competitive marketplace, and then make an exciting presentation that draws them in and leaves them feeling like "I would thrive here". Remember, EVP is a promise you are making, so it must be truthful, realized by current employees, and available for future employees.
Incorporating the many positive themes we discovered in our employee interviews, here is what we developed at ClearCompany for our EVP:
Find Your Mission
Missions are accomplished with people, driving toward a greater purpose. At ClearCompany, our mission is to help our 2000+ clients achieve theirs. We do this through the development of the only Talent Management Platform that unifies Recruiting, Onboarding, Performance Management, Goal Tracking, and Analytics allowing our clients to hire, engage, and retain A-level talent aligned with their core values.
When talking to our own team of A-players, you'll find that it's not only the opportunity to drive this mission forward and be part of something bigger than ourselves that keeps us thriving. It's the freedom, flexibility, and support ClearCompany provides back which contributes to our professional development and the pursuit of our personal missions and passions outside of work.
With core values centered around ideas over egos, collaboration, entrepreneurialism, and teamwork combined with perks like flexible vacation and a diverse customer base across a variety of industries, ClearCompany creates an environment where you can be yourself, do your best work, and find your mission.
--
Below are some of the supporting details we are developing to be used in our job descriptions and future career site:
What You'll Love About ClearCompany
The people! Our employees and customers consistently express the best thing about ClearCompany is our close-knit, exceptionally talented team. We are proud to be recognized as a "Best Places to Work" winner and Inc. 5000 Fastest Growing Companies in America.
A commitment to diversity & inclusion. We welcome and celebrate the different identities and perspectives all of our employees bring to ClearCompany! Ongoing specialized diversity training, 51% women in leadership roles, and volunteer opportunities are just some of the ways we are building an inclusive environment. Check out how we rank compared to other tech companies at DiversityReports.org.
Outstanding benefits. With a flexible vacation policy, 90% employer-paid medical insurance, dental, vision, 401k with matching, and even pet insurance, we've got your back so you can live your best life.
It's about ideas over egos. You will have the freedom to explore new technologies and approaches in an entrepreneurial environment, supported by a collaborative team committed to your success. Learn more about our core values

.
Professional growth. Along with relentless innovation to our product, our workforce plans are built around promoting from within. We have promoted 24% of our team members annually compared to 11% across the industry and open new roles to our employees first.
Our environment! We value hard work, but we want to have a great time in the process. Our office environment is relaxed, and you may be expected to send a celebratory gif, choose a craft beer for the office tap, and participate in monthly social or team-building activities with your office/team. Check out our Glassdoor

and

G2

reviews.
--
Step 4. Managing and Measuring Your Brand
As I write this, we've completed our brand line with EVP and have begun to apply it to our job descriptions — which we will upload to each role in our ClearCompany platform for consistent messaging in postings across the company. We are also planning to apply it in the near future to our career page redesign, and eventually to our social media messaging. You can share your brand through any avenues that you connect with prospective and existing employees, as well as your alumni. According to LinkedIn, the top three channels small to medium-sized businesses plan to extend their employer brand are company website (69%), online professional networks (61%), and social media (47%).
I would stress a few important points about social media, specifically because this is where more of an active and transparent dialogue is occurring. According to Glassdoor, 79% of job applicants use social media in their job search, and TalentLyft states that 76% of companies choose social media to communicate employer brand. Further, 68% of Millennials visit employers' social media properties specifically to evaluate the employer brand. That's 12% more frequently than Gen-Xers, and 20% more than Boomers, according to a study by EveryoneSocial.
However, social media can be a double-edged sword when it comes to your employer brand. If you post information about your company but do not have the time or resources dedicated to engaging with respondents, your silence will become part of your brand. According to G2, 7 out of 10 people surveyed changed their opinion about a brand after the company replied to a review, and 62% of Glassdoor users agree that their perception of a company improves after seeing an employer respond to a review. Be sure to plan your rollout accordingly.
Bonus Content: Download the Candidate Experience Checklist!
In terms of measuring how your brand is performing, let's explore a few options. First, it is important to evaluate applicant flow from your brand channels. However, as mentioned previously, our goal is to target A Players aligned with our brand and the competencies required to live it. As a result, instead of seeing a spike in applicants, you could see less quantity with higher quality. A few examples of more effective measurements are:
Source of hire
Cost per hire
Diversity of applicants and hires
Candidate experience reviews
Pipeline metrics showing applicant-to-interview and interview-to-accept ratios
Offer acceptance rate
Satisfaction scores measured through incremental surveys to your employees
Changes in attrition rates marking any changes after the date of brand implementation
Quality of hire. We do this by scoring interviews on the same scale as performance reviews and measuring the variance.
Glassdoor rating and other external evaluation channels
When managing, measuring, and iterating on employer brand, it is advantageous to have a platform that unifies Recruiting, Onboarding, Goals, Performance, and Analytics. Manually evaluating changes and rolling them out to multiple channels is time-consuming and can lead to the collapse of your efforts when competing against other critical deliverables.
We wish you continued success in the development of your employer brand and its impact on hiring, engaging, and retaining A players.
For more information, reach out to our experts today and get started on crafting your best talent acquisition strategy.