ClearCompany is pleased to announce that we have been ranked on the Inc. 5000 for the fifth consecutive year! Making this prestigious list is a proud achievement at any time, but being selected 5 years in a row is a special honor, as less than 4% of businesses reach this impressive milestone.
The ClearCompany Talent Management Platform is a powerful solution that aids businesses in key human resource objectives, including workforce planning and analytics, talent acquisition, employee engagement, and performance management. We work continuously to innovate, update, and expand our offerings and services to help our clients achieve their own missions. This year, ClearCompany ranks at #2874, and we are once again the fastest-growing talent management software provider.
@ClearCompany has yet again ranked on the #Inc5000 list for the 5th consecutive year! Did you know less than 4% of businesses achieve that honor? Learn more about their product and why their #TalentManagement solution is best-in-class.
Most recently, we are excited to have brought new offerings to our platform and delighted our clients by adding new, innovative solutions designed to help them successfully navigate today's employment landscape, including Text-to-Apply, Device & Equipment Management, and Workforce Planning.
ClearCompany's Co-Founder and CEO, Andre Lavoie, is thrilled about ranking again this year: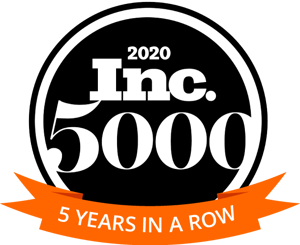 "It is an honor to be among the very small group of elite companies that have achieved an Inc. 5000 listing for five consecutive years. Without question, it is due to our people–our team of A-players who made this accomplishment possible. We look forward to continuing to provide unparalleled products to help our growing roster of clients plan for, find, and keep a diverse, equitable, and inclusive team of top performers."
We are excited to receive this recognition in addition to several awards we received this year from Gartner and G2 Crowd as a leading solution for both enterprise and midmarket companies for applicant tracking, onboarding, and performance and engagement.
ClearCompany is proud to serve our clients with a best-in-class talent management platform, and we are committed to further innovation and support for your organization as employment changes and adapts to the needs of the workplace. To learn more about our Talent Management solution and the ways ClearCompany can transform your talent strategy, schedule a free demo with our experts today.