2020 has been filled with tests, but there has also been plenty to celebrate. ClearCompany is pleased to announce that we have been named ADP Marketplace Partner of the Year! Chosen as the top partner in a field full of dynamic partner software solutions, this marks the second ADP Marketplace Partner award ClearCompany has won.
In 2017, ClearCompany and ADP Marketplace began a partnership to enhance the Human Capital Management ecosystem by offering clients a variety of choices and flexibility in their products and solutions. Receiving the award of Partner of the Year showcases our two organizations' collaborative efforts and continued determination of accomplishing that goal.
@ClearCompany is pleased to announce that they have been named Partner of the Year by @ADP! They are honored to have been chosen from a list of dynamic and successful software solutions:
ClearCompany offers a variety of Talent Management solutions, including Recruiting, Onboarding, Performance Management, People Analytics, and Workforce Planning. Our software solutions are all seamlessly integrated and connected with ADP Marketplace, leading to a smooth and efficient process for the client. Our complimentary products empower employees, leaders, and executives to reach their full potential and meet their organizational goals.
Brian Campbell, our chief revenue officer, is delighted to accept this award for the ClearCompany partnership team: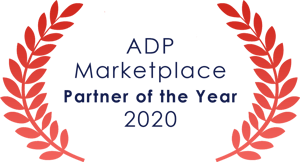 "We are honored to receive this prestigious recognition and continue ClearCompany's leadership in developing and offering innovative talent solutions. We will continue to collaborate with ADP to provide its salesforce and the marketplace with powerful and unique software. We deeply value the relationship and thank ADP for continually being a great partner."
This makes 2020 a banner year for ClearCompany awards. This is the most recent of several awards we have received over the course of this year, including recognition from Gartner and G2 Crowd as a top solution for applicant tracking, onboarding, and performance and engagement for both enterprise and mid-market companies.
@ADP has named @ClearCompany as the Partner of the Year for 2020! They are honored to receive this award and are committed to continuing to deliver best-in-class solutions for their clients:
While we don't do what we do to receive awards, it's wonderful to have our hard work recognized by partners and clients alike. ClearCompany is committed to providing best-in-class talent management platforms for our clients and furthering innovation as we navigate the changing workplace environment. Our software is built to support your organization as you adapt to the needs of your workplace. To learn more about ClearCompany's Talent Management solution, and to experience our award-winning service and implementation, schedule a demo with one of our experts today.