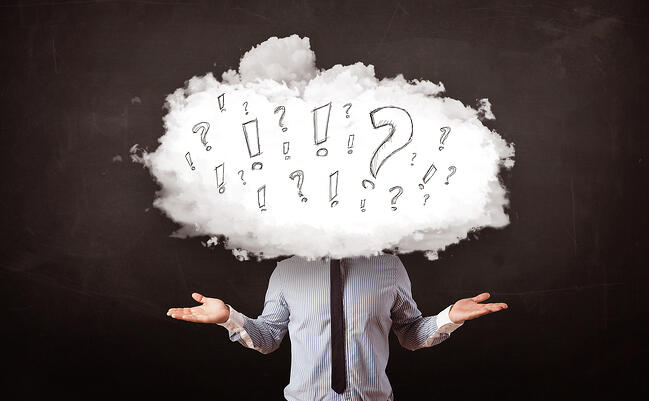 Managers don't necessarily have a knack for management. In fact, a surprising amount of leaders in the workforce are placed in leadership positions without any formal training. When review time rolls around the corner, managers have to be prepared to lead this process effectively and confidently.
Don't shy away from, or rush through employee reviews. Reviews are what you make them; they can be an amazing performance enhancing, engagement and productivity tool, or they simply can be the waste of time that 53% of surveyed employees believe them to be, citing that reviews do not motivate them to work harder.
22% of employees believe that employee reviews are just another corporate checklist item to get through. You have to do them anyhow, why not make them matter?
Struggling with questions to ask your employees in reviews? We have some for you: #EmployeeReviews
Questions to Solicit Feedback
It is vital to remember that effective employee reviews aren't something leaders do at employees; reviews are something that leaders do with employees. A two-way dialogue is a must. The traditional one-sided review is dead for a lot of reasons: these types of reviews don't allow opportunities for managers to grow and learn from feedback, they don't empower employees with a voice, and they kill collaborative thinking in the employee/employer dialogue. In fact, 40% of employees dislike employee reviews because they come from a single point of view.
Instead of just checking employee reviews off of your Thursday to-do list, ask these questions from 2020 IT Leader founder, Anthony Vigneron, aimed at soliciting feedback that managers can actually use.
- What's one thing I can do to be more effective at…
- What's one key strength you think I should leverage more in my role?
- What's one thing I can do to help us be more effective in reaching our goals?
- What's one thing you liked and one thing you thought could be improved about…
- What's one thing I can do to better support you in your role?
- Name one thing we can do to make our meetings more efficient?
- What's the one thing you like most about your job? What's the one thing you like least?
Still struggling to get the upward feedback you're looking for? Download our conversation process flowchart to encourage better dialogue: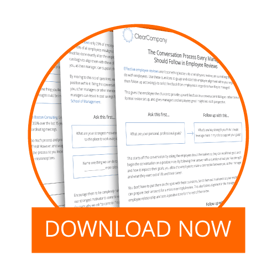 Questions to Gauge and Establish Alignment
Reviews aren't just meant to be an opportunity for managers to gather information and dole out a rating. Yes, this is the process in which you find out what your team needs to work on, but more importantly, what you can do to help.
Steer clear of surface questions that require a simple yes or no, you won't learn much with those. Instead, ask questions like these that will grant you real insights into your workforce, and how you can become a more effective facilitator of their success.
- Can you please explain to me what you believe the company goals, vision and strategy are?
- Do you understand your personal role in the company goals, vision and strategy?
- What are your personal, professional goals?
- What are your strongest motivators to come to work everyday?
- Name some things that de-motivate you about your position.
- Do you understand why we use the processes and practices in place?
- What would you change about those processes and practices?
These questions will not only grant leaders insights on their workforce's current state of alignment, they establish the opportunity to create transparency by discovering the answers to each of these questions together.
The top 3 emotions associated with inaccurate reviews are frustration, anxiety and boredom. People also commonly find them to be demeaning, and a poor indicator of performance. We can't stress enough, that this leadership necessity -employee reviews -doesn't have to be a negative experience!
Vigneron believes that the first step in conducting effective employee reviews is to, "Make the choice to live with your hands off of your ears." We're not talking about a checklist item, or a one-sided appraisal of the state of your workforce. We're talking about true engagement, emotional intelligence at work, and performance management that actually makes a difference.
Would you like to know more about improving your 360, peer-to-peer, employee reviews? We're kind of the best at just that. Click here to find out more.
Did you know Talent Success has the power to reshape business, and it all begins with your company mission and goals? The ClearCompany Talent Operating System is the only software that utilizes your organization's mission, competencies and goals to hire, retain and engage more top talent; creating unparalleled levels of success.