Despite facing pressure during an unprecedented year, Angie Wideman-Powell proved herself to be a top leader in the HR space, consistently striving for innovation.
@ClearCompany is proud to announce that our VP of People, Angie Wideman-Powell was named a 2021 Human Resource Executive® HR Rising Star! Check out what Wideman-Powell is doing to advance #DEI initiatives: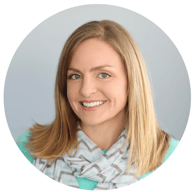 We're thrilled to announce that ClearCompany's Vice President of People, Angie Wideman-Powell, was named a 2021 Human Resource Executive® HR Rising Star! Angie's outstanding leadership through the unfamiliar territory of the past year earned her the Rising Star award and recognition as one of "the most innovative, accomplished, and promising talent" in the HR profession.
During her five years at ClearCompany, Angie has received three promotions, most recently to VP of People. She quickly shifted all 165 employees from offices in Boston and Fort Collins to fully remote work at the start of the pandemic, a strategy so successful that ClearCompany now hires and supports remote workers nationwide. She also strengthened diversity, equity, and inclusion initiatives company-wide; her efforts resulted in a 5% increase in racial and ethnic diversity at the company in just six months. Since then, that number has increased to 12%.
As VP of People at @ClearCompany, Angie Wideman-Powell strives for excellence and innovation. Pushing the barriers for #DEI, it is no surprise why she was named a 2021 Human Resource Executive® HR Rising Star:
Check out Angie's HRE feature to learn more about how she rose to the occasion to support ClearCompany employees through the pandemic with thoughtful, proactive people management strategies. ClearCompany is so fortunate to have Angie on our team, and we're excited to see what she'll accomplish next!
At ClearCompany, we strive for excellence in everything we do. For more than a decade, we've worked hard to ensure that our products and services help meet the needs of your dynamic and modern workplace. To read more about our award-winning software services, check out our G2 Awards page.