We are thrilled to announce that ClearCompany has ranked on the Inc. 5000 for the sixth year running! This is an achievement earned by only 2% of businesses, and one we are especially proud to receive following the unfamiliar challenges of the past eighteen months.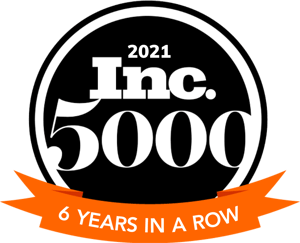 ClearCompany's Talent Management Platform is a powerful solution that gives HR teams the tools to act strategically, set goals, and meet their talent acquisition, employee engagement, and performance management objectives. Innovation is a priority, and we work continuously to enhance and expand our Talent Management Platform to help our clients achieve their own missions. This year, ClearCompany ranks at No. 3498, and we are once again the fastest-growing talent management software provider.
@ClearCompany is celebrating our 6th consecutive year on the #Inc5000! 🎉 We're proud to join the ranks of only 2% of businesses named 6 years in a row and to offer award-winning #talentmanagement solutions to our clients year after year.
We are excited to have continued to innovate our platform and serve our clients' changing needs with advanced solutions that help them work strategically, improve their processes, and continue to meet their workforce goals in today's employment landscape. This year, we're pleased to have added and enhanced Employee Engagement Surveys, mobile-friendly and texting tools, and bulk onboarding capabilities.
ClearCompany's Co-Founder and CEO, Andre Lavoie, gave credit to the team for this milestone:
"It's a privilege to be among an exclusive group of outstanding companies to rank on the Inc. 5000 for six years in a row. This recognition of our continued success would not be possible without our exceptional team of A Players. We look forward to continuing to provide unmatched talent management solutions to help our clients find, engage, and retain diverse, equitable, and inclusive teams of A Players at their own organizations." - Andre Lavoie, Co-Founder and CEO at ClearCompany
We're pleased to add this recognition on the Inc. 5000 to our reasons to celebrate this year! This announcement follows awards from Gartner, G2, and SelectSoftware Reviews recognizing ClearCompany as a leading HR software solution for applicant tracking, onboarding, performance, and employee engagement.
@ClearCompany lands on the Inc. 5000 for the 6th year in a row! 🎉 Adding it to our 🏆 case next to recent awards from @Gartner_Inc, @g2dotcom, & @bestb2bsoftware:
ClearCompany is proud to serve our clients with an award-winning Talent Management Platform backed by the best customer support in the business. We're committed to delivering an innovative product that enables strategic talent management at your organization in any talent landscape.
Learn more about our Talent Management solution and how ClearCompany can transform your talent strategy. Schedule a free demo with our experts today.