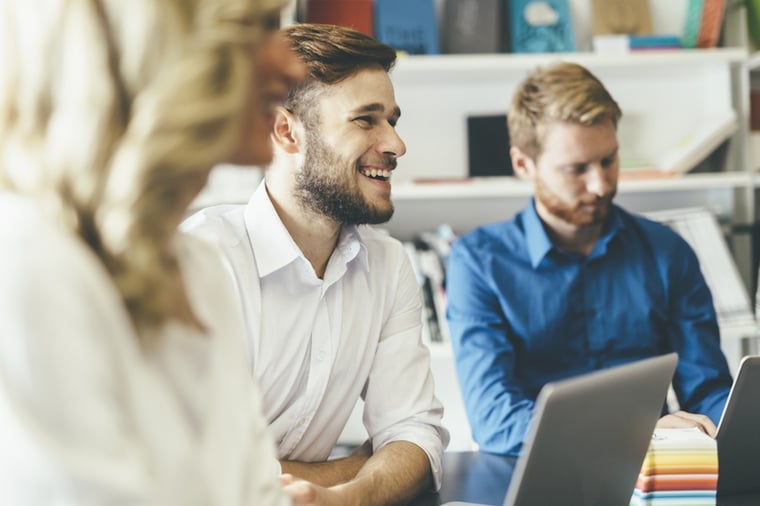 In the whirlwind of bringing on a new hire, it's easy for employers to skimp on the employee onboarding process in the hopes that this person will start being productive faster. As research shows, however, employees who experience longer, structured onboarding programs gain proficiency 4 months faster than employees who have been through shorter onboarding programs.
We're already a quarter of the way through 2016 and for the sake of employee productivity, retention and engagement, every company should be able to check off each of these components of a successful employee onboarding program within the new hire's first 90 days.
Read 5 Noteworthy Tips for Successful Employee Goal Setting
Before the First Day
New employees deserve to start their first day off right. Managers should prepare these items prior to their start date.
Send new hire documents online and have employees complete them in advance.

This included legal documents, the employee handbook, the parking pass and any other resources the employee should take a look at before they come in.
Map out the first week.

Depending on the size of the company, the first week's details will vary. The first week is a great time to acquaint new hires with the leadership team and their coworkers and get them up to speed on how to use the programs and applications relevant to their role.
Set up the desk, computer and other resources.

Start off their first day right with a clean, organized place to call their own. Make sure they have all the goods - paper, pens, calendar, first week's schedule, etc. Icing on the cake: a welcome gift from the team!
Prep the team on the new employee.

Inform the team about the new hire's name and role. Let them know you'll be making the rounds to introduce the new person and encourage them to be friendly and welcoming to their new comrade.




How do you prepare for a new hire's first day?

Download: Hiring Process Spring Cleaning Pack
The First Week
The first week on a new job should be just like orientation on a school campus. It's important not to overwhelm a new hire during this stage in the employee onboarding process. It could cost you productivity and possibly an employee.
Take the new employee on a tour.

The first day is perfect for the tour. Show the new hire where the restrooms are located, where to find each department, the best place to park, the break room and the best local lunch spots to try out. This is a good time to make introductions to the team.
Discuss the first week's schedule.

Have a one-on-one to talk about what the week is going to be like so the new hire knows what to expect. Open up the floor for questions. You don't want your new hire twiddling their thumbs and stressing because they aren't sure what they should be doing.
Walk them through important procedures and standards.

Spending time the first few days to cover processes and procedures will help your new employee feel comfortable getting started on the real work. Be sure to cover what the rules and processes for internet usage, email communication, breaks, etc. are and start familiarizing them with the technology they will be using daily for their job.
Follow up at the end of the week.

After giving the new hire time to get used to the office, workspace and their trainer, follow up with them to make sure they are comfortable and picking things up at an appropriate pace. The end of the first week is a good time to discuss how the next month or so should progress, what you expect of them and where they should be at once they reach that time.

It's important to remember the little things, even during employee onboarding, like this:

Check out 5 Management Mistakes Hindering Employee Performance
Between Months One and Three
This stage in the employee onboarding process really dives into employee development and getting new hires firing on all cylinders.
Establish lines of open communication.

At the first month mark, the new hire should be settled into their new office and getting into the crux of their training. This is the perfect time to open up some dialogue to gauge how the experience is going for them. Find out what is going well, not so well and things (or people) they are struggling with. Encourage them to ask questions.
Set performance goals.

Keeping new employees engaged with goals points them in the right direction and gives them something to work towards. Prior to their first review, give them a set of manageable goals such as increasing their time spent on recurring weekly tasks or spending more time shadowing team members to get an idea of the big picture of their department. These small goals will condition them for their pending review.
Give them the first performance review.

After 90 days, the new hire should be at a healthy proficiency in their role. The first review is the best time to evaluate their strengths and weaknesses and decide if the current training program is fulfilling all their needs. This may or may not be the point at which you decide on their future fate in this role. Every company has different standards and every employee develops at a different pace.
If you have an extended onboarding program, do you do this between months one and three?

Companies with structured onboarding processes experience 50% greater new hire retention. Follow this checklist to keep your company's employee onboarding process on the right path.
Recent Posts: