ClearCompany's annual Talent Success Conference is doing things a little differently in 2020. This year's conference is a pay-what-you-can virtual event — featuring the same industry-leading, accredited content you've come to expect, presented to you right where you are. No matter your location, budget, role, or business, #TSC20 is available to you. Today's talent industry can be challenging to navigate, even for the most seasoned HR professional. That's why our virtual conference gives you the information needed to create your own competitive advantage.
We're highlighting this year's Talent Success Conference speakers to provide you with a sneak peek as to what you can expect from TSC 2020. If you haven't already registered to secure your spot, now is the time!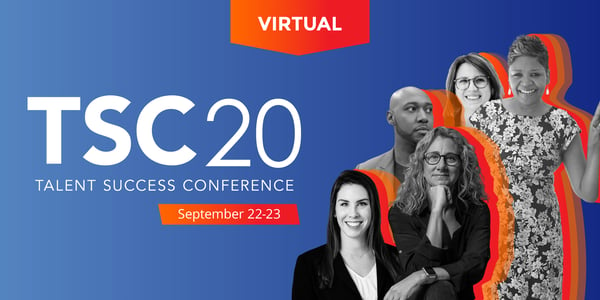 Allyship in the Workplace with Willie Jackson
Join Willie Jackson for his session: How To Be An Ally In The Workplace
Jackson will discuss how to be an ally and the importance of practicing allyship with your colleagues. Jackson is a consultant and the Lead Facilitator at ReadySet, who helps organizations advance vital conversations that unlock connections across differences. His belief in the transformative power of media to change narratives led him to found Abernathy, a magazine for Black men. He also served as Founding Technical Lead of Seth Godin's altMBA program, and as CTO of The Domino Project.
Have you registered for #TSC20 yet? This year's virtual event features sessions from the best in #HR. Visit @ClearCompany to learn more about this year's line up!
The Employee Experience with Mary Faulkner
Mary Faulkner's session, Every Experience is an Employee Experience – Especially Now, explores some early-stage tech solutions and HR practices that are revolutionizing the way in which we address our most human outcome — the employee experience.
Senior Advisor at IA, Faulkner is a talent strategist and business leader with almost 15 years of experience helping organizations achieve their goals. She is a builder and a problem solver, and authors a leadership development blog to continue the dialogue around the challenges of leadership — both being a leader and being led. Mary is a regular contributor to HRExaminer.com and has also written for SHRM, Recruiting Daily, and other publications.
How to Lead in a Crisis with Rebecca Reott
Rebecca Reott hosts HR Leadership in Crisis: What Communications and Actions Matter Most, where she discusses what teams are learning in 2020 and the best practices HR practitioners should learn when communicating and engaging with employees during a crisis.
VP of Global HR at RepTrak, Reott oversees People & Culture operations. With a deep passion for the connection between employee happiness, employee productivity, and company results, Reott incorporates a significant focus on organizational structure and operational efficiency into her HR approach and philosophy. She previously worked at Hanapin Marketing and helped propel them to the #1 Best Place to Work in the state and the #8 Best Place to Work for Advertising Agencies Nationally.
Diversity, Equity, and Inclusion with Dr. Nita Mosby Tyler
Join Dr. Nita Mosby Tyler's session, Navigating the Complexities of DE&I in the Workplace, where she takes participants on a journey of "deconstructing" the real meaning of equity, inclusivity, and diversity — and how these concepts show up in the workplace.
Dr. Mosby Tyler is the Chief Catalyst and Founder of The Equity Project, LLC. The Equity Project is designed to support organizations and communities in building diversity, equity, and inclusion strategies. She also founded The HR Shop, LLC — a boutique human resources firm designed to support the unique challenges of nonprofits and small businesses.
#TSC20 is going virtual! The @ClearCompany blog is highlighting this year's must-see speakers. Find out who will be there and register for your spot!
The Importance of a Culture of Learning with Jill Adams
Jill Adams will lead the session: How A Learning Culture Enables Employees to Flourish and Companies to Thrive. Join Adams as she discusses the importance of creating a culture of continuous learning and why establishing a learning program is important to your company's ROI and future success.
As Chief Marketing Officer at Absorb LMS, Adams has two decades of honed marketing skills combined with a passion for innovation and growth. She sets global marketing strategy, drives awareness and demand for Absorb products, and leads a cross-functional team of marketing pros driving the company growth trajectory up and to the right. She has driven operational excellence at companies ranging from start-ups to Fortune 500 companies.
ClearCompany is excited to bring these experts and thought leaders into your home, office, or wherever you are most comfortable. We invite you to join our speakers and more of the ClearCompany team on September 23rd to learn about the latest and greatest in HR. When you register for TSC20, you'll get:
Complete access to all TSC content
A deep-dive into ClearCompany products and services
An insider view of what's trending in HR
An opportunity to learn from and connect with your peers
Expert advice and curriculum from the best in the business


To learn more about what's in store for TSC20 and to get to know our speakers better, visit our conference page and secure your spot for this year's virtual conference!