Behind every good software platform is an even better team.
At ClearCompany, our mission is to help businesses hire, engage, and retain A-players, and we practice what we preach. Our implementation, customer success, and support teams all work together to ensure our clients have everything they need for success.
How are your teams handling #WorkFromHome? @ClearCompany shares how their #CustomerSuccess teams are weathering the storm
During these unprecedented times, people are finding new ways to keep their minds (and bodies) healthy. And our team is no different! We asked them for tips and tricks to keeping yourself sane during stay-at-home orders, and here's what they said.

Ally Valerio, Client Support Specialist
"How to keep sane and healthy when every day is the same? Hobbies. I've really dived into my hobbies (gardening, building miniatures, and video games) while taking the extra time to move my body and connect with friends and family."
Ally tells us that it's hard to keep herself motivated when she's living in isolation, but building miniature houses — a beloved hobby of hers — helps keep her mind healthy and active. And with an amazing final product like this one, we can't blame her!
"As someone that struggles with maintaining mental health, this is somewhat of a challenge. But I truly believe that the little things are what helps during these strange times."
Erin Roach, Customer Success Manager
"One of my favorite things about being in the office, and something that lends to my productivity, is taking a break about once an hour or so to go to the kitchen or say hello to a coworker. I try to mimic that at home by getting up and going a quick five-minute workout or going to converse with other people that I am working at home with."
Taking short breaks throughout the day has been proven to help with increased productivity. Working out or talking with those she's isolated with has been helping Erin make sure she's working to her fullest potential. She also finds some help from her furry friends!
"Another favorite of mine is what I like to call a puppy break, which is 5 minutes of playing with the dogs. A sure morale booster 100% of the time!"

Michael Lindberg, Senior Client Support Specialist
"The best thing I have done to help cope with this 'new normal' is to maintain my routine and keep organized. I treat the workday as a workday. I feel like getting too relaxed with one's work-from-home schedule can be a recipe for disaster."
It's easy to get distracted when your work environment suddenly becomes your home environment, and it can be tempting to stray from your normal workday routine. Michael says that keeping a schedule that is similar to what he'd do in the office helps him stay focused and productive.
"Scheduling your time with an organized routine is everything for me. It also makes the end of the day (and weekend) that much more special. Good music throughout the day does not hurt either!"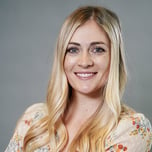 Christa Weinell, Customer Success Enablement Manager
"We had the lucky(?) timing of putting an offer in on our first home the first day shelter-in-place was ordered in Austin. During that time my husband and I purchased our home, moved, and have used this time to start fixing up the house! We've done little projects like planting a garden made out of recycled drawers from a broken dresser and started one of our larger projects, remodeling our screened-in porch."
Now is the perfect time to work on projects, both around the house and in your life, that you've been pushing aside! Projects can give your brain something positive and rewarding to focus on. When she's not fixing up her new house, Christa also finds time to take her friends' online yoga classes three times a week.
"That 45 minutes moving my body and connecting with my people is so refreshing and serves as a much-needed mental break from work and the house."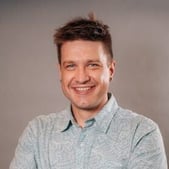 Dane Bradford, Implementation Manager
"During quarantine, I'm doing my best to stay active, and one of my favorite activities is mountain biking. I'm lucky to live close to a trail network that allows me to socially distance while enjoying the great outdoors. The fresh air and endorphins do wonders for my mood and productivity!"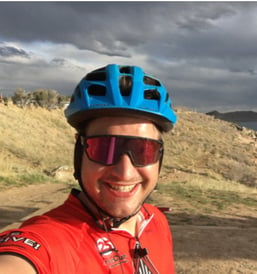 Staying at home doesn't mean that you can't enjoy the outdoors. Dane says that getting fresh air whenever he can not only boosts his productivity but also makes sure he keeps his mind clear and happy during uncertain times.

Anna DeFazio, Manager of Customer Support
"Throughout quarantine, I've been staying sane by staying in touch with the people I love most. Every week my friends and I have a virtual game night playing Jackbox games."
Staying at home doesn't mean you have to keep yourself disconnected from your friends and family, and Anna says this is the key to staying sane. Whether it's playing online board games with friends or making silly dances with her sisters, connecting with the people Anna loves makes everything a little easier. Including her pets!
"I've spent a lot of time snuggling with my two cats, Gwen and Bob, who are very happy that I'm home with them all day!"
We all know that working from home can be scary and stressful. Finding fun ways to break up your day helps with both your mental health and productivity. Whether it's picking up a new hobby, finding time to exercise, or staying connected with your friends (and your pets), keeping your mind and body active proves to be extremely beneficial. And just remember, we're all in this together!