This is part two of a three part series on HRM Direct clients recruiting with social media. Click here for part one. Click here for part three.
Client in the Healthcare Industry
Varying number of candidates by requisition: 10-50 for highly skilled, 200+ for admin and technician positions
Strong traffic to Career Site: 10000+ visitors per month
Highest volume of traffic to career site via mobile phone: just under 20%
Two distinct hiring needs
We found that for our client was facing two distinct recruiting needs. On one end they were looking for highly skilled employees such as doctors or physical therapists. On the other hand were employees such as admins and technicians to make sure everything was running smoothly. The volume of candidates reflected a smaller pool of highly skilled candidates and a larger pool of candidates for the openings with more commonly found skillsets.
A compelling company career site
The career site was the centerpiece to this client's recruiting strategy. Given that 10000 visitors were seeing the company career site every month, we wanted to make sure we pulled out all the stops to make sure our client's career site looked amazing. First and foremost, we made sure that their career site was styled seamlessly with the company site overall. We didn't want the job listing to appear as if a 3rd party hosted it. When we heard that the client was revamping their company career site, we were thrilled and made sure all of the styling was updated accordingly. This began with the basics of fonts and colors to more advanced functions such as search filters and the styling of buttons, and even included custom work.
A flexible strategy with lots of sharing
With a social recruiting strategy focused on spreading their reach via word of mouth, we gave this client sharing a wide range of sharing tools for their company career site. This included options for the 10000 visitors to share openings via Facebook, LinkedIn or email as well as receiving updates for any new openings via an RSS feed. This flexibility in regards to sharing options was key in being useful to the two types of hires as to accommodate different preferences in social media and ways to reach out to people that they know. A physician who visited the page could then forward it to any email threads with her colleagues. An admin could share the position with a friend on Facebook in a private message, etc.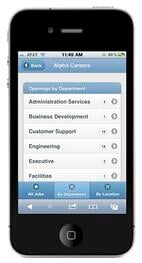 Mobile, mobile & more mobile
As mentioned in the previous article, we've seen clients across industries see an increase in traffic to their company site by mobile visitors. This client was grouped with those with the highest volume of mobile traffic with 1 in 5 visitors accessing the company career site via mobile phone. To increase the rate of visitors then applying to job openings, we created for this client a custom mobile career site. This served to provide a seamless experience for visitors to navigate from the job listings to job description and submit an online application directly from their mobile device.